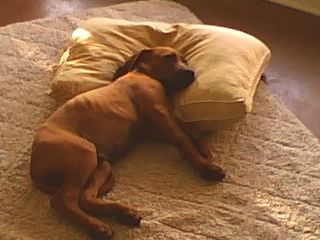 Well as you can see- Rebel (re-named Ready, as in Ever Ready!) is growing like the large dog he's going to be! This is pretty much the scenario for all of us after our walks! He's an amazing walking partner, with those leg's he's putting even the Bandito to shame. Especially in this awful TN Heat Wave! Air quality warning for almost 2 wks too! So were modifying as we can.
Good news, I'm no longer showing to be hypoglycemic! Really using the Sparks Logs Menus is helping me to track smaller portions, I know. If any of you've bothered to look- I'm still not eating enough. IBS has been a trial, I want & need more water. But tummy doesn't like it in too large quantities at a time:(
I've also finally made my goal of 113 lbs! It is possible it's all sweat*lol. So I'll keep track for a week to see if its my newest sticking point. I've been changing my fitness routine to 3 X week of Circuit Training! Ow! Muscles I didn't know I had have shown up! But I'm also getting some good looking 'cut' as they say from it! I will try to get Hubby landed long enough to post a new picture-
My thyroid surgery is healing nicely- still a shinny pink scar about 2 inches long, good news is it seems to have performed a chin lift! All the weight loss has left a lot of lose skin & now that area seems to have 'lifted'! My thyroid Med's are being lowered again:( So hopefully it won't reflect on the latest weight loss- that's always a danger with this medication. The Mammogram is re-scheduled for another diagnostic within the next 2 wks- so we'll soon see if there's been any drastic changes & where to go from there?
Sadly, with health issues & age? it seems more & more time is being scheduled around medical tests & proceedures! I also find myself buying more Sympathy Cards than Birthday ones!
It's sad sometimes in getting old:( We've lost another friend to Cancer of the Stomach. And one of my Bible Study Group has been diagnosed with Terminal Cancer- she's already on Oxygen w/Chemo to follow through on. She's also had to give up her apartment & move in with her daughter now. She's such a force within her own right- that the Study Group hasn't gotten together since she became so ill. She hasn't let us know yet if she's up for company. So I'm trying to get myself organised & together enough to keep the Group going.
Hubby has been sticking to a sort of fitness plan lately! Fingers crossed he'll continue. The weight is really getting to him in this heat! I've also lost my Hound Pack! One member has moved to Denver this week- though the loss is hard, I did gain 3 new pairs of walking shoes from her! Hopefully, she'll find a new routine soon. The others have dropped out due to the intense heat. They & theirs are not as aclimated as we toughies are! But I have gained a new single mother & her little boy to do evenings with. He loves Ready, & she's trying to lose a few lbs.
So that's the scoop for me now. Hope everyone is staying commited & haveing a good Summer- cause School is coming up sooner than the kids want to think! TTylr!