Have no fear.
Wednesday, July 30, 2008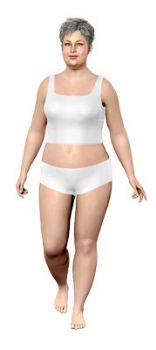 Never be afraid of your scale. It is a tool, nothing more. It cannot humiliate you unless you allow it to.
A scale is a lifeless inaccurate measurement of your worth. We are all priceless if we only believe in ourselves.
No matter how fat I am on the outside I AM beautiful on the inside. People that cannot see beyond my shell are the ones to be pitied, not me.
You had a bad day? So what, I still love you and will always love you just as you are today.
Love yourself, it gives others a good example to follow.
Linda
Boonie Goonie
P.S. This was a comment I posted and it looked like I should make a blog out of it. I hope it is ok.
P.P.S. Since I made Tuna Soup, I used today's Spark Search and found I am not as weird as I thought! Others have come before me but added more veggies, lol.
P.P.P.S. I chose to use my starting Virtual Model for this blog. Never be afraid of the past! You cannot change it, only learn from it. This was me at 210 lbs, but my arms and thighs are still fatter, lol.