Welcome Austin Ray!!!
Thursday, July 24, 2008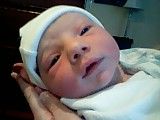 My nephew and his wife are new parents!!! Woo Hoo!!! This baby just didn't want to come out - 11 days overdue and after 24 hours in labor they did an emergency cesearean. At least they were well prepped - he's a firefighter/paramedic and she is a neonatal nurse at the hospital where little Austin was "extracted" weighing in at 8 lbs, 10 oz and 21-1/2" long he's off to a good start. Now into day 2 of life, I'm told he LOVES to eat!!!
Now we have a reason to go back to Chicago soon (besides the pizza!)