| | |
| --- | --- |
| | Obesity Epidemic Continues to Grow: Who's to Blame? |
Wednesday, July 23, 2008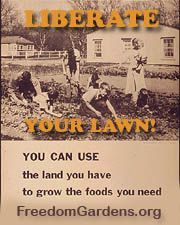 I read
this news story
in the Health News section of SparkPeople this morning. One-quarter of Americans report being obese—that's not just overweight (which would push the number even higher). It's obese (a BMI of 30 of higher, which equates to a 5'9" adult weighing 203 pounds or more).
When I was in college studying fitness and health education, I remember learning about the government's plan to curb obesity and improve health: It's called Healthy People 2010. It's full of lofty goals, like not just reduce but
eliminate
health disparities, reduce overweight and obesity, increase physical activity and fitness, and many more. Is it just me, or does it seem like we've been going the other direction? Is it really nutrition education that we need? (Who doesn't know that fruits and vegetables are healthy and fast food isn't?) Is it really that we need to be told to exercise more? (Of course we know that.)
Now I don't think the government is to blame for the health and weight problems of Americans. But I do think that our society (and capitalism) plays a major role. Think about this:
Americans work more hours, more days per year, and take less vacation days than comparable countries. If you worked fewer hours each day and had more free time, wouldn't you also have the time to hit the gym, walk or bike to work (since you wouldn't be in a rush) and cook a meal from scratch? Wouldn't you stress less and maybe turn to food to cope less often? And perhaps you would rely less on childcare, so you could better control what your children eat each day and how much they get outside and move?


With all the time we spend working and relying on the food industry to feed us, what was once common knowledge for our parents and grandparents (namely cooking, food preparation and storage, canning, baking bread, raising hens, and backyard gardening) have become lost arts. We don't have much of a choice but to rely on what is quick, easy and usually, nutritionally inferior.


The food industry makes billions, and they spend nearly as much advertising to tell us to eat all the time. We have portable processed snacks that fit in the cup holders of our cars; gas stations make more money selling the junk food in their shops than selling gas (don't even get me started on the Big Gulp); commercials promote "Snacker" fast food sandwiches and the "fourth meal" (thanks Taco Bell); and we've been conditioned to think that if a meal isn't as big as our head, it isn't a good value or that we can't watch a movie without a 1,500-calorie tub of popcorn smothered in trans fat "butter" flavoring.


On top of that, food manufacturers do not have your interests in mind. They are in business to turn a profit. Keep in mind that when they keep their costs down (i.e. cheap ingredients, which are arguably unhealthier), they profit more. And we spend more of the dollars we save at the store on health care.


We eat more meat than ever, and the meat we eat comes from factory farms, where animals are raised in confinement (not grazing as they would in nature) and eating a diet of soy and corn, not grass. This means cheaper meat, so we eat more. But this meat is also not as good for us, and is higher in artery-clogging fats. (Did you know that grass-fed cattle that is raised without confinement is leaner, but also contains healthy Omega-3's found in fish?) Our grandparents ate meat sparingly and as a side dish—because raised in nature, meat takes longer to produce and costs more. So food manufacturers have rushed the process of fattening animals to get them to market faster (so their profits increase), making it cheaper for consumers. But at what cost?


And everything (give or take a few big cities) revolves around the automobile, which runs on oil. We are so dependent on cars, it took gas prices rising over $4 a gallon for some people to start driving less. Many other industrialized nations rely most heavily on public transit, walking and biking. They live closer to where they work (because they have to), and they use their bodies more than they use their cars (if they even have one). If driving hadn't been made so easy, so cheap (up until recently), and so safe (roads go everywhere but sidewalks don't), we would all exercise more because we'd have no choice.
This isn't meant to make you feel helpless or to place the blame on the government, McDonald's or anyone else. Rather, I hope it spurs you to action. Because really, we can only blame ourselves. America is facing "epidemic" problems with health and weight because we all chose to build it this way. We can't change the way our society is structured overnight, but with every choice that you do make, you are making a difference in the world, in your own health, and in the health and well-being of the people around you. Consumers affect demand and when demand for something goes high enough, prices go down. So let's make a shift in what's cheap and what's not.
Think of yourself as casting a vote to either change the world or keep it the same. The vote happens every time you hit the drive-thru, park your car and walk, sit down for a meal, order at a restaurant, visit a farmer's market, choose conventional or organic produce, plant a seed in your backyard, or make your own meal at home.
I don't know about you, but I vote for change. I vote to spend more (when I can) on organic food. I vote to spend more time cooking and less time dining out. I vote to pack my lunch every single day even though it means I have to wake up earlier. And I vote to say no to salmonella peppers, tomatoes and everything in between by growing my own in my backyard (and at a fraction of the cost). Everyone can't do everything, but everyone can do
something.
Are you with me?
www.sparkpeople.c
om/resource/health_news_de
tail.asp?health_day=617581

| | | | |
| --- | --- | --- | --- |
| Member Comments Page (57 total): | 1 | 2 | Next > |
Get An Email Alert Each Time COACH_NICOLE Posts
Other Entries by COACH_NICOLE