It's been a while
Monday, July 21, 2008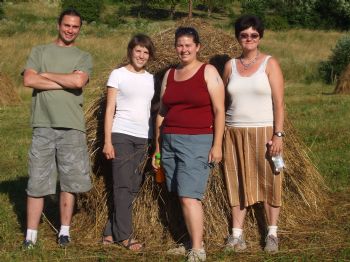 I was doing really well until May 12th when I had my mid service conference. In total I was down over 70 pounds.
When I returned I was down about the slowness at which projects progress here. I also began to have hives because of allergic reaction. Between the mental and the physical, I allowed myself to take a break for a while. During which I maintained my weight. I ate healthy but did not track my calories.
Two other volunteers and I planned and put on two GLOW/TOBE camps (Girls Leading Our World/Teaching Our Boys to Excel) one for high school students and another for grades 5-8. They went very well and I had plenty of opportunity to be active.
My site mate and I also attended an Environment Camp in Tirgu Mures, Transylvania. While we were there we did some trail marking and stream bed restoration in the mornings. Our afternoons were free. It was so incredibly nice to spend the afternoon hours hiking around the mountains, exploring the local villages, and seeing old world agriculture. (We are posed in the picture in front of a traditional haystack which the local villages make by hand.)
Now, that I am back home, I am just getting back on spark people again. Starting off with a 3 week fast break, where I track everything!