Taz
Friday, July 18, 2008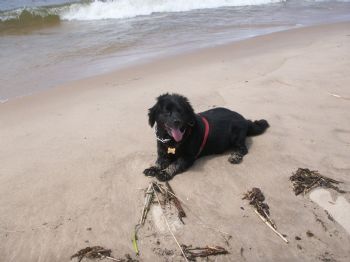 I'm all deklemped. I can't help it. Taz, is not doing good at all and we can't figure out what'swrong.
He was worse today.
I didn't work out. I did errands. Anything to keep my mind off the fact that the little guy isn't looking good and I don't know how to help him.
We took him into the vet at 11:00 p.m. on Tuesday night. The vet took x-rays that didn't tell him much and gave him a pain shot and sent him home with us. We brought back in in the morning so they could observe him and do more tests. When we picked him up in the afternoon, he was his old self. Not today, though. He's just not himself at all. We called the vet and he said to give him remidal 2x/day and call on Monday if he's not doing better. I just hate seeing him like this.
We rushed him into the emergency clinic in May too. They kept him overnight, did all kinds of tests, put him on IV fluids and pain meds and antibiotics. The next day he was good as new (not so my wallet). They couldn't figure out was wrong other than an "irritated colon"...i.e. we don't know what caused it but this is the result. He's been ok since then and the symptoms aren't as serious this time, but still, he's not a happy camper and so, neither am I.
Sigh.
I love my doggies.