the ATHENA DIARIES
Wednesday, July 16, 2008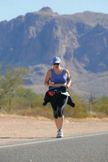 Hi, I'm Misty. My friends call me GeekGirl, and Iron Misty. I was once nearly 200 pounds, and now I've lost about 35 pounds.
I've also gone from being completley sedentary to running marathons and doing triathlons. My longest run is a 50K (31-miles) and my longest triathlons are 2 Ironman triathlons (2.4 mile swim, 112-mile bike, and 26.2 mile run.)
Recently, I went back to school to earn my master's degree, and then quit my job as a high school teacher and became a licensed mental health counselor and life coach.
My story, and my real blog is at
athenadiaries.blogspot.c
om
.