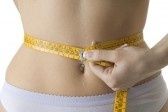 One of my team challenges for yesterday was:
Today's challenge is to write a blog about your progress so far for this month; You can list your measurements, your weight-loss to date, or anything that you consider an accomplishment. Have there been any hurdles you've overcome? Any habits you've broken? Any lifestyle changes you've made? Tell us about it!
So here goes!! My progress this month has been almost non-existant because I had a procedure done on my back and it really put a hiccup in the last few weeks. I haven't been able to workout like I wanted to and it seems that when that piece goes to the wayside, so does my eating! All or nothing!
The great news is that I am healing and have started doing some hiking, walking and just a little bit of running. I feel great!!! I am very excited that I am back on track and ready to start training for my super spring triathlon which takes place in October. I need the new challenge!!
Can I just say that I HATE taking measurements!! LOL!!! The stupid tape never works with me and I never know if where I am measuring is the EXACT place that I measured last time. Then, when I start to measure my stomach area I go through this whole am I sucking it in, am I exhaling, is this the right spot, is the tape gaping in the back, etc! Oh, it just drives me nuts! LOL!!
Here are my measurements as of today:
Weight - 130.2
Upper Arm - (L) 10.5 (R) 10.75
Thigh - (L) 22.5 (R) 22.75
Calves - (L) 14.5 (R) 14.5
Hips - 38
Chest - 34
Waist - 28
Abdomen - 32.75
Definately have some work to do to get back to my ideal measurements and would like to tone up a bit but I have to be realistic about my lifestyle and how much time I can dedicate to my fitness without neglecting my other responsibilities. Balance is the name of the game!!!