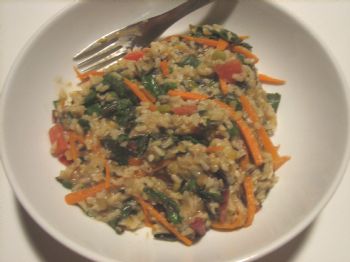 While
I love cooking healthy foods from scratch
, I prefer simple one-pot meals. I recently concocted a delicious dish that I think is as pleasing to the eyes as it is to the taste buds.
I ran across a "Harvest Pilaf" blend in the bulk bins at Whole Foods the other day. It looked so good and colorful, and the price was right (about $2.50 per pound). The blend of dried rice and legumes contained basmati rice, wild rice, French lentils (both green and red), and split peas (both yellow and green). These foods are rich in plant protein, fiber, and healthy carbs, plus they're filling to boot. And the instructions looked simple enough: Add 1 cup pilaf to 2¼ cups boiling water. Stir, cover, and simmer for 45-50 minutes. I picked it up and was ready to experiment!
Here's how I cooked it (I made a twice what the directions above called for):
In a big pot, cook minced garlic (2 cloves) with 1 onion (chopped) in olive oil over medium heat until onions are translucent.

Add the water, bring to boil.

Add the Harvest Pilaf mix, cover and return to a boil. Reduce heat and simmer for 45 minutes, stirring occasionally.
Meanwhile, I cut 2 medium carrots into "matchsticks," washed and chopped 2 bunches of Swiss chard that I picked up at the farmers market a couple days earlier, and chopped some fresh tomatoes from
my tiny garden
. Since these vegetables need very little cook time, I just set them aside. While the food cooked, I was free to do other things—talk about multitasking!
After 45 minutes was up (and the water was mostly absorbed), I simply placed the carrots, chard, and tomatoes on top of the pilaf, put the lid back on, and set it aside, allowing the heat and steam in the pot to lightly cook the veggies for 5 minutes. Then I stirred it all up so that the veggies would get a little more heat from the mixture, and let it set another 5 minutes. Voila! This needed a bit of salt and pepper for flavor since there were no other seasonings added, but ended up tasting great.
Although 1 hour of cooking sounds like a lot to many people, I find easy meals with little prep work (like this one) to be worthwhile. It was delicious, healthy, and extremely filling—plus I cooked enough to have leftovers for lunch the next day.
This is a formula that you usually can't go wrong with: cooking garlic and onion, adding other grains, legumes, veggies, or whatever you wish (pine nuts, raisins, and cheese would have all made tasty additions to a dish like this) and cooking, seasoning with salt or your favorite seasonings. Think about the ways you can add some flavor and nutrition to similar meals that you might cook yourself!
Check out more of my recipes here:
recipes.sparkpeop
le.com/more-about-me.asp?u
ser=126539#recipes