Saturday, July 05, 2008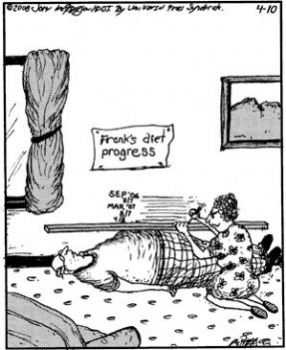 Well, I guess the month of June wasn't my month to lose weight, but I did lose some inches..from 6/6 to 7/5, I've only lost 2.6lbs, but I've lost 3.51 ins overall..I still want to see that scale move more, but I can live with the 3.5 ins gone, too lol So, since I came back in March, I'm .4 lbs shy of being able to change my profile to the 15lbs lost on Spark..woohoo! Unfortunately, I forgot to write down my measurements before I started over, so I haven't a clue on that one..I just started keeping track again last month.. But, since I was in 26ws when I came back, and I'm back in my 18w's..eh I'm not even gonna guess, cause I'm lousy at it, but I'm thrilled with the size changes to say the least! lol Actually, if I wanted to get technical, I was 300 when I first joined a year ago this month, Im .4 of 16 lbs..yippy skippy 16lbs in a yr, and 15 of that was the past 4 months..All that time I wasted..

But, no use crying over a wasted 8 months..To me, I may have signed up a yr ago, but I JOINED this past March..