Injury setback...(with photo)
Monday, June 30, 2008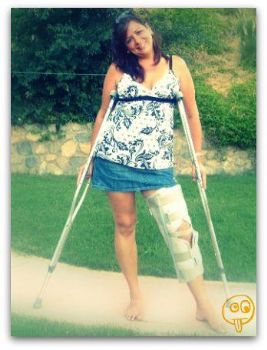 Well, I had a family reunion on Saturday (June 28th).
It was a blast!
I went into the ocean a couple times, challenged by the waves!
...and then my 13 year old nephew lost footing and slammed into the side of my knee, knocking me on my butt HARD. I couldn't even stand back up for a couple minutes, so, the waves were beating me, too.
Now, I have lovely new "accessories", crutches and a knee thing...and a one week follow up appointment. Oh well. It was fun.
I can't exercise on our new stationary bike. That sucks.
The question is...would I have been in the ocean @ my former weight of 222 lbs? NO.
So, I think we are more inclined to have these types of setbacks as we become more active!