1-800-CONTACTS 5K
Saturday, June 21, 2008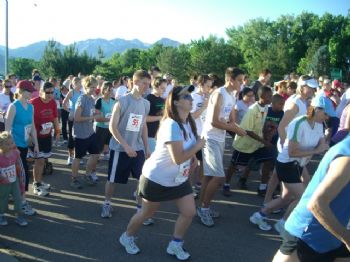 I did my 5k today. It was at Sugarhouse Park wich is at the base of 2 different canyons, so there were lots of hills.... I knew there would be, yet for some reason I was surprised when they appeared!!!
I did not reach my goal for this week.... I walked during my 5k... so that kind of sucked.
My time was 39:03
On a couple of good notes.... Check out the definition of the calf on my back leg!!! AND still no smoking.... One whole month!!!
I am going to start training for a half marathon this week. I'm thinking I was do the one in Vegas at the beginning of December. I haven't look at my training schedule yet, so I don't know what all of my goals are for the week.
****Goals for the week**** (so far)
Run at least 3 miles 4 days this week
At least one of my runs needs to have hills
Track my food EVERY DAY this week!!!