Saturday, June 21, 2008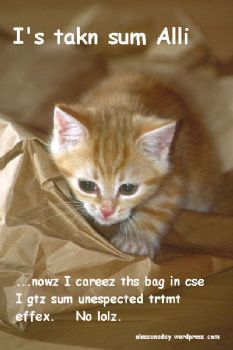 So I've decided that Alli wasn't for me.
I was on it for a total of 25 days.
I did pretty well as far as limiting my fat content and didn't get a lot of "treatment effects".
However as time went on I seemed to be getting the simptoms of IBS. It hurt bad.
With it all I only lost 7 pounds in a month. Which was good. But not worth it.
I'm back to losing weight the old fashioned way. I'm going on sparkpeople every day and tracking my weight loss.
I did cancel my gym membership so I'm going to have to excercise by just walking outside or use the excercise on demand.
I hope this works.