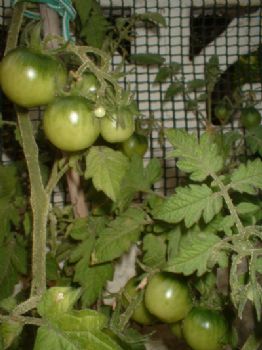 It's HOT HOT HOT!
There's nothing I love more than getting back to nature and grubbing about in the dirt amongst the plants and insects.
I live in rented accommodation at the moment and although my entire yard is paved, still this hasn't prevented me from creating my own little garden here.
All my gardening is done in pots and containers and as well as a wild flower garden I also have a herb garden and a veggie garden.
We haven't bought lettuces, radishes or tomatoes from the shops for about 6 weeks now - it's divine. You just can not beat the taste of fresh veggies.
The Cucumbers and Peppers are just starting to bear fruit as well now and the Spinach seedlings are still going strong. I had a battle with the woodlice over my courgette seedlings but I think I'm finally beating them. I must have planted about 10 courgette seeds all together and they sprout and shoot and then along come the woodlice (pill bugs I think they're called in the states) and get eaten all up!
I have been hand picking the woodlice out of the containers on a daily basis but it is a waste of time - for every one I pick out another two will take it's place. I refuse to use harmful chemicals in my garden and I don't really want to kill the woodlice (they remind me of little armadillos) and they have just as much right to be in my garden as I do - more in fact.
What I've managed to do with my last remaining Courgette seedling is cut the end off a water bottle and turn it up on its end with the bottom buried well into the soil - so far so good. Now - I realise as soon as the plant starts sending out it's little tendrils I will have to remove the bottle - but I'm hoping the plant will be big enough and well established enough not to mind a few leaves being nibbled.
Fingers crossed.
The snails haven't been so bad because I have been putting a base of crushed egg shells around all the seedlings (hubby still eats eggs so I'm lucky in that respect).
They don't like the sharp edges against their soft bellies - and who can blame them!
Courgette has to be one of my favourite vegetables so I would really like to be able to grow them. (please woodlice).
A couple of quotes today my little quote-ites:
"Forget not that the earth delights to feel your bare feet
and the winds long to play with your hair".
"Nature is not a place to visit, it is home".