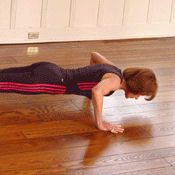 I have something embarrassing to share. Let me preface this by saying that when you're a fitness professional, especially an "expert," people expect certain things from you. They expect you to be super-fit for one, but I busted that myth in an entry a while back (see
I Don't Have a 6 Pack
). They expect you to be strong and to be able to do certain athletic endeavors that others simply cannot. After all, if fitness is your thing you have to walk the walk.
Well, most of these things are true for me, but not all of them. While I like to exercise, I don't love it. I skip workouts, lie on the couch when I could be doing something active outdoors, and I don't eat perfectly. But my big secret is that for most of my life, I couldn't do pushups. I'm talking REAL pushups here—toes on the floor (not knees), body straight (without lifting the hips), elbows bent to 90 degrees (minimum).
If I ever told people about my pitiful pushups, I'd get one of two reactions:
"Well I can't do pushups either!" I'd get this response from a lot of other women, making me feel better.



"What?! But they're so easy!" I'd hear this from all men, regardless of fitness level, and from more women than I expected, actually. This is the dreaded response that made me feel really lame...hence the reason I kept it a secret.
I blamed my lack of pushup prowess on my small arms. Although stronger than the average woman (at least that's what I'd like to think, thank you), my muscles aren't that big and they weren't quite strong enough to support my body during pushups.
So this year I set a goal to do real pushups, no matter how long it took. I followed a real training program, doing pushups 2-3 times per week and working on strengthening my pushup muscles (chest, shoulders, triceps), too. Turns out I wasn't the only SP-staffer to want to reach this goal, so I enlisted
Rachel
(
Stepfanie
also joined us recently), and we trained together.
Every Monday: Pushups, 3 sets

Every Wednesday: Chest exercises in the SP gym, such as dumbbell chest presses, chest flys, pullovers, and machine chest presses

Every Friday: Pushups again, 3 sets
And so it went for weeks and weeks. We decided to go with an incline-reducing program, which means that you start on a high incline (like the edge of a table), which is easier, and gradually progress to a lower incline (like a step), which is harder, until you're strong enough to do pushups flat on the floor.
Well this Monday, after nearly 6 months of training, I'm thrilled to report that I did REAL pushups—and not just one or two. A full set of 10! I would have settled to be able to do a few respectable ones, even if not a full set. And even though this seems like a small feat, or even kind of silly, I'm proud of myself. It took a lot of work and dedication.
I Can't CAN Do Pushups!
Enjoy the show!
So what can you learn from my pushups? Plenty. What got me here are the same principles that we preach to SparkPeople members every day. No matter what your goal is—losing weight or conquering your own fitness feat, the same principles apply:
Set a goal. Make it specific and put a date on it. My goal: Do a full set of real pushups by the end of the year.


Make a plan. It's not enough to have a goal. You have to know HOW you're going to make it happen. My plan: Train 3 times a week, gradually increasing the challenge (whether weights, lower incline or more repetitions) over time to I can get stronger and better. I wrote-in my workouts on my calendar here at work—every single day so that I'd have a reminder and feel accomplished by crossing it off my list.


Enlist support. It's hard to do anything without the encouragement and motivation of others. As much as I wanted to do pushups, I wouldn't have made it this far if I didn't have one or two other people pushing me (and vice versa) to continue. If it was up to me alone, I probably would have skipped more than a few of those training sessions. But having people to encourage and remind you always helps. That's what you get here at SparkPeople, using SparkTeams and other Community features (like Message Boards).


Expect setbacks. They happen to everyone, even when you're seemingly doing everything right. There were many weeks that I actually got WEAKER and could do fewer pushups or chest presses than the week before. But I didn't let it discourage me—I knew it was part of the process. Every week I'd come back and do my best.


Be consistent. Don't give up. And if you fail, forget or mess up, keep on trying. I can't tell you how many times I hit the SP gym in flip flops, a skirt, and all kinds of clothes that were entirely inappropriate for working out. But I didn't use it as an excuse to get out of it. Skirt, jeans, sweaters or not, we all stuck with our plan.


Think positive. Six months ago, especially looking back at where I started, I wouldn't have thought that I could make it this far. And during each of my workouts, even though it was hard and I didn't always like doing it, I'd tell myself positive things like, "I'm strong," or "I can do this."
In the end, it was all worth it.

www.sparkpeople.c
om/resource/fitness_articl
es.asp?id=1003