Casting Your Shadow?
Friday, June 13, 2008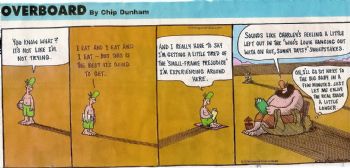 I just had to share this Cartoon- I hope you can read it? It reminded me of a while back when Hubby & I were walking the Bassett's. (the litle guy's shadow wasn't big enough for the dog to lie in, he was upset that he always chose the big guys shadow :)
It was HOT as it usually is in TN this time of year. The dogs had stoped us to play a bit with the local kids, suddenly Bandito comes over to Hubby & throws himself down at his feet. Hubby looked down at him then looked up at Me & said, "You know? that's about the only time he lay's down during the day. When he want's a cool spot- Look, he's in my Shadow cause yours its to Little!" *LoL*
So the point is? How often do you look UP & notice things around you? Or Down to see who is benefiting from YOUR Shadow? Oh, & it really made my day to be called little too!*LoL*
Have a Good Weekend- & 13 is my Lucky Number! I could use some right now!