Thanks for all the Prayers! Bandito Out of Disguise-
Wednesday, June 11, 2008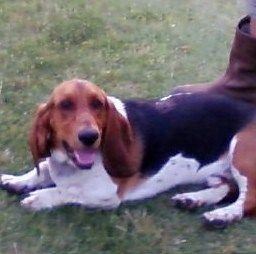 Well, believe it or not, the dog lived- its recuperating at the Vet. Once he's through the Owner will follow up with whether the damages are extensive enough or expensive enough to keep alive.
Given his pain- which was almost as unbearable as the accident- I doubt he'll hesitate- which may or may not be a 'good thing' for the dog. *sigh*
Its truly sad how many people here have pets with no health upkeep or restraints! The Notorious Bandito, has his moments. And he's probably working on Life #8 now. The lump is still there- hoping it was a wasp sting- their really bad now! Doesn't look like either one of us is going to get Lucky! *sigh* So Hubby wants to wait till 1st of week (still broke from Bandito's last encounter!) & proceed from there.
He's been sleeping a lot (for him) & I hope its just the heat. *sigh*
Thanks everyone- I'll keep all posted on both mine & his conditions.
*PS- NO that Boot is NOT stolen!- its still attached to the neighbors leg- fortunately!
6/16/08
Bandito has recovered!! Whatever caused the Lump has gone! Yeah!