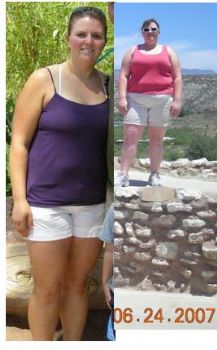 Here is the most stupid realization I have ever had but as I was jogging this morning I looked down and go – hey my shadow's not fat anymore! Which is funny b/c your shadow is usually longer and thinner than normal but a year ago it was still a fat shadow…now it's just a shadow!
Today is a VERY happy Thursday for me b/c today is 365 days since I started doing this loose weight get healthy thing…So how did I celebrate? I asked to come in a little later at work and did a 7 mile run this morning!
Looking at the last year here are my accomplishments:
Size 20-22 down to a size 10 pant size – still 12/14 on top (darn boobs). I never buy xtra large anymore – Large on top mediums on the bottom.
254lbs down to 178.4 (total of 75.6#'s lost) that's an average of 1.5 pounds a week – VERY healthy!
Waist 47.5 down to 36.5
Hips 51.5 down to 41
Neck 15 down to 13.25
Calf 16.5 down to 16 (after a 2 inch gain when I first started running!)
Thigh 28.5 down to 22
Arm 16 down to 13
Bust 48.5 down to 40 (*sigh*)
I can now run 7 miles – comfortably – I did it this morning at a slow pace about a 13.5 min mile but I was comfortable my heart rate stayed right between 135-145 and I am pretty sure I can handle mile 8 in 2 weeks. A 3 mile run is nothing – easily done – my pace has gone form 15 min to under 12 on a 5k still slower on the longer runs but really who cares I burned 1200 calories on my run today – oh and the fact that I can get a 7 mile run in before work! I hike pinnacle peak in 1 hr 13 min – used to take me 2 hours – it's a 3.5 mile roundtrip trail. I think on Saturday I am actually going to try to hike it 2x!
I didn't meet my goal of 100lbs lost by this time but I'm still working on it – the last 30 are much harder especially w/the weight training which is adding lean muscle. But the inches are still coming off and all around things look a heck of a lot better! Not to mention that I feel INCREDIBLE!
I have so many more things I need to log about how I've changed this year...The things I did (got up and ran at 5am Christmas morning), the things I will do this next year(running a half marathon), the people that have inspired, pushed me, and amazed me that I motivated them in return! However I am running low on time so this a general thank you to all for now...I'll blog more soon.
I still get frustrated that I can't run faster, climb faster, lift more weights, loose weight faster. Sometimes I forget to stop focusing on what has yet to come and realize what I have done. I have to look forward, but I can't forget to look back everyone in awhile and remember all that I couldn't do before and simply be proud of myself. Then take a deep breath and get ready b/c starting today this is a new year w/new goals and I really am going to be UNSTOPPABLE!