Wednesday, June 04, 2008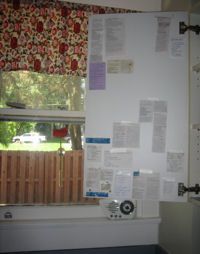 I'm a highly organized person. I love calendars and spreadsheets and file folders (and my SparkPeople co-workers can attest to that!). Needless to say, all of this organization comes in handy when you're busy and trying to fit in healthy habits, like cooking and exercising. I love cooking all kinds of foods from scratch and that sure takes a lot of time. So every small thing I can do to stay organized and make healthy cooking easier is a plus. One of thing that helps me is my "Recipe Door" (I may be organized but that doesn't make me very clever at naming things).
The picture above is from my very own kitchen. It's the inside of a cabinet door. All those little pieces of paper you see are actually recipes taped to the inside of the cabinet! Some are clippings from magazines, others are photocopies, and the rest are my own recipes, written on small pieces of paper or index cards. These are the recipes that I really like, but also the ones that I make on a regular basis.
To me, this method saves time (no foraging through the kitchen cabinets or cookbooks to find my recipes) and space (again, no books, cards or magazines sitting around in my limited cooking space), making following those recipes a little bit easier. If you think you'd benefit from gathering your recipes on a door like this, here are a few tips:
Use a door that is out of the way (you don't want to hit your head on it while you're getting your recipe together), but close enough that you don't have to walk back and forth constantly to read the recipe and do your cooking.


Organize the recipes. As you can see I have some way up at the top (those are seasonal recipes, like Pumpkin Pie, that I don't need currently but will want when the time is right). I keep the things I use most often near eye-level. Try to group things by course (such as breakfasts, dinners, snacks, etc.) so you can find them more easily.


Place them near your cooking supplies. This door is to a cabinet that holds some of my measuring bowls, baking dishes and food processor, for example. I'm going to be opening the cabinet to get that stuff out anyway, so it makes sense that my recipe is right there.


Be careful not to mess up the finish. I'm not too worried about my cabinets and I use regular tape to stick the recipes on the door. But if you have a special finish or solid wood cabinets, use something that won't damage the interior of the door.


Keep recipes text small and to a minimum. Sometimes recipes from books and magazines are full of details and can take up a lot of space. Often, I'll re-copy them with just the essential instructions, so that they take up less space. That means there's also less to read and scan each time you cook.
When it comes to eating healthy, we could all use a little more time on our sides. I hope this tip helps you stay organized and cook more healthy meals at home!