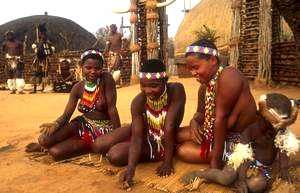 Well here we are back home from our recent trip to South Africa.
The main reason for our visit was to attend the wedding of our Niece and we then incorporated a holiday around that.
My sister & her family moved back to south africa 5 years ago so it was nice seeing them all again, and it was great to see our 2 Great Niece's for the first time, who are 18month's old & so "Cute"!
The wedding went off without a hitch, it was held at an idyllic country venue called "The Moon & Sixpence" which is situated in the countryside north of a place called Muldersdrift, it had magnificent Pine Oak trees, cool garden rooms, open rolling lawns, beds of country flowers, and trickling water features.
Our Niece looked beautiful on the day & our new Nephew-in-law looked pretty "Dapper" himself, in his kilt! ....Yes he's a Scot, so we also had the pleasure of scottish pipers & drummers to blast us all out when we left the church. It was a wonderful day and certainly one to remember !
Our second week was spent at a bushveld game resort called Dikhololo, which was a tranquil world on it's own. Needless to say whilst there we took a game drive and were very lucky to get the chance to see antelopes, giraffe, zebra, blue wildebeest and other species of game.
We spent our last week there having days out to places like Sun City, the wonder caves, an african market & basically just chilling out round the pool.....ooooh what bliss !!!
It was a great holiday & we can't wait to book the next !!!!!