My First Triathlon: Part 1
Friday, May 23, 2008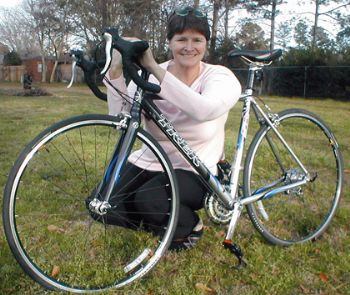 Anticipation
I'm finishing my breakfast (protein shake) as I type this. I'm all packed. All that is left to do is shower, load the car, and roll on down the road to Birmingham, Alabama. I'm not as scared as I thought I would be, today. (We'll see what tomorrow morning feels like, hehe.) I'll report to early registration this evening, and attend 2 different short clinics that are being held for 'newbies' and first-timers. I'm soooo excited. But the day feels a bit surreal. I can't believe I'm really doing this!
I honestly don't plan on racing - the thought of racing makes me feel very, VERY stressed, ROFL. So, my game plan is to relax, go at a steady pace, and FINISH! What a miracle that will be for me if I can. Two years ago I was a 240 pound couch/computer potato... six years ago, a two and a half pack smoking machine that couldn't climb a flight of stairs without gasping. God has changed my life... definitely a 180. :o)
I have to mention Bill, my awesome husband, here. He has been incredible through it all! Supportive, helpful, encouraging, affirming... no one could have a better help mate then I do.
Okie doke. Will report on the results when I return! Let's go Tri!