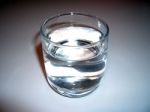 I replied: "You misunderstood, I did not say "I am thirsty", I said I was hungry"!
Then my boyfriend repeated: "We just had a great meal. Take that glass of water, drink it all, let's take a nice walk outside, and if you are still hungry, we'll have carrots and celery!"
At first, I felt a little frustrated by his answer... My taste buds wanted something crispy, and sweet or salty, and I don't know really, but I wasn't "in the mood" for another glass of water (I do take my 8 glasses every day)!
Okay: I did tell him I needed support for loosing weight, but I did not expect HIM, to tell Me What to do!?!

It took me a minute, after drinking that glass of water, to finally realize how helpful his advice was! And of course, I knew this was the good thing to do, but sometimes, we do not want to listen to that nice little voice inside our head, right?

So thank you my dear Friend! You just saved me from doing something I would have regretted, and in the end, I was really thirsty! Wish you could always be there, and wish I would listen more, even when it does not really sound like what I wanted to hear!