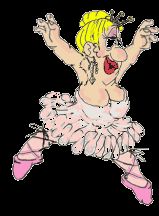 When it comes to listing low impact exercises that I prefer, I have found walking and hiking are my top two choices. Playing my fiddle is next. If you play an instrument that requires a lot of movement or with which you can incorporate a lot of movement this is an excellent way to get exercise and practice as well. Aerobics with music follows that or just dancing in your living room to the music is also a fun way to get exercise and just kick back and enjoy yourself.
As for other exercises, I guess my favorites would include Stair stepping with an air stair stepper and riding a stationary bike especially on a rainy or cold day.
I have added some strength training with low weights. These are to deal with that excess skin that hangs from your arms when the weight starts to leave.
Other exercise tools that help are the stability ball, and resistance bands. Just sitting on a stability ball as you work on your computer adds up to calories burned. You can use it while you are watching TV, with weights, and in conjunction with many exercises to add balance skills safely. Resistance bands can be used for so many things other than the typical exercises associated with them. I have even used them to put my back back in place when I couldn't get to a chiropractor.
All of the above exercises and exercise equipment allows for moderation and variation when it comes to FM.
I do exercises that require balance by standing in the doorway and holding on the sides for support and balance. I can do very little balance and yoga exercises in the conventional way because I do have poor balance and I can't get up off the ground once I get down without help.
I started practicing yoga 40 years ago when I was more flexible than I am now and before FM. I still do yoga breathing but I can't do most of the postures or exercises anymore, though, because the ones I did most required me being on the floor. There are a few that don't, but they require balance that I don't have anymore either, so I have had to go to doorways to practice some just to stay safe.
Here are a few that work for me. I cannot do them like it shows them on the santosha link but you can do the best you can. They have them listed there as to the level of difficulty so you might want to choose the least difficult ones. The sites that give examples of how these are done are listed first.
www.santosha.com/asanas/
www.yogasite.com/posture
s.html
One exercise that you can use seated at your desk to relieve neck tension and stress is to relax and bend your head forward. Breathing in roll your head to the right side and on until it is tilted back. Return your head slowly to the bent forward position breathing out. Do the same moving your head to the left. It is also a good tension breaker before doing any other yoga.
Trikona-asana - The Triangle Pose helps to stretch and relax the back, shoulders, legs and arms, increases the flow of blood to the head, and is good for the muscles of the thighs and calves. It also is good for lower back pain.
Nataraja-asana - The King of the Dance Pose is good for balance and concentration, and tones the muscles in the hips, legs, and chest. I put my hands on a wall sometimes for this one as my balance is not good anymore.
Ardhachandra-asana - The Half-moon Pose is good for stretching, balance, lower back, abdomen and chest.
Gomukha-asana- Cow Face Pose is good for arms, upper back, chest and the sides of the chest and abdomen. I do not sit on the floor to do it but do only the upper half and am not able to do this like it shows.
Ekapada-asana - One-legged posture strengthens leg muscles, improves sense of balance and helps sharpen concentration. I do a modified version of this in the doorway and rest one hand on the side of the door frame and then alternate.
This site has an article that is an overview of it
www.sparkpeople.com/reso
urce/fitness_artic