Unyielding Self-indulgence!!!
Friday, May 09, 2008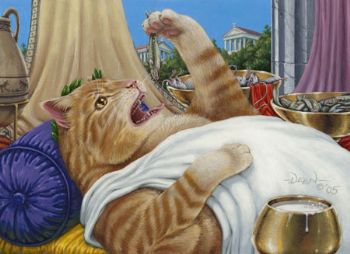 OMG! The Ohio Health Care Association Convention! That is where I have been for the past week. Every day up at 7am, educational sessions from 8am till 5pm, extravagant evening meals out, then crazy parties till 4am! There was so much food, in the sessions snacks and drinks, at noon lunch with the corporation members, every evening supper with the boss! And I am not talking just average meals, oh no, 4 star restaurants, rich decadent sauces, 3 inch thick fillet mignon, triple chocolate cheese cakes, pasta in cream sauces, carrot cake with 1 thick cream cheese icing, lobster in butter sauce and on and on and on, more and more and more, unyielding self-indulgence! I donít drink alcohol and yet I feel like I have a hang over! I have to have a recovery period! I refuse to weigh in for at least 2 weeks. Not fair? Who cares! There is no way in hell I am getting on that scale!