God is Merciful
Wednesday, April 30, 2008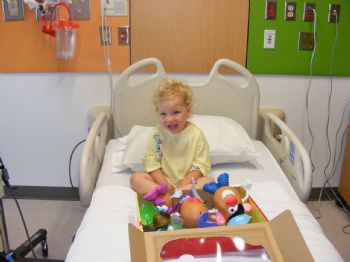 Do you know that Mercy means "Undeserved Kindness"? God has been merciful to us. My niece came off the paralytic medications this morning, and within two hours had pulled out her own ventilator tube. My brother and sister-in-law arrived soon after and were recognized and asked (by this 2 ½ year old) to help her (sit up or get out of the arm boards she needed so she didn't pull anything else out!). Now, baby is alternating sleeping and waking, for 60-90 minutes at a time, recognizes all family members and her nurse, asking for random toys (just because the toys are at home), and when she wakes up from this nap she can have some apple juice because she complains about the bad taste in her mouth!!
Would you like to know the series of miracles? The children were playing together and saw the baby go in; while the 4 year old screamed bloody murder, the 6 year old sister jumped in and started pulling toward the shallow end. Although the children had been screaming all day, my brother responded and ran around to the back of the house. Within 9 seconds of the 911 call, a squad car arrived; he'd been patrolling the neighborhood; he immediately emptied all the water out of Gwenevere's lungs. Within 29 seconds, a second car arrived; he'd been getting gas on the corner; he knew infant CPR and started rescue breathing. Within 90 seconds, an ambulance arrived; they had been close on a false call. By the time they were at the community hospital, the helicopter had arrived to airlift her to the children's ICU after being stabilized in the ER. Within 60 minutes of the accident, she was in the specialty ICU.
Thank God. Thank you for all your thoughts and prayers.
(edited to add photo of baby Gwenevere)