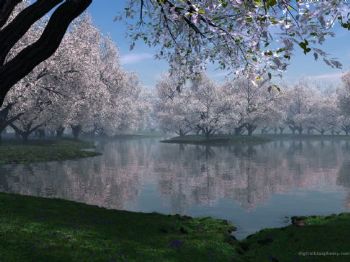 You've probably heard about endorphins—those great "feel good" chemicals that start running around your brain when you push your body pretty hard with exercise and physical activity. Endorphins (the word is a combination of endo (inner) + morphine) are your body's natural pain killing and anti-anxiety medication, which explains why exercise is such a good way to deal with problems like anxiety, depression, and boredom. They also appear to play a role in building up your immune system and slowing down the affects of aging.
But physical activity isn't the only way to trigger a release of endorphins in your brain. Listening to music or reading something that inspires you will also do it. So will getting out in the sun for a little while, and eating chocolate (which no doubt is why some of us feel like we're addicted to chocolate).
Some recent research is indicating that qualities of the physical environment in which you spend your time also can trigger or inhibit the release of endorphins and all their helpful effects.
For example, studies of post-surgery patients in hospitals found that those whose rooms had a view of gardens or natural landscapes had significantly shorter post-operative stays, less need for medication and pain-killers, fewer post-surgical complications, and fewer complaints than those in rooms that looked out on other buildings or built landscapes. Similarly, it's been demonstrated that, for people who normally live and work in an urban or indoor environment, just spending 30 minutes in an appealing natural setting can reduce heart rate, blood pressure, and stress, while improving brain performance.
These results are so consistent and impressive that some writers have suggested that we need a new word to express the relationship between natural environments and human mental and physical health:
Outdoorphins
. There's also a pretty impressive body of psychological, philosophical, and anthropological theory that explains why immersion in natural environments is so important for us.
The Biophilia Hypothesis
In 1984, sociobiologist Edward O. Wilson coined the term "biophilia" to refer to what he described as an "innate tendency to focus on life and life-like processes." For Wilson, and others, this tendency is far more than a mere desire to enjoy nature. It is a basic instinct, as powerful as the survival instinct, and provides the foundation for our emotional, cognitive, and aesthetic development, and even for our pursuit of spiritual and personal meaning.
We are "programmed" by our biological inheritance to learn about ourselves—what we need, how we work, what matters to us, how we fit into a larger picture-- through our mentored study and observation of life processes in the world around us. We are biologically prepared to gradually develop our personal identities, our sense of what's possible in our relationships with human and nonhuman others, and our worldviews and moral values by exploring our own reactions to the world around us. It doesn't take a lot of imagination to realize how differently our development as persons can go if the world we see around us is a world of buildings, pavement, and machines, rather than a constantly changing world populated with wildly diverse but mutually dependent creatures and plants.
This isn't the place to launch into a lengthy discussion of all this, but if you're interested in finding out more about this theory and its practical implications, I can recommend two good books:
The Biophilia Hypothesis
, edited by Stephen R. Kellert and Edward O. Wilson
Nature and Madness
, by Paul Shepard
For our purposes, I think the main lesson to be drawn from all this theory and evidence is that bad things can happen when we cut ourselves off too much from the natural world we inhabit. Given that most people in "advanced" societies currently spend as much as 90% of their time indoors, it's not too surprising that so many of us develop problems with emotional or comfort eating, and the weight problems that follow from them. What if much of the alienation, loneliness, frustration, boredom, and poor self-esteem we experience even when we are surrounded by other people and all kinds of electronic amusements is related to the loss of our connection with the natural world? Perhaps we are turning to food or other compulsions because we are desperate to replace something we feel is missing from our lives, but can't quite figure out what that something is.
That sure seems to be the case for me. Since I started biking and hiking outside for a couple of hours most days, my problems with depression, anxiety, and compulsive eating have gotten much better, and my capacity to enjoy life has increased dramatically.
So, if you're struggling with your motivation, or having problems with comfort or emotional eating, give yourself a chance to see if a daily dose of outdoorphins will help. Get yourself outside as much as you can, and spend some time reflecting on your experience there. Find yourself a favorite spot out in the un-built world, and take yourself there for a little while as often as you can, especially when life gets difficult.
Who knows—you may find exactly what you're looking for.