Have You Gotten Your Outdoorphins Today?
Monday, April 28, 2008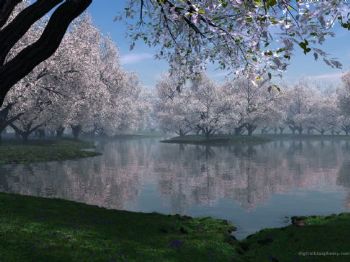 You've probably heard about endorphins—those great "feel good" chemicals that start running around your brain when you push your body pretty hard with exercise and physical activity. Endorphins (the word is a combination of endo (inner) + morphine) are your body's natural pain killing and anti-anxiety medication, which explains why exercise is such a good way to deal with problems like anxiety, depression, and boredom. They also appear to play a role in building up your immune system and slowing down the affects of aging.
But physical activity isn't the only way to trigger a release of endorphins in your brain. Listening to music or reading something that inspires you will also do it. So will getting out in the sun for a little while, and eating chocolate (which no doubt is why some of us feel like we're addicted to chocolate).
Some recent research is indicating that qualities of the physical environment in which you spend your time also can trigger or inhibit the release of endorphins and all their helpful effects.
For example, studies of post-surgery patients in hospitals found that those whose rooms had a view of gardens or natural landscapes had significantly shorter post-operative stays, less need for medication and pain-killers, fewer post-surgical complications, and fewer complaints than those in rooms that looked out on other buildings or built landscapes. Similarly, it's been demonstrated that, for people who normally live and work in an urban or indoor environment, just spending 30 minutes in an appealing natural setting can reduce heart rate, blood pressure, and stress, while improving brain performance.
These results are so consistent and impressive that some writers have suggested that we need a new word to express the relationship between natural environments and human mental and physical health:
Outdoorphins
. There's also a pretty impressive body of psychological, philosophical, and anthropological theory that explains why immersion in natural environments is so important for us.
The Biophilia Hypothesis
In 1984, sociobiologist Edward O. Wilson coined the term "biophilia" to refer to what he described as an "innate tendency to focus on life and life-like processes." For Wilson, and others, this tendency is far more than a mere desire to enjoy nature. It is a basic instinct, as powerful as the survival instinct, and provides the foundation for our emotional, cognitive, and aesthetic development, and even for our pursuit of spiritual and personal meaning.
We are "programmed" by our biological inheritance to learn about ourselves—what we need, how we work, what matters to us, how we fit into a larger picture-- through our mentored study and observation of life processes in the world around us. We are biologically prepared to gradually develop our personal identities, our sense of what's possible in our relationships with human and nonhuman others, and our worldviews and moral values by exploring our own reactions to the world around us. It doesn't take a lot of imagination to realize how differently our development as persons can go if the world we see around us is a world of buildings, pavement, and machines, rather than a constantly changing world populated with wildly diverse but mutually dependent creatures and plants.
This isn't the place to launch into a lengthy discussion of all this, but if you're interested in finding out more about this theory and its practical implications, I can recommend two good books:
The Biophilia Hypothesis
, edited by Stephen R. Kellert and Edward O. Wilson
Nature and Madness
, by Paul Shepard
For our purposes, I think the main lesson to be drawn from all this theory and evidence is that bad things can happen when we cut ourselves off too much from the natural world we inhabit. Given that most people in "advanced" societies currently spend as much as 90% of their time indoors, it's not too surprising that so many of us develop problems with emotional or comfort eating, and the weight problems that follow from them. What if much of the alienation, loneliness, frustration, boredom, and poor self-esteem we experience even when we are surrounded by other people and all kinds of electronic amusements is related to the loss of our connection with the natural world? Perhaps we are turning to food or other compulsions because we are desperate to replace something we feel is missing from our lives, but can't quite figure out what that something is.
That sure seems to be the case for me. Since I started biking and hiking outside for a couple of hours most days, my problems with depression, anxiety, and compulsive eating have gotten much better, and my capacity to enjoy life has increased dramatically.
So, if you're struggling with your motivation, or having problems with comfort or emotional eating, give yourself a chance to see if a daily dose of outdoorphins will help. Get yourself outside as much as you can, and spend some time reflecting on your experience there. Find yourself a favorite spot out in the un-built world, and take yourself there for a little while as often as you can, especially when life gets difficult.
Who knows—you may find exactly what you're looking for.
Member Comments About This Blog Post
LILHOBBIT29
Great Blog Coach!! :) Food for thought! :) Have a great day!


2038 days ago

SABRIELSWEETIE


What a great entry :)
At my job, not only do we have a classic fitness center, we also have 1.5 miles of woods including a great pond/lake that breaks up the scenery nicely. A lot of the land "in the back yard" is untamed prairie grasses and trees that have been left alone to grow as they will... not trimmed and shaped like so many city trees. I love to just go out there and spend a few minutes "communing with nature" :) Thanks for sharing your view of "outdoorphins"


3051 days ago

WOOLANDWOOD
Yep, I love the term outdorphins, I grew up rurally and live in the country now, at the base of the Cascade Mountains in Washington state. Outdoors is my favorite place to be, even in the rain. lol


3071 days ago

AMAZONZ
The great OUTDOORS is why one of the reasons I ride a "MotorCycle"... my favorite rides are through the metro-parks. The smell of the trees, earth, sounds, and rush of wind... always perks me up. We take a break from time to time to stop by a waterfall, stream, or nature site and just enjoy the day.

Wintertime? I definitely get the SAD thing going. I'm not a fan of snow or the cold, so getting outdoors is much difficult. Arthritis prevents it too. I try to go to the gym or hit the tanning booth every few weeks to soak up some light. But nothing beats being outside in nature, that's for sure.


3178 days ago

DRAGONFLY135


I love this article, thanks for sharing. One of my doctors always asks me how much I have been out in the sun, doing things outside, etc. She feels it is very important. I'm trying to get better at doing this. I started a garden.


3188 days ago

MIMI_B


YES... I am always much more motivated to exercise if I do it outdoors, which is why wintertime is so hard for me to keep it up. This time of year is the best... so get out there and ENJOY IT!!! :-) Hiking is the best and most reflective outdoor exercise for me... being in the woods is so calming. Next best... kayaking!


3191 days ago

ABCDARIAN


The smell of apple blossoms in the sunshine, oxygen off the new spring leaves in the dark, fresh air in the rain, it's all good. Outdoorphins is a true concept. Excellent blog!


3192 days ago

SHELLPROOF
Yep, get them daily! Along with West Nile, Rocky Moutain Spotted Fever, Pollen/ Allergy's :( & some dog attacks! lol Always, carry OFF! with DET! a good putter & mace!


3195 days ago



Comment edited on: 5/25/2008 9:04:13 AM
SUNPANTHER
I am thinking that this research you are discussing makes sense relating to the idea that overweight people with cluttered/messy/untidy physical surroundings are less likely to lose weight...(I read that somewhere - darn, can't remember - maybe a new book out?)

Thanks for sharing it...I have kilometres of bike paths and beautiful scenery around me - even my garden gives me such pleasure to spend just 5 minutes in...now that I am giving up my car I shall be experiencing outdoorphins more often! Jenny


3195 days ago

JANZWAY


Thanks for that. It's got to be true. As water is to a wilting plant, so is the outdoors the soul.


3200 days ago

CTUPTON
Outdorphins. I love it! Thanks for the new word. I have forever had a habit of walking around my house looking out every window. I am lucky to have just moved into a condo with wood s behind us. the birds and squirrels keep me entertained. And of course I am outside as much as I can be. Instead of "Got milk?" "Got Outdorphins?" Chris


3200 days ago

ROCKHEADEDMAMA
I love to walk at night - to look up at all the stars - to feel the enormity of the universe. It gives me a sense of place and connection that is hard to come by otherwise. Our urban living - plastic, concrete, electronic - creates a barrier between us and the basics of our own biological selves. Each of my grandmothers killed her own chickens - gathered her own eggs - raised her own produce - helped with the birth of her neighbors' children (and the neighbor returned the favor) and she assisted the animals they raised for food. I think our humanity suffers for our disconnect.


3215 days ago

ZUZUMARIE
I've gotta agree with the outdoorphins. We moved to a house on 20 acres, and I have never been more at peace with life. I love to sit by my pond and watch the deer graze. It really helps to end the day on a peaceful note.


3216 days ago

NOMI_822
This totally explains why I feel better when I get outside in the sun instead of staying cooped up in the house or at work. I have made it a new goal to get outside at least one hour every day. Thanks again for such an informative and motivating blog. I love to get the e-mail telling me when you have posted another great blog.


3219 days ago

JANEJAX
YEAH! Another good reason to go hiking! Perfect timing for this article. I am planning my summer vacations and with money tight, camping is where I am going


3221 days ago

REDNECKFEMINIST


Good ideas, outdoorsy I am not


3221 days ago

SCONAWAY


This must be why getting out and trying to play softball is so energizing.


3221 days ago

KAMI-2011


I love to get to mountains every chance I get.
Only one more year, until I can move to mountains and get my daily outdoorphins!
In the meantime, I'm going to try to get some exercise outside as much as possible.


3221 days ago



Comment edited on: 4/29/2008 5:13:01 PM
IVAN18
Nice work. I do my best to get outside every day, even when it is raining or snowing. As little as 10 minutes really helps to clear my head and relax after 10+ hrs at work.


3221 days ago

COWARDLYLION59
Springtime is my favorite part of the year since i can
get out more and walk, breathe in the fresh air. I try
to go around our hill near my house almost everyday
possible. Best time is at night when it quiet, it relaxes
the mind.


3221 days ago

OLIVIA_NY
I have recently been making a point of taking an hour-long, early morning walk on either Saturday or Sunday. It's a wonderful time of day to be out, and once the day starts, it's usually run, run, run! I love to laugh at the squirrels and the birds. My mp3 player batteries ran out during my last walk, but I had so much to look at, I hardly noticted.


3221 days ago

YUMMYMUMMY13
Getting outside is really great for everyday. Even this winter I tried to get out as much as possible. Thankfully I took cues from my new baby. When he was really fussy, out we went. All you need is the right clothing.
Thanks for the entry.
Shannon


3221 days ago

MTNEST
it is so therapeutic to listen to nature sounds sitting out on my deck, walking my dog or doing yard work. This is so true. Before my lifestyle change, being outside held no draw for me. Now that I am exercising and eating better the need to get out to the fresh air is amazing. This is sooooo true.


3222 days ago

OCALAWRITER
I have been 'walkitating' (walking/meditating) outdoors since 2006 and I credit it with much of my weight loss. My walks not only nourish my body, but my mind and, most importantly, my soul. I have worked thru many issues on 'my trail' that I would have probably 'eaten thru' at another, other time in my life.

I think people underestimate how important it is to get back to nature.

Nice blog!
~~~in health~~~
Diana


3222 days ago

KITTY1
I live near the ocean and everyday I run along my road I drink in the smells, the sounds, and the view. I savour the calm that comes after moving my body in the running rhythm. Nature expects me to be there. She is not surprised. Our meeting is always like some wonderful reunion. I was away for so long, and it is good to be home.


3222 days ago

LAB-LOVER
I gotta say Amen! to this blog. Another great read, especially for those with children is Richard Louv's book, Last Child in the Woods. We are becoming increasingly disconnected with the outdoors, which is a terrific source of inspiration, renewal, and challenge. A constant drumbeat of FEAR from the media -- strangers, insect borne disease, etc. make people afraid to let their kids play in the woods. It is so sad! What to do? Well, if you need to meet with someone, consider having a "walking meeting" outside. Visit a park or wildlife sanctuary and take a walk. Take the family for a hike. Or try a run outside rather than at the health club. I'd rather run outside than on a treadmill anyday -- even when its wet!
-LL


3222 days ago

RENA1965


Gotta have my 90 minutes with endorphins every day... Only thing holding me up these days while on strike. Nurses, nurses assistands, resthome helpers, cleaning assistants and kindergarden teachers are all on strike in Denmark and have been the last two weeks... We are tired of running faster, unable to get enough young people with the right qualifications interessed in this area, constantly going down with stress syptoms and getting less money than a factory worker earns a hour.. When I exercise and listen to my music I can cope with anything life throws at me, but not permenantly having to cope constantly with 2-3 of my work mates phoning in sick each and every day -we others then have to deal 30 or so clients into a already pressured every day. Our fast clients are also begining to join us wanting change, it has been amazing seeing families being told to wheel their mom or dad out to the protest meetings! They wanna back their helpers and nurses up!


3222 days ago

JUSLEFAIRE


Your ideas are wise and I appeciated the beautiful picture you included as well.

I needed the seed of your ideas to use as defence against frustration, boredom and saddness-stimulii for overeating, in my case.

Archie Mitchell


3222 days ago

BONLOR
I would much rather go outside for a nice long walk then be cooped up inside on the treadmill or stair stepper. Nothing makes me feel better than fresh clean air!


3222 days ago



Disclaimer: Weight loss results will vary from person to person. No individual result should be seen as a typical result of following the SparkPeople program.
More Blogs by SP_COACH_DEAN