Wednesday, April 23, 2008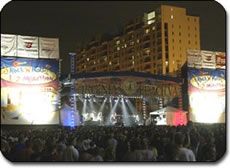 so, last week i began running regularly again. after more than a month of fitting in jogs whenever and wherever i could, and losing my motivation altogether, i've set a new goal. i will be training for the rock 'n' roll 1/2 marathon in virginia beach on labor day weekend. cheer me on, this is going to be loads of fun!! i'm stoked because this combines my two loves, good music and beach running. who thought of this? i want to hug them....
i would be sooo happy to get motivating comments throughout this time. i'll need it!