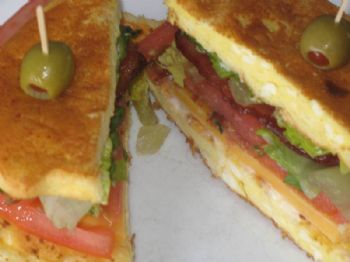 FYI: The photo is a BLT on an Oopsie Roll
Ok... so I've been asked about my comments on these so many times, I thought I'd post the info here. An "Oopsie Roll" is a great bread alternative, as I understand it, it was "discovered" (read accidentally!) by a fellow low carber. She was trying to make a different low carb recipe and ended up with the "Oopsie Roll"... thus the Oopsie name (her blog is hilarious, by the way!). I've made them a few times now and they're yummy. When I told hubby about them, I got this "you're seriously kidding me, RIGHT?" face. I made the 1st batch, made a sammich for him (I think they're best as sandwich bread), and he promptly begged me to make more - right then! To me, that's a successful recipe! You can find the full story, additional Oopsie ideas and suggestions at the attached link.
The Oopsies listed includes a packet of Splenda, which you can use for a slightly sweet Oopsie. For burger buns ya just leave out the Splenda. I add onion powder to mine to give it a little savory flavor. You can add most any spice to it. I tripled the recipe to make 10 decent sized Oopsie Rolls. Or you can make them in a rectangular loaf pan for sub sammich rolls. She has a recipe on there for meatball subs that has me craving it! I made them again last night and hubby promptly took 4 of them to work to use as buns for his 2 turkey burgers. They're a GREAT alternative to bread for me because my blood sugars go haywire when I eat any kind of white stuff (bread, sugar, etc.). Wheat bread's not much friendlier to me. Any who, just thought I'd share.... You can leave the Splenda in (or add a bit more to taste) and make a sweet roll of sorts. You can add a fruit topping to the top of it to make a mock danish. In fact (and yes, you'll think yuck when you hear it), I have a recipe for Zuchinni Apple Cobbler that has NO apples in it. It's low carb, so the zuchinni takes the place of the apples. And let me tell you, I was as shocked as you'll be when you see that it's actually awesome! The zuchinni just takes on the flavor of the spices (cinnamon, nutmeg, etc.) and it has a very similar texture when cooked.
The link to her blog has the following Oopsie variations:
Oopsie Rolls - Oopsie Subs - Oopsie French Toast - Oopsie Pizza
Oopsie Pannini - Oopsie Almost Tiramisu - Oopsie Taco Bowls
Oopsie Birthday Cake - Oopsie Boston Cream Napoleon - Oopsie Cannoli
Oopsie Chocolate Eclair Cake - Oopsie Cream Puffs
Mind you... ALL low carb!
She also has other low carb recipes that are yummy:
Cauliflower Spanish Rice - Cauliflower "Fried" Rice - Soups, etc.
Any who... experiment and ENJOY!
cleochatra.blogspot.com/
2008/01/sailor-scouts-make
-my-revol-oopsie.html