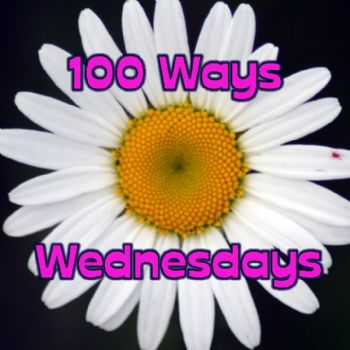 This is a series I'm doing on my other blog for 100 Ways Wednesdays. You can read a little about it here. I forgot to post this here. Oops!
100 Ways Losing Weight Has Changed My Life
1 ♦ Furniture will now hold my weight without a second thought.
2 ♦ Running up stairs instead of crawling on my knees is no problem.
3 ♦ My youngest daughter can get her arms all the way around me to hug me.
4 ♦ There is room between the steering wheel and my stomach when I drive.
5 ♦ Getting off the floor is no longer a problem.
6 ♦ Fitting into booths in restaurants is easy.
7 ♦ Strangers actually speak to me instead of ignoring me.
8 ♦ I am proud of my accomplishments for the first time in my life.
9 ♦ I weigh just 10 pounds more now than in high school.
10 ♦ The girls and I went ice skating.
11 ♦ Tim and I fit in the same bed together for the first time in 8 years.
12 ♦ I weigh less now than when I got married 18 years ago.
13 ♦ People speak to me that never even noticed I was in the room before.
14 ♦ I am no longer "invisible" to the general public.
15 ♦ People take extra time to hold doors for me now when a year ago, they were slammed in my face.
16 ♦ It is no longer assumed that I am lazy because I am fat.
17 ♦ I don't have to hear, "You would be so pretty if you just lost weight".
18 ♦ I can feel bones I never knew I had.
19 ♦ Tim says he feels like he is "cheating" on his wife with me.
20 ♦ I can work for 8 hours standing on my feet, work out and still have enough energy to cook dinner and play with the girls.
21 ♦ People I've known for years do not recognize me.
22 ♦ I have amazing amounts of energy.
23 ♦ My current ring size is a 5. My old ring size was an 8.
24 ♦ Getting in and out of bed is no longer a cumbersome duty.
25 ♦ I wake up feeling refreshed instead of feeling like I need a nap.
26 ♦ Parking far away from my destination is a good thing.
27 ♦ My next meal is not planned while my mouth is still full of the previous meal.
28 ♦ Weight loss surgery has taught me the importance of protein in my diet. Why doesn't the food pyramid teach this?
29 ♦ I have kicked my soda/caffeine addiction. I haven't had either since October 2006.
30 ♦ My kids are not embarrassed to say that I'm their mom because of my weight. (They still have other reasons for being embarrassed.)
32 ♦ Sex is an entirely different story when both partners have lost over 300 pounds combined.
33 ♦ Going to more than one place is not a problem because I don't get tired.
34 ♦ Doing laundry takes much less time because our clothes take up less space in the washer.
35 ♦ When you are more than 200 pounds overweight, it's hard to ever imagine that you will be "normal" sized again. Think about how depressing it is to try and lose 10 pounds and keep it off.
36 ♦ Riding roller coasters is no longer a distant memory because I can fit on any of them.
37 ♦ My butt fits easily on toilet seats. I'm ashamed to tell you that I did in more than my share of them in the past.
38 ♦ I can get on the floor and easily get back up.
39 ♦ A half gallon of sugar free ice cream will last for more than a month at our house now.
40 ♦ I haven't eaten at McDonalds or Burger King since October 2006. The only fast food we eat now is chili from Wendy's occasionally.