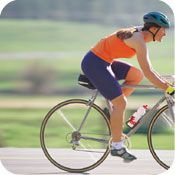 My boyfriend was telling me a story recently. A small group of his company's European investors were visiting the states for some meetings. The investors specifically requested a hotel that was one-hour walking distance away from the conference center where their meetings were taking place.
When they talked to the concierge to get directions to the conference center he said, "You can't walk there! It's at least an hour away!"
Well, that was the whole point of course. They were accustomed to walking each day and didn't want to give it up, even if just for a few days. It was a part of their lifestyle and they enjoyed it. Not only that, but a couple hours or walking each day helped them stay healthy and fit.
It's just funny how different our mindsets are here in America compared to other nations where walking, biking and the like are commonplace things that people not only do on a daily basis, but also enjoy! What we consider "exercise" is viewed very differently by different cultures. A friend I met in college was from Holland. She'd talk about how people of all ages would ride their bikes everywhere as transportation—in rain or shine, in suits and dresses, short distances and long.
As much as many of us dread working out, when you move with purpose, your mindset about that activity just might change.
In fact, for the last year or so, I've been contemplating riding my bike to work. Part of what is appealing about that (besides saving money on gas) is that biking to work automatically increases my physical activity for the day so that I have less "exercise" on my schedule when the work day is over. Not to mention it's a great way to start your day and just enjoy more time outdoors—that's a perk for people like me who spend their days in an office. Better yet, I welcome activities that force me to slow down a bit. As much as we rush from here to there, having to take the longer, slower route can be good for a change--and not just for your mind.
My point here is that there are lots of things you can do to move with purpose that don't have to be boring or dreadful like walking on a treadmill (sorry, but that's just boring to me!). Many times, just getting outside of the gym (or house or office) allows you to combine fitness with other things like errands so you can do two things at once. Thing about ways that you can add a little "people power" (walking, biking, or even jogging) to your day:
Your commute to work. If that's not feasible, why not drive just part way and use "people power" to commute the rest of the way in. You'll automatically be adding more fitness to your day, without going out of your way to do it. Start by parking a couple blocks away, and gradually increase the distance from your car to your office.

Spend a few minutes gardening or doing yard work each morning or evening.

Walk your dog around the block instead of just letting him out in the yard.

Take dance lessons. As you're getting active, you'll learn a fun skill while meeting new people (and spending quality time with your partner).

Carry a basket at the grocery store instead of pushing a cart.

Spend 10-15 minutes "power cleaning" your house each night. Straighten up and put things away as quickly as possible. You'll actively increase your heart rate and tidy up at the same time.

Wash your car by hand. Forget the drive through car wash. Spring is perfect for this!
So how do you move with purpose? Share your ideas in the comments below!
Check out these articles for more ideas:
www.sparkpeople.c
om/resource/fitness_articl
es.asp?id=463
www.sparkpeople.c
om/resource/motivation_art
icles.asp?id=807