Saturday, April 05, 2008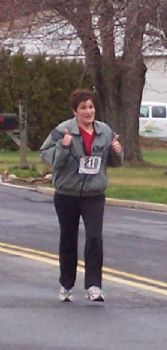 Today I ran my very first 5K!! And it totally ROCKED!!! I was so excited and nervous that I didn't sleep real well last night. Got up and decided on what to wear because the forecast was questionable. Ate a big bowl of oatmeal with some apples and some flaxseed oil. Then headed out to Kutztown with the family. We were there plenty early...but I'm glad because it gave me lots of time to warm-up and stretch. The husband to one of my good friends also registered for the race. So we took some pre-race pictures(check out my photo gallery).
The 10 Miles racers took off at 9:00am. Then 5 minutes later off we went. I remembered to keep it at my own pace and not get all caught up in the BIG race. At first it was a little tough to get my pace with everyone around me and passing me but about 1/2 mile into it we were starting to spread out. Then came the first little hill....no problem. Then it was pretty much flat or small downhills till the turn around point.
Coming back on this course was the tough part. I had done 3 practice runs prior to race day. On the third practice run I was finally able to run the entire course thanks to the help of a fellow Sparker Kelly!! I did really well today on the way back until the killer hill!!! I was determined to run the whole course so I slowed my pace down and pumped my arms. I also kept my chin down and looked down at the road (thanks for that tip Helen). Got to the top of the hill and my heart rate was CRAZY!!!
Then I headed down and ready to finish the last leg of the race. I had a really tough time getting my heart rate back to "normal" again. So I just slowed down again until I got everything under control. Got closer to the finish line and my Hubby, son and Mom were cheering me on!!!
Finally checked my watch to see how I was doing on time......29:58.....I yellled out "Holy $h!t!!!" I couldn't believe how fast I was running.
Then it was time to kick it up a notch to bring it home to the finish line.
Ran across the finish line at 31:14!!!! Totally awesome time!!! The best that I had done in practicing was 35:48!! I am so proud of myself and I can't wait to run another race!! I am even considering doing a half-marathon in September!!! I am now officially addicted to running!!