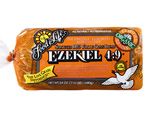 I've often seen people on the message boards talking about how they're looking for healthy breads, but have a hard time picking the right thing. Look at the bread aisle in any grocery store, and it's no wonder. There are seemingly endless choices: Whole grain, multigrain, seven grain, whole wheat, white wheat (what is that?!), honey wheat, wheat…
The bread aisle (like most others in the grocery) looks like an explosion of marketing ideas and tricks! You'll find all kinds of buzz words on the front of these packages. And then when you think you've navigated the marketing mumbo jumbo, you turn over the package you selected, only to find that the "healthy" bread you've picked contains high fructose corn syrup, sugar, coloring, and about 1,000 other additives and ingredients. When did bread get so complicated? After all, isn't bread just flour, water, yeast and salt?
In a perfect world, it would be. But in a world where food is colored, refined, manipulated and engineered to be better than what nature has to offer (if that's even possible), there's nothing easy about it.
I only buy one type of bread. And I've used this bread for years now and I can't imagine ever going back. You won't find it in the bread aisle. You won't even find it in the bakery. But you will find it in the freezer.
It's called sprouted grain bread, which means that it contains many types of grains (even beans and lentils!) and no flour at all. Check it out:
INGREDIENTS:
Organic Sprouted Whole Wheat, Filtered Water, Organic Malted Barley, Organic Sprouted Whole Millet, Organic Sprouted Whole Barley, Organic Sprouted Whole Lentils, Organic Sprouted Whole Soybeans, Organic Sprouted Whole Spelt, Fresh Yeast, Sea Salt.
It's full of healthy, whole (not refined) ingredients that are naturally rich in nutrients like protein and fiber. This mix of grains and legumes also means that each slice is a complete protein (containing all 9 essential amino acids), which is great for anyone, especially vegetarians. Here are some nutrition facts for just one slice:
80 calories, 75 mg sodium, 3 grams fiber, 4 grams protein
I prefer
Food for Life's Ezekiel 4:9
variety (pictured above). I buy the loaves of bread, tortillas, English muffins, bagels, buns—every possible bread product. These are normally found in the freezer section (or refrigerated section) because they don't contain preservatives and they'll last longer when kept cold. (A single loaf will last for weeks, in my experience, when refrigerated.) Although I haven't tried them, they're expanding to products like cereals and pastas too.
So how's it taste?
I love it. But I realize it's not for everyone. Despite ingredients like soybeans and lentils, it doesn't taste "beany" at all. Its taste and texture is dense, hearty, and a little bit nutty. I keep mine in the refrigerator, and when you pull it right out, it can be kind of dry. So I prefer to toast this bread for better flavor and texture, or to microwave it for a few seconds, which softens it up and really makes it moist (not sure how that happens, but it works).
There are lots of varieties of sprouted grain products out there, including some hybrids that contain both sprouted grains and flour, which some people prefer in terms of taste and texture (it's a little softer like regular bread). If you want to eat like me, then I highly recommend Ezekiel bread for a healthy, no gimmick bread that, unlike most packages on the shelf, doesn't have anything to hide.
www.foodforlife.c
om/