Mermaid Run 5K
Monday, March 31, 2008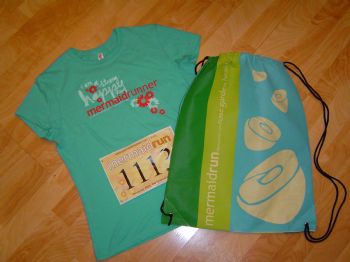 I ran the Mermaid Run yesterday and I am so glad I did. It was an all women race which I've never experienced before. I was racing this one for the girly t-shirt and the post race pancake breakfast. I had no idea that racing with only women would make such a big difference. When I went to line up at the starting line there was a ton of room up in front. I think most women are used to letting the men line up in front so there just weren't many people up there. So I went up to about the second row, although we were all pretty spread out and we weren't really in rows. We took off and I just could not believe that the girls in front didn't just take off leaving me in the dust. I was actually up there with them. After the first half mile I knew there were only a few people in front of me and I thought I might actually place. This wasn't a very small race so placing was not a goal I came with. I just wanted a new PR. I came thinking I'd be able to use the strategy of trying to pass each person in front of me, but there was no one that close after the first mile. After two miles I was still on pace for a new PR, no one was passing me, and I was feeling good. I turned the last corner and saw the finish line about 600 yards away. It helps so much when it's in view. I even heard the announcer call my name as I approached the finish line. Very cool!
Okay, now for all the numbers. Warning: I'm a numbers freak! My goal was 26:20 (8:29/mile). I set the Garmin to pace me at 26:40 (8:35/mile) because I figured I could pick up the pace at the end, and mentally I knew it would help me if it said I was ahead the whole time, and my recent 2 mile tempo runs at 8:35 were hard enough. I ran mile 1 at 8:21, mile 2 at 8:30, mile 3 at 8:31, and the last .11 mile in 45 seconds (7:06/mile). Average heart rate 196. Garmin 5K time 26:07 (8:24/mile), chip time 26:16, and gun time 26:18. A new PR by all counts! And I just barely missed placing. I came in 4th out of 99 in my age group and 10th out of 237 overall. I still can hardly believe it!
I've got another smaller 5K this Saturday. I'll be setting the Garmin to pace me at 25:59 and since it's a smaller race, I might just place this time.