Holy Snow!
Sunday, March 09, 2008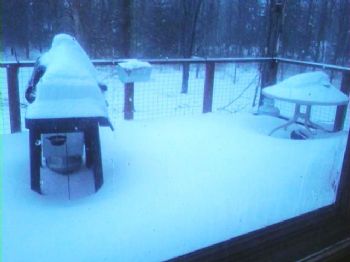 If March comes in like a lion, it will go out like a lamb. Well there is no doubt about that this time. It really came in like a lion this past week and a half- ice storms, snow, sleet, hail, thunderstorms!??!, and more snow. Yesterday dumped just over 18 inches on us here- ugh. Not very fun living near lake ontario at this time of the year that's for sure. Now I get to go shovel it so that I will actually be able to get my car out for work tonight. Yippie! LOL. I will just try and be positive about it and count it as cardio. Always looking for an exciting change to my routine, here is my chance today. :) Bundle up everyone!
P.s. The picture was taken yesterday afternoon of my back porch patio when the snow was only at about 10 inches. Now there is almost another 10 on top of it. I can't even open my back door anymore. LOL. Florida just keeps looking better all the time.....