I just HAD to blog this!
Friday, March 07, 2008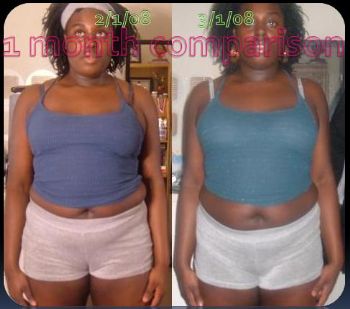 Ok, so my boyfriend is over my place tonight, along with his more than adorable teenage brother (Joshua). I let his brother watch tv in the living room as I was in my room browsing sparkpeople (as usual) and my boyfriend was stuffing his face. I just happen to walk in the living room to tackle Joshua and mess with his head of brown curls like always...just as I try to sneak and attack Homer Simpson burst out "omg, 239 POUNDS?!! I'm a WHALE" and I just stopped dead in my tracks and laughed. Joshua looked up and showed me his face that said "it is NOT that funny" The reason why I found it so funny was because...when I weighed myself about 20 mins prior of their coming it said 239lbs.
I'm a cornball, yes I will admit, but I just found it funny that big bellied Homer Simpson would be the same weight as I. BLAH!
Anyway, I have a one month comparison picture, I just wanted to see if you guys notice any difference. I do notice that I am less flabbier and my stomach, hips, and thighs are a bit smaller.
Tell ME what YOU see!