My cat has fleas!!! EEEECK!! Still recovering from willies!!
Tuesday, February 19, 2008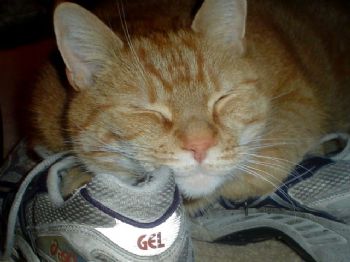 Last night I was snuggling my totally indoor cat who has rarely ever been outside and most definitely not lately! He weighs about 25 pounds (and is in desperate need of Kitty Sparks!!) so picking him up is out of the question, especially for me with my shoulder acting up these past few days!! So I laid down on my side on the carpet and he snuggled right up and he immediately started patty-pawing my arm. We had a nice snuggle fest and I capped it off with a nice thorough combing. I was walking to the trash can to throw out the combed out fur when I saw something that I have yet to recover from seeing!! One teensy little flea!!! I immediately squashed it! But once you find one, the news only gets worse!! So now we can add eliminating a flea infestation to the long list of woes plaguing my house!!!
However, within seconds of discovering the unwelcome traveler, my entire body was itching!! And then it itched and itched and; well, needless to say, I am still itching and still recovering from a horrendous case of the willies, even following a nice, long, hot shower!! Now every time my scalp itches, those miserable willies just come right back and flow thru my body. (Gee, I wonder how many calories I am burning from these willies?? Hmm, could be an idea!!! Nah, just too wretched!! Trust me!!)
I have dealt with fleas before but each time I knew ahead of time as I was petting him or combing him that I was working with a flea infestation. This time, I had no warning because he had combed out clean just 2 days prior! (Ever vigilant, I always check the comb out for fleas!) This one caught me totally off guard!! Besides, it is extremely rare that we get fleas since our cat rarely goes outside, unless someone leaves the door open or the wind blows it open. So how he ever gets fleas will remain one of those eternal mysteries like crop circles and UFOs!!!
And to think that whole time I was snuggling my oversized fur ball, I had been laying on the carpet right there in the middle of the newest flea capital!! EWWWWWW!! (Shudder!!) There it goes again!!