| | |
| --- | --- |
| | _MOBII_'s Recent Blog Entries |


Friday, July 20, 2012
Its been a LONG week!

Had a doc appointment Thursday.... it went reasonably well I think.
Got a bunch of blood drawn to recheck my cholesterol...I hope that changing my diet helped it, I get the results in 2 weeks at my followup appointment.

He knew I had changed my diet and was pleased that I printed out everything I was eating on my previous visit. On this visit I told him that I started the couch to 5k program and had been jogging 3 times a week and starting resistance exercises on the no joggy days.
I also gave him my desired goal times of doing a 5k by this fall/winter, a 10k by the end of next spring, and a HM by fall 2013.
We talked about my knee and hip pain, and he checked over a varicose vein in my leg and deemed it ok. I also brought up the fact that my hips seem quite uneven and my right hip is usually more painful than the left and that the outer edge of my hip is either constantly swollen or shaped very different from the left side. He will be ordering me some xrays to start, just in case, but he thinks it is either arthritis or coming from my lower back....I have bulging discs on L4-L5 and L5-S1, he said that the L5-S1 could potentially cause hip pain.

I also asked for (and received) a steroid injection in my hip....that will teach me to think about what I ask for! I finally made it in to work at about 11:00 am and lasted until 11:55 am...started feeling sick and my energy bottomed out, I told them I was going home after stopping by my beau's work to let him know, I came home and crashed for 4 hours! I woke up and felt like I was on fire from the inside out! I hate steroids but take a little comfort that they DO help my back and hip!

I know I am asking a LOT from my lower joints and just keep telling them that if they carry me through to losing weight, that with every pound it will be a little easier. Maybe I have been jogging/walking a bit off center because of my hip or something, but my left knee is kinda puffy today. I didn't even do any of my off-day exercises or walking...although with the storms we have coming through and the amount of wind and lightning, the walk would have been put off anyways, lol.
We did take a trip to the pet store, the sporting goods store, and the drug store to pick me up a knee brace. It feels so much better between the pressure on it from the brace and the pain pill I took, lol!



On an up note, my beau fixed one of my ongoing frustrations on Thursday. I had been complaining for awhile now (since we got another room mate), about being pushed out of the refrigerator. Yes, there is a lot of salad fixings in there, but the door is jammed full of fattening condiments and the shelves are full of milk, sugary kool-aid and other assorted junk.
Since I try to prepack breakfast, lunch, and snacks for both myself and my beau for the following day, I need room in there for usually 6 sandwich sized tupperware containers. On Wednesday evening, there was not room in there for even one.
So my beau went out and bought me a mini fridge! Its so pretty and all our healthy stuff fits in there just perfect! It even has a separate freezer for my little weight watchers ice cream bars and filtered water ice cubes.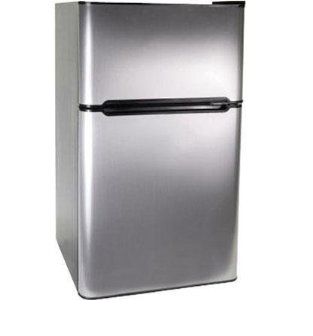 Oh and speaking of filtered water, we also upgraded our Pur water pitcher to the Zero Water....which is a big difference in the water quality. The drawback was that if I added unfiltered water ice, I could taste the difference and even with our awesome little blue reusable ice cubes, I can actually taste the plastic! I like it though and I usually drink room temp water anyways and each filter will last for 22+ gallons which a big upgrade from what I was getting with the Pur.


I am trying not to feel bad about not exercising today other than limping around a few stores. We went out to McAlister's deli for supper and I think I did a pretty decent job picking something reasonably healthy 400 calories for half of a Savannah salad and a cup of vegetarian chili, a bit high on the carbs but almost half of my calories and more than half the carbs came from the chili. I restrained myself from ordering the sweet tea...its the only place that I have found that I could drink that stuff by the gallon, anywhere else I always order unsweetened. The unsweetened wasn't bad, I had two big slices of lemon squeezed in it and a bit of no cal sweetener.

Tomorrow is my next joggy day, I hope that I am able to do it, but if nothing else, my beau and I can at least go for a walk. I noticed that my knee hurts more just sitting here. If I can't go out walking tomorrow, resistance exercising is most definitely in order! I refuse to fall back into that habit of 'I can exercise later....' and putting myself into that miserable, unmoving, ball-of-pain state!
I REFUSE!!!!!!!!

One day I will be what I believe.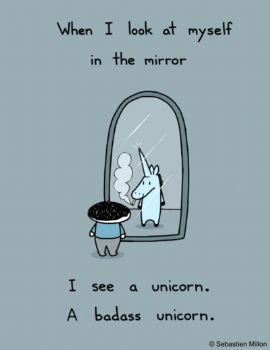 Tuesday, July 17, 2012
I was FINALLY able to run 60 sec/60 sec/60 sec on my jog tonight! With a pace of 19'59"/mile. I wasn't sure if I could actually make the whole 60 on my third jog, but I was determined to do it, this being my third week on week one of c25k! After hitting my inhaler, which I have been suckin on all day with the humidity and poor air quality we had today, I looked at my beau and just said "I did it!"
I had me a short little cry during my cooldown walk and gave thanks that I was finally able to complete this week's goal.

So far, my lungs are doing reasonably well at keeping up, its the lower half of my body that is having the trouble but I know that will get better as I get a little muscle built up!

Oh, I also double checked my mileage on the maps here because Nike+ app got last nights mileage wrong...I think the problem was that I kept turning around checking to see if our fat cat was still following us last night, it wasn't off by much but it irritated me enough that I drove the route today that we walked last night, lol!

If I ask my feet right now whether they want a walking day tomorrow or an off day, it would definitely be an off day, but we will see how I feel after sleep and work tomorrow. If they are still this sore, I will have a rest day but still plan to start on some resistance training.

I'm still feeling high on myself but can tell its slowly waning away, plus its past my normal bedtime, haha, so I will bid you Good Night!





Sunday, July 15, 2012
This weekend went better...
I was not happy about it but I did not try to jog on Saturday. I did go out for a walk though. My right hip was still a bit sore and almost as soon as we got to the end of the block and the whole muscle on my inner left thigh from groin to knee kinked up. I ended up limping around the block back to the house.

In my post on the Couch to 5k group, stretching was mentioned and being that I do stretch out before and after and was still in pain, I went to see if there were any others that I should try....well, it turns out that only one of the stretches that I was doing was one of the recommended ones.




So now I have 11 more stretches to add to the one correct one!

I spent a good deal of the weekend looking for my knee braces, with no luck. I also was looking for a wrist-pouch that my inhaler would fit into. I checked out the belts/fanny packs but I am still too big in the waist to use one of those. They had one type of wrist wallet available at Walmart but the pouch wasn't big enough for my inhaler...which really isn't that big, lol.
To get two birds with one stone we went to Academy Sports (I am REALLY starting to love that place!) I got 2 knee braces and found a wrist pouch that fits my inhaler nicely (yay, oxygen!)
We will also be going back next weekend to shop for...uh...my second base girls!

I knocked the dust off the X-box Kinect this morning. I tried the skiing twice..it was way harder than I thought! And then I tried Sonic the hedgehog. I didn't make it out of the tutorial on this one, I got to the jumping part and my knee said 'NOPE!' Which was ok, because by this time, my beau was awake and my son came over and they were wandering around in the kitchen...maybe wondering why I wasn't in it, lol!
I figured that this would be a good stopping point and I went to feed the hungry.

The new exercise schedule will now be x-box on Sundays,
M,W,F will be a walk in the evening...NO jogging allowed!
T,Th,Sa will be c25k
All interspersed with the occasional shopper-dodging!
Oh and on Monday mornings I will get my measurements in the mornings...also taking the time to make sure I measure correctly!

My scale hasn't really moved at all, but I know that I usually show a difference in inches a lot sooner than weight.





Friday, July 13, 2012
Had some trouble with last night's jog, and I am not sure why.
This is my second week of the c25k, and I am repeating week one. As soon as I started out last night on my warm up walk, I could feel that my right hip was not happy about it. Mind you, I haven't had any trouble before now. Maybe its the rain, I dunno.

I did better on my first jog, 60 seconds wasn't exactly easy but I could tell the difference from my previous run 2 days before, it was easier.
I got a stitch in my side but concentrated on my breathing and made sure to breathe completely out and not pant for air. That took care of the stitch pretty quickly!

My second jog was a bit tougher as I was determined to last 60 seconds, which I did.
By this time, my right knee was not happy either.
On my third, I lasted 50 seconds, again, better than two days before and during my cooldown walk, I got what I can only liken to shinsplints...but behind my knees.
I had these pains during the first week but not as bad as this, if I had to guess, I would say it was the tendons back there complaining...LOUDLY!

Today I am waddling around like a damn duck! Usually if I over-do it, moving around will loosen things up....not so much today! Although it helped everything loosen up a little, I am still very sore.

I don't want to progress to a new week in the program without being able to complete this one (my run days are Tuesday/Thursday/Saturday) and I am worried about tomorrow's jog.
I am not sure if putting my elastic braces on my knees will make the pains back there better or worse or what.
My last 3 jog times were right about the same, 20'1, 16'4, and last night was 16'2 per mile average.

I am bummed because I am going to be on week 1 for yet another week...yea, I get impatient and I am harder on myself than anyone else on the planet but my beau helps keep me in check.

Also, my measurements are all out of whack on the tracker and I don't see a way to delete any of them...I had been measuring during the middle of the day, but when I measured my waist first thing this morning, there was a huge difference (in a good way)....When I stop to think about it, ever since I had problems with my gallbladder, even now that I have had it taken out, anything I eat makes me bloat. Also, I think that my other measurements are out of line too...I cannot be sure that I am measuring in the same place every time I do it. I even thought about taking a sharpie marker and making a dot on the place to put the tape measure, but how do I know that my skin isn't getting all saggy and droopy...which would still have me measuring in a different place!
Maybe I am thinking too much into it but its making me nuts when I can tell a difference in the way my clothes are fitting but the tape shows the opposite!

HELP!





Tuesday, July 10, 2012
I am sitting here listening to all the music on my computer, its been far too long that I let music move me or touch my heart.

My music tastes are quite varied, but most everything that I listen to speaks to my heart...
Playing now is Edwin McCain's "Write Me A Song"
Its one of my favorites, the chorus always gets me:

"She said write me a song
Fill it all up with words
Like brilliant and heavenly
Make it sound just like me
Just like the first time I love you was heard"

www.youtube.com/watch?v=1z64BNPFefY


When my dad died, I lost myself. I let grief push me to the edge of suicide and back into self harm. Its a place that I had been to before then, but this time it didn't scare me.

As much as I want to take all the blame in the failure of my marriage and my life at that point, it takes two to tango and my ex played his part in it all.
I will no longer accept ALL the blame in what should have been a partnership.

We parted ways and I got help from my doctor and from my beau, whom I had only known as a friend online at that time, we had chatted for a few years at this point.

In the months that turned into years that followed, I pushed music out of my life. I pushed a LOT of happiness's out of my life. I was so angry, I was angry at God, at my dad, at myself, my family, my ex....everyone.

I got together with my beau and found my smile again. He makes my heart pitter patter like no other. He has helped me find myself again and realize that although I may be different and a bit worn around the edges, he loves me because of who I am and what I am and even when I cannot love myself.

I came to realize that I was still harming myself, passively-aggressively.
I would just eat this or that and be happy for a minute and work out tomorrow. I thought I was taking care of myself by letting my aches and pains rule my life...such as 'I have a bad back, I shouldn't put any stress on it'
I made things out to be worse than they were (in my head), I babied myself when I KNEW BETTER. I fed myself so much bullsh*t that my eyes should have been brown!

These days, I love myself. I love myself enough to take care of not only those around me, but ME too!

I LOVE that I started the c25k, I LOVE the feeling of accomplishment and the endorphins are an added bonus. I LOVE having a goal and working my way towards it.

Today, I figured out how to get to non-workout-friendly music off my phone and loaded about an hours worth of corny 80's music onto it.
Silly, but its what gets my ass moving and where my ass goes, the rest of me tends to follow!

We will begin with what played on my phone once upon a time at the gym and has now been dubbed by me as either the right-est or wrong-est workout song EVER...

Fat Bottomed Girls - by Queen
No More Mr. Nice Guy - Alice Cooper
I Wanna Rock - Twisted Sister
Welcome To The Jungle - Guns n Roses
Poison - Alice Cooper
Look But You Can't Touch - Poison
Nothin But A Good Time - Poison
Smokin In The Boys Room - Motley Crue
Talk Dirty To Me - Poison
We're Not Gonna Take It - Twisted Sister
Simply Irresistible - Robert Palmer
We Will Will Rock You / We Are The Champions - Queen

And for the curious....yes, there IS a reason for the order of the first and last two songs LoL!
I am planning to start as the first and end as the last!

My mini goal is to be able to exercise through the whole playlist...that should turn me from a 'fat bottom gir'l to being 'simply irresistible' and 'make me feel like a champion'!



So, what music moves your heart or body? What do you listen to (if anything) while working out?

I would like to thank you good people for listening...I am going to go pick up my beau from work!





First Page
1
2
3
4
5
6
7
8
9
10
11
12
13
14
15
16
17
18
19
20
21
22
23
24
25
26
27
28
29
30
31
32
33
34
35
36
37
38
39
40
41
42
43
44
45 46 47 48 49 Last Page

Get An Email Alert Each Time _MOBII_ Posts