| | |
| --- | --- |
| | _MOBII_'s Recent Blog Entries |


Saturday, June 30, 2012
I have a feeling that I am going to pay for my antics tomorrow!

After running errands ALL day today, my beau and I stopped by the new greenhouse place on the corner and bought a bunch of new and fresh house guests....a fennel plant, a basil plant, a mint plant, a rosemary plant, and a chive plant.

All the herbs were half off so all five plants only costed me 8 bucks! They are all healthy looking and look so beautiful sitting in my window. The smell so sweet too!

We finished out the day by getting a daiquiri and going to see Rock of Ages....it was AWESOME!
I had a pina colada daiquiri, something I haven't had in a LONG time! I rarely drink anymore (cause I got tired of hearing people tell me what I did the night before, lol!) So it tasted extra yummy!
I don't think I will be having any more any time soon though, that baby was over 500 cals for a 10 oz service (according to the nutrition thingy) And it put me over for the day.



OH! I have the best news....my beau told me today that he wants to be something other than a computer potato....he does have a lot of health issues right now, we are waiting until we can afford for him to take off 3 weeks and then he will be having neck surgery for spinal stenosis. His other bg issue is that he had a heat stroke when he was younger and his body doesn't regulate its temp like it should any more. We have a few plans to put into action for him, but it sounds like he is going to go out with me and start on the couch 2 5k plan!

I am so excited for him and to have him with me for this! He always makes my heart pitter patter so!






Saturday, June 30, 2012
My beau and I went out last night...dinner and shoe shopping. I am pretty positive that I went over a little on my calories for the day, I'm not sure by how much but we went out for hibachi and I have NO idea how to log some of it. I was going to ask for a nutrition guide while I was there but we got to talking with the couple next to us and I forgot. I also forgot to bring my water with to have in the car and since I had tea with dinner, I came in 2 cups short.



I realized on the way home that if I would have had my water in the car, I would have been able to get all my water in for the day.
I logged it the best I could and moved on...

The guy...er...kid...er....salesperson at Finishline did a pretty good job, I got the Nike Freerun...they are sooooooo flexible and there is even an app for my phone that will use my GPS to track the chip in the shoe!
The price was ok...no more than I spend on my Sketcher Shape Ups that won't hold up to running....bad part was that since it was a new product, the computer wouldn't accept my coupon....thats ok though, it won't be the first email I have sent them!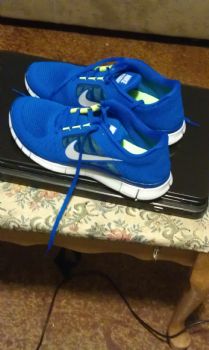 I am out the door! (Only running errands, but doing it QUICKLY!!!!)





Friday, June 29, 2012
Self realization = kicking your own ass back onto the right path!

I Know...
My weight causes a lot, if not all, of my leg pains.
My weight affects my breathing, I now carry 2 inhalers for asthma.
My weight affects my movement.
My weight torments me when I look into a mirror...I rarely look.
My dad's weight caused his diabetes and was a factor in his first and only heart attack...he did not survive.
The pleasure I get from eating is only for a few moments, then the physical discomfort, guilt, shame, embarrassment, and self loathing kick in...along with the vow to never overeat again.
I have never been 'kind' to myself, I am always the first one to put me down, always expect more from myself than anyone on the planet and am severely disappointed when I don't meet or exceed my own expectations.
I am in my own way, I use all my aches and pains as a way to NOT get my ass up and do what I should! If it hurts, I don't want to do it!

I also know...

I have spent far too long passive-aggressively hurting myself.
I do not want to have a heart attack and leave my kids and my grandbaby.
While it hurts physically to put strain on my muscles and joints, it feels GOOD to stretch my body.
The sense of accomplishment I get from meeting a calorie goal for the day feels GOOD.
I cannot do a complete sit-up right now, but at least I try and I CAN get my shoulder blades off the ground!
The day WILL come that I can do a sit up...many of them!
The day WILL come that I can jog or run and know that I can feel my body and muscles working working to move me to where I WANT to be!
I am reassured that all my recent medical exams say that I CAN do this.

I know that my body is an amazing work of nature and is designed to heal itself with a little help from my mind and willpower.

I REFUSE TO BE MY OWN ROAD BLOCK ANY LONGER!
MY PATH WILL NOW BE OF MY OWN CHOOSING!!!!





Thursday, June 28, 2012
First off, I am scratching the 7500 steps a day goal....I have bought 2 pedometers and I don't think either one works. 25 bucks in the trash. I will keep walking, I will either have to start counting or just keep walking until my legs are jelly.

I have been thinking lately about trying to jog/run. I see people on here all the time talking about it and two of my cousins who are over in Texas just ran a marathon this summer (they are both in very good shape though) Everyone is always so excited and I can feel the excitement and sense of accomplishment even in just reading it!

I read a blog this morning by ON2VICTORY and cried.

I cry a lot when I think of doing something good for myself, I am not sure why. Its such a flood of emotions, excitement, fear of failure, fear of success, just HOW different will I be? Will I feel good? Great? Will I still have all the same aches and pains?
I am not used to doing good things for me.
But why shouldn't I?
Why shouldn't I be able to have the same sense of accomplishment as everyone else?
I want to be able to move and run like I did when I was young.

I sent my cousin a message on FB and told her that I wanted to be able to come to Texas by next fall and run with them. She said she would help me as much as she could from there.
Don't get me wrong, everyone here is great, but there is just something about family.

Especially my family, crazy, cracked up bunch of nuts!





Tuesday, June 26, 2012
Running way behind tonight! I had all kinds of plans to be in bed on time for a change...9:30 for me. That is SO not happening!

After I got off work, I walked several laps around Walmart, bought a new pedometer, my goal is 7500 steps a day and will work up to 10k.

By the time I got everything done, my pedometer said 7498...and I have done a bit of cleaning up in the kitchen since I took it off.

After I got home, I put together a yummy meatloaf and cheesy mashed taters for tonight...and also make my first chili ever!
I made it low sodium, but put lots of goodies in it for flavor, you really can't tell that there isn't a bit of salt in it other than the tiny bit from the (low sodium) beans and 1 can of tomato sauce.
I was only going to make a small saucepan full to test it out..... evidently, someone forgot to tell me how fast it adds up! I ended up with 26 cups, I put half in the fridge for tomorrow and half in the freezer.

Its 9:00 now and I still have to put together breakfast, snack, and lunch for my beau and I for tomorrow.

I'm beat!



First Page
1
2
3
4
5
6
7
8
9
10
11
12
13
14
15
16
17
18
19
20
21
22
23
24
25
26
27
28
29
30
31
32
33
34
35
36
37
38
39
40
41
42
43
44
45 46 47 Last Page

Get An Email Alert Each Time _MOBII_ Posts