| | |
| --- | --- |
| | ZIRCADIA's Recent Blog Entries |


Tuesday, July 13, 2010
I'm not getting a good routine going yet, but I will get there.

To sum up:

Sunday we DID go to the gym -- I did upper body mostly w/ a tiny bit of ab work.
Monday - 4 miles before work (SUPER SLOW but it felt good, so that's nice), Thought work was going to suck, ZUMBA (which was awesome!) after work!
Tuesday - OFF day for workouts - work was MUCH better, ate out w/ some people Mexican, got fajitas and it was awesome but too much food. Didn't go totally insane on the chips and salsa though, just had some, but not constant food shoveling. Ya know?

So now I'm at home and I think everyone else is GONE... so the dogs are in their cages and I didn't realize I was home alone until I came down to our room and DH isn't here and neither are his shoes or anything... and I don't feel like dealing with the dogs. Now is about the time they usually EAT...?! So I'm surprised no one is home... unless they left RIGHT before I got here and they fed them before they left? Gonna go call DH cause I was so looking forward to coming home and spending time with him because I was crazy tired yesterday. (Not used to my new schedule yet.)

Tomorrow morning I run - 5 miles w/ 3 at tempo pace according to my new HM Plan from RW. I'm just doing the plan they published but adjusting all suggested tempos to my estimated current fitness suggestions from McMillan's Calculator thingie. I know exactly where I will go for the run, just gotta DO IT. then tomorrow after work I hope to make it to the gym in time for Pilates.

So yesterday work seemed horribly annoying and boring. I find out today that I was being trained on the worst most boring part of the job only at first. HAHAHAHA. *phwew* So far I really like the people I've met and interacted with and the company does seem really great except for dropping the ball on my first day.

I was supposed to have new hire orientation, but the HR people were NOT THERE so some other guy tried and he didn't know where any of the files were for what he was supposed to show us, so he essentially just took our paperwork and sent us back to wait (again) in the lobby until someone from our dept came to rescue us. :P

Well apparently the orientation is usually fabulous and you go out for lunch (so they did that for me today w/ the sup and mgr from my area), and I dunno, everything just seems much better all of a sudden. HAHA. Tomorrow there is the area's monthly meeting and they will apparently introduce me - unless I'm in Orientation - but they'll still introduce me because a girl came and took my picture and gave me a cute little survey to fill out about myself so they will have some things to say about me. (hobbies, what I'd take on a desert island and why, favorite sports team, etc.)

OK. Time to go do other things. Call DH at least...





Saturday, July 10, 2010
And gym BUDDY acquired simultaneously!!!

My BIL felt inspired to find himself a gym membership to give himself some more varied and excited tools to use to get muscles. :) That is his #1 goal. hehe. Anyway, so I went with him to check out the local University Gym and well... the guy who showed us around showed us what an awesome deal we could get and bingbamboom - we signed up. I'm on his membership as a family member so it is an extremely reasonable price for all inclusive classes, great ST floor which includes a Kettlebell Selection, a ton of BOSU and Stability Balls (my old gym had one. of each. and NO KETTLEBELLS), cardio floor, basketball gym, and nearby old gym facility w/ racquetball and volleyball courts if we so desire. OH and an indoor pool... and a hot tub.... the pool has every pool equipment I could think of looking around there - water jogging belts and foot thingies, all those underwater dumbbell thinges, flippers, etc.etc.etc... even freaking RUBBER DUCKIES. I AM NOT JOKING. Other pool toys like balls and whatnot, some nets... I mean it's insane. I'm not sure when you can use all of that, but there are some interesting sounding pool classes that probably make use of some of those things. Like an aqua BOOT CAMP class.

So yesterday we got our membership, came home, changed, and went right back to work out. 30 min on the cardio floor (roughly), then 20min or so back checking out the ST floor again, did some ab stuff. (Thursday I did some kb work w/ swings and whatnot, as well as a bunch of squats and deadlifts (deadlifts w/ my BIL's 35lb KB YIKES - I did some swings with that sucker but I didn't last too long, only about 30 seconds), so I avoided lower body and my upper body was still sore as well since I also tried to do some negative chin ups, which didn't work, and then some assisted ones, which felt too easy cause I knew I was relying on my legs too much, but hey obviously I did something....) THEN back to cardio for another 30 min or so... I did Arc Trainer, rowing machine, this cool upper body cardio machine which has you doing like a WIDE kayaking kind of motion..., and some spin bike between all of that. Then after stretching a bit, it was only 20min till POWER YOGA so we stayed for that as well and almost died. HAHAHAHA.

Fast forward to this morning I got up and lugged my sore butt around for almost 9 miles. Oh it was SLOOWWWW but I did it. I'm proud of myself.

I'm gonna change HM Training plans and switch to the 10 week RW plan on Monday sooooooooo yay. I was using this free plan from TrainingPeaks and it was kind of insane. Like 2 days of running M-F - one easy, one hill repeats - and then saturday long run, Sunday TEMPO run. yeah. I was like uhhhh what? So while I did that to form last week, skipped hill repeats and likely tempo run tomorrow this week (because I want to run on Monday and need a recovery day).... I think the new plan will be better for me.

I'm thinking run in the morning, gym in the early evening right after work -- there are a bunch of great classes at 5:30 and 6:30 (or on Tuesday night's there's CLUB SALSA at 6:40). This gym has bellydancing classes, pilates, TAE KWON DO (in which you can actually do belt tests, the testing costs $20 when you test and move up a belt but the class is free), Body Pump and Body attack, turbo kick, Zumba, yoga, Power yoga, Gentle Yoga, cycling classes...ABSolution, Butts&Guts or whatever, um.. yeah. I think there are a couple more I'm forgetting... oh a beginner lindy hop class on Mondays... :D haha and more I think.... So I'm super excited. Hip hop is in there somewhere... yeah.

OK I need to go SHOWER.

WORK STARTS MONDAY!!!!!! :D





Wednesday, July 07, 2010
WOOOHOOOO!!!

I gotta go pee in a cup today. And they're running my background check.

But then assuming all comes back in order (and on time this week), I start Monday. Of course I know there's nothing wrong in my background check stuff or in my urine, but the timing on the background check might push my starting date a week (orientation only happens on Mondays apparently) so here's hoping that I do actually get to start Monday. :)

SO WOOHOO!!!!!!!!!! AGAIN! I'm so relieved.

I did NOT workout yesterday - other than to show my Freestyle Trainer to my BIL, but I didn't do any sets of anything really just a couple demo exercises.

Today I got my butt up early and ran 4ish miles then did some upper body Freestyle Training. Tomorrow should be hill repeats.

I figure - my new job schedule will be 8-5, M-F, yes- a NORMAL SCHEDULE HALLELUJAH! So I might as well get used to getting up early to get ready.

Well - I need to eat. And hydrate. Just wanted to share the good news! :)

OH and the job is as a Field Service Representative for LG Electronics - basically I will be the liason making repairs happen for people w/ LG stuff. Dealing with and explaining warranty coverage, getting the service people connected to the customers, finding service people if there is a repair that won't fall under a pre-existing service contract, etc. I'm excited, I think it'll be a good one. All I've heard around here is that LG is a really great company to work for, and the benefits are reallllly good.





Monday, July 05, 2010
Food has been kind of sporadic and not really healthy, but I've been very active as well so I'm hoping it will all kind of balance and this week and be more routine.

I ran 8 miles on Saturday w/ CLOVERR1 - it was intended to be 7 but turns out it mapped longer than that (which I was VERY glad of because the effort and time taken was soooooooooo not in line with the shorter distance for me I was like whaaa?) - plus the way back of the out and back was a total disaster, I did not bring my own fluids and it was just bad business and I ended up walking at least a mile I think on the way back. BUT! I still got it done!

Then later that day we headed to a party at my BIL's friends family's house.... a HUGE 4th bash they do annually - giant inflatable water slide, pool, food, volleyball net, tetherball, everything. I mean really really everything. FIREWORKS of course - they even had their land sprayed for mosquitos right before the party. :) It was VERY fun. I didn't water slide, but I DID go in the pool and I even sundried in my suit without going insanely self conscious which was amazing. And looking back, I think I was the only adult female to go in the pool... other than the friend that invited us. My DH and my BIL were probably the only adult males. hahaha. It was very fun.

They rented the slide again today and DH and BIL are going back over there but I DID NOT GO ON THE SLIDE and do not have ANY DESIRE to... and had my fill of watching. So I'm going to stay with the dogs so they don't have to be crated again.

ANYWAY. Sunday was hanging around and then a 4.83 ish mile run - it was great!!!! Sooooo fabulous after the previous day's dissapointing results. warmup, 20min tempo, cooldown - it was so cool to run with so much purpose.

Then last night I stayed up wayyyyyyyyyyyyyyyyyyyyy too late talking first w/ BIL, DH, and BIL friend who came over and then friend left, DH went to bed, and we kept talking till like 5am. WHAT? haha. So I'm a little beat today - but at least it's an off day from running so I can recover and recuperate.

Tonight we go to shoot off our own fireworks. Today I will be hanging out with the doggies for the most part. Which can be soooo nice.

I unpacked all my clothes FINALLY this morning. The closet is SET! YAY!.

OH!!!!!

I dunno if I mentioned that I'm going to be a "ghost runner" for the Sparkin' Hood to Coast team. (Hood to Coast is a 197 mile relay from Mt. Hood down the coastline - there is a great team of sparkers running the race!). I wanted to run the race but knew that this time of year would be questionable even a year ago and now it's very good that I just pushed that idea out of my mind because traveling to Portland was NOT going to happen this August. HAHAHA. But the group has put together a team of runners across the US... and Ireland? (OK according to JOPAPGH Scotland) ... to have a teammate to run with and run their legs with them - same time, same distance, as similar elevation profile as we can work up in our varied locations. So I have the three legs that will be run with KASHMIR - YAY! :D Love her! hehe.

Anyway - I bought a team shirt so I can look the part and tried it out last night. Turns out the cut and brand is like... identical to my SparkPeople Tech shirt - fyi for any Hood to Coaster ladies who got the shortsleeve shirt and don't have an SP Tech shirt! :D hehe.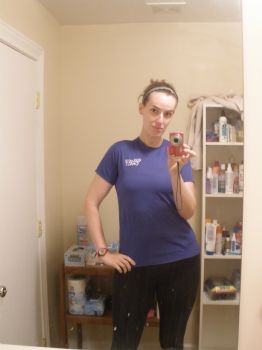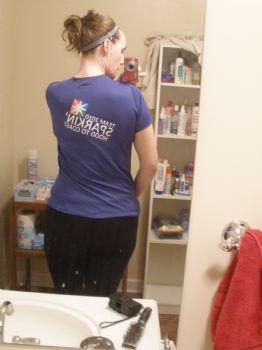 Friday, July 02, 2010
So I've submitted so many applications it's ridiculous. And everyday I look for more. I can't help myself -- I want to be working again!!! I hate having that hanging over my head as the BIG THING to do.

I had a great interview Monday and I really want that job, but no word yet. I called yesterday afternoon and got a voicemail - so I left a message saying how I thought things went well and I had other interviews and appointments coming up and that they were my first choice and I had neglected to ask when they planned on making a decision on the position so please call and let me know....

Today I had an interview for a job I really don't think I want, but I got invited to the training for it next week on Tuesday. I was like, great! But really I'm like, holy crap I hope Job A calls back and says they want me tomorrow. :P I might not go to training even if I don't find anything else. The job is selling security systems door to door -- but the management of that office is also a position becoming available very soon because the current office manager is getting promoted. But I'd have to start with the sales. And that is entirely commission based. So yeah... I think I'd be good at it but it is sooooo not attractive to me AT ALL.

Tomorrow I go take the assessment exam thingie for the USPS. I could be a mail carrier! :D haha I actually think I would really enjoy that job... the downfall to that situation is that while it pays well, it is not a career-track position and therefore will not have benefits. :P It's a temporary relief of a particular route.

In other news - I haven't been tracking my food - I should start, but I have also been eating really well so I don't feel totally bogus about it all.

I am semi-on track for my half marathon training - I switched today's rest/crosstrain for yesterday. Which meant today I did my FIRST EVER HILL REPEATS. YEs - in all the time I've been running, I have never done hill repeats. It's not that I've never run up a hill... just not repeatedly. :P hahaa I had to run another place than where I had planned at the last minute so the hill I found turned out to be half as long and like 4x as steep as what my plan recommended... but I worked it out and it was very cool to do that. Also a lovely place to run.

I may be doing my LR this week w/ CLOVERR1 - we shall see. :) YAY for moving near to a running sparker friend.

WELL - time to go relax and go to sleep.

Send good happy vibes to LG and tell them to hire me. ;)



First Page
1
2
3
4
5
6
7
8
9
10
11
12
13
14
15
16
17
18
19
20
21
22
23
24
25
26
27
28
29
30
31
32
33
34
35
36
37
38
39
40
41
42
43
44
45
46
47
48
49
50
51
52
53
54
55
56
57
58
59
60
61
62
63
64
65
66
67 68 69 70 71 72 73 74 75 76 77 78 79 80 81 82 83 84 85 86 87 88 89 90 91 92 93 94 95 96 97 98 99 100 101 102 103 104 105 106 107 108 109 110 111 112 113 114 115 116 117 118 119 120 121 122 123 124 125 126 127 128 129 130 131 132 133 134 135 136 137 138 139 140 141 142 143 144 145 146 147 148 149 150 151 152 153 154 155 156 157 158 159 160 161 162 163 164 165 166 167 168 169 170 171 172 173 174 175 176 177 178 179 180 181 182 183 184 185 186 187 188 189 190 191 192 193 194 195 196 197 198 199 200 201 202 203 204 205 206 207 208 209 210 211 212 213 214 215 216 217 218 219 220 221 222 223 224 225 226 227 228 229 230 231 232 233 234 Last Page

Get An Email Alert Each Time ZIRCADIA Posts