| | |
| --- | --- |
| | ZIRCADIA's Recent Blog Entries |


Tuesday, December 22, 2009
So --

I think my butt might have gotten bigger -- but also firmer and more muscular -- through all my marathon training. This might be dually contributing to some of the tight pants and higher scale scenarios. Not that I'm using that as a total excuse, getting rid of FAT is always a worthy goal -- but my hubby said he thought so the other day and I dunno if it's these pants (I'm also definitely posing to my gluteus advantage) but WOOHOO!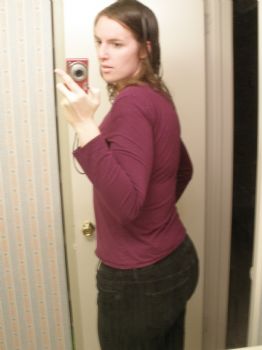 I've never really had a REAL BUTT before! HAHAHAHA :D But since I lost weight, and my boobies, and did lots of exercise type things, the butt got awesome.

I also took a couple pictures on Sunday before church and before the Christmas party: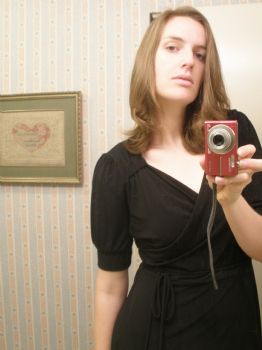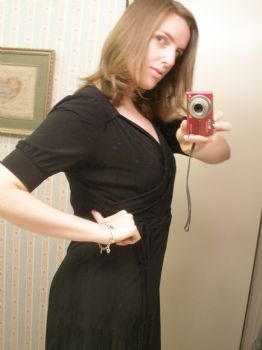 PARTY!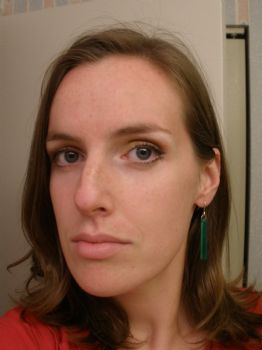 So to give you an idea of the AMAZING place we had our party -- the man in the utilikilt is our host, and yes, those are actual GASLIGHTS in the background...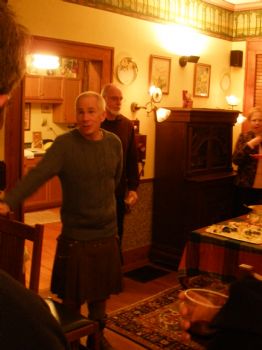 Also at once I entertained myself (and drew a crowd) with a self-playing banjo!!! (Which had one string which was VERY out of tune, as opposed to the others that were only somewhat, but still very awesome!)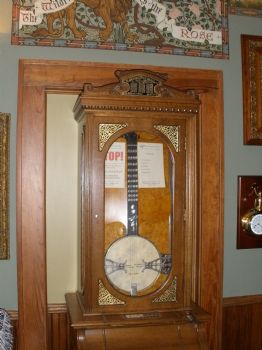 This man is literally one of the coolest people I know -- he at once went to watch repair school and has a watch tinkering station in his upstairs, he also collects and trades bricks, has some fire hydrants and manhole covers he collected, his coffee service was part of E.B. White's estate, and so on and so on -- he installed the gaslights HIMSELF. He is a total historic afficionado and I just LOVE IT! Plus he rows. GLOBALKEEWEE -if you're reading, he's done well over 200k in the Concept 2 Holiday Challenge. :D hehhehe.

Well now I'm off to finish Christmas shopping!

Just wanted to say I'm still working on treating myself well and appreciating my body and for me taking pictures so I don't get stuck in the dysmorphic image in my head definitely helps at this stage...





Monday, December 21, 2009
All in one day! In the interest of full disclosure for accountability -- I share the following:

So last night - Christmas party - I splurged mindfully. Surely I was over on calories, but it was my cheat meal so I wasn't counting -- but I DID plan to stop eating when I was full and I did. HURRAH!

But today someone gave me chocolates for Christmas! I took them with me when I left on a long lunch to do errands... and I ate all of them in the car!!!! One after the other! It was a full on chocolate binge. Luckily it was nothing as large as a bag of chocolates you would buy at the store, but it was still far more than a serving... probably at least 4-5 servings? maybe?

I then bought salad fixings for lunch, and some fruit, baby carrots, new cereal. To get some good healthy things that will last for the next couple of days before I leave to visit my family.

I had a nice salad for lunch. I resisted goodies in the break room -- came close. I even picked up a ham and cheese croissant after thinking about it for a good chunk of my lunch break, but when I touched it -- it was soggy and gross and it brought me back to reality.

I have a nice healthy dinner planned, I will drink TONS of water for the rest of the night as well. It WILL BE O KAY! I should have saved those chocolates until I could get home and put them in a container in the pantry, as to be slowly divvyed to myself in ordinary servings. Not eaten on the go. I know what was up!

Also it's nearly that TOM, so I suspect that had something to do with it as well -- not an excuse, but merely a way for me to understand myself even better.

I have felt a bit haywire today, but I have to remind myself that everything will be okay. The world is not spiraling out of control just because there are things to do that cannot be easily checked off. Maybe I need to put the BIG LOOMING TASKS into tiny things that CAN be checked off so I can feel more in control. ? I give myself vague tasks mentally, but maybe I need to actually write things down and check them off. OOOOh. Thoughts! Ideas! :D Blogging is so helpful!!!!!





Monday, December 21, 2009
So -- I definitely indulged, but I also stopped. It wasn't ALL about the food. I didn't take huge servings of things, mostly small small servings, I only went back for some of the very most delicious things, but that was very rare also. I didn't feel overly stuffed when we left! HURRAH! :D

Yeah, the scale was up a bit today, but I expected that. It will go back down again. Got a few more things packed today -- it was a bit more time consuming than the books again because it was little knick knacks that needed to be padded and wrapped and whatnot. :P But at least that's done.

I'm heading off at lunch to do some errands, leaving early for a LONG lunch...

Just trying to keep things together through this vacation and move! :) Gotta get some ST in tonight, I was a bit of a slug as far as physical activity goes this weekend. -- DH is sick and so I mostly just spent time with him, although I did get some present wrapping done on Saturday as well.





Sunday, December 20, 2009
So -- the scale gave me a new low number since post marathon today -WOOHOO!

Yesterday I went to the temple with my family and then we went out to eat - at Captain D's. I got SALMON! Nothing deep fried. Broccoli! Plain Baked Potato! :D I was so proud of myself. Then I ate another lighter meal at dinner.

Today I'm motivated to continue being strong -- I have that party tonight and my aim is simply to stop eating when full. I can do that!





Friday, December 18, 2009
So I had a moment last night w/ some pie....

I REALLY should have left that at my work.

We bought it for the work dinner and it was German Chocolate Cake Pie and my hubby's favorite is German Chocolate Cake and he picked it out so I thought he should have some. Well.

Anyway -- most of yesterday was really good, though. Just this morning I was having some super fat feelings and guiltiness and I finally was like CUT IT OUT.

I looked at the scale damage -- I'm sure some of it isn't real still because the amount of time vs the amount of lbs is just not realistic -- and used that as a kick in the butt.

I remembered the list I made last night and how good I was feeling and got to the computer and crunched the numbers for weight loss, for maintaining... so I REALLY know where I stand with things each day -- the outcome right now is less important but I wanted to know the numbers so I know what options my choices are giving me as a result (in theory).

Then I cooked for lunch, got dressed cute in my skinny jeans (yes they are a bit tight but I can still wear them without looking indecent), BRUSHED MY HAIR, put on some makeup, and complimented my cuteness.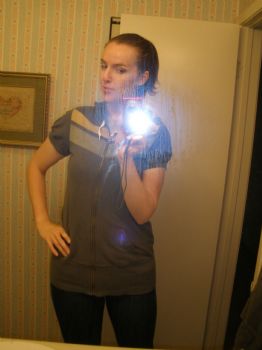 Forgive the flash and whatnot, I was in a bit of a hurry.

Also for fun:

My desk w/ my marathon training plan!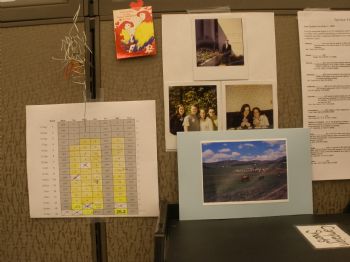 Marathon training plan: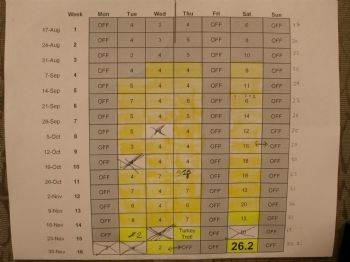 Old polaroids w/ me partly into weight loss (maybe 4 months?) w/ siblings: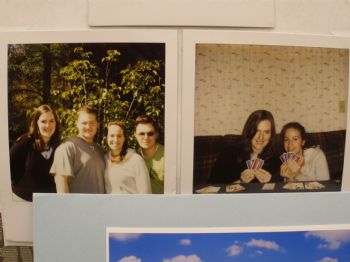 Other pictures on my desk: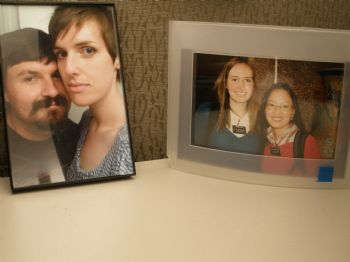 My weights and slippersocks in a mail bin under my desk: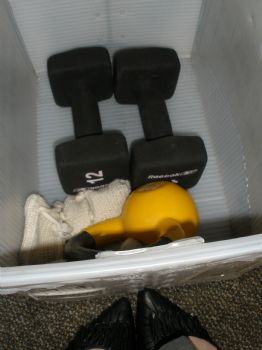 First Page
1
2
3
4
5
6
7
8
9
10
11
12
13
14
15
16
17
18
19
20
21
22
23
24
25
26
27
28
29
30
31
32
33
34
35
36
37
38
39
40
41
42
43
44
45
46
47
48
49
50
51
52
53
54
55
56
57
58
59
60
61
62
63
64
65
66
67
68
69
70
71
72
73
74
75
76
77
78
79
80
81
82
83
84
85
86
87
88
89
90
91
92
93 94 95 96 97 98 99 100 101 102 103 104 105 106 107 108 109 110 111 112 113 114 115 116 117 118 119 120 121 122 123 124 125 126 127 128 129 130 131 132 133 134 135 136 137 138 139 140 141 142 143 144 145 146 147 148 149 150 151 152 153 154 155 156 157 158 159 160 161 162 163 164 165 166 167 168 169 170 171 172 173 174 175 176 177 178 179 180 181 182 183 184 185 186 187 188 189 190 191 192 193 194 195 196 197 198 199 200 201 202 203 204 205 206 207 208 209 210 211 212 213 214 215 216 217 218 219 220 221 222 223 224 225 226 227 228 229 230 231 232 233 234 Last Page

Get An Email Alert Each Time ZIRCADIA Posts