| | |
| --- | --- |
| | ZIRCADIA's Recent Blog Entries |


Saturday, January 02, 2010
I hope this plan will help me in the short term even before I have a REAL plan...

Yesterday was RIDICULOUS. This is why I don't normally have splurge DAYS just splurge MEALS. I'm going to redefine my splurge meal rules.

A Splurge Meal consists of ONE PLATE of food (or I will even allow the sharing of an appetizer, or the addition of VEGGIES (no dip or extras) plus one entree at a restaurant) and ONE dessert. Not a meandering of constant grazing for the duration of an event that I am attending.

Yesterday we went to a friend's house that was having a New Year's Open House -- food and football all day long. FUN, right? Until I decide that it means eating everything in sight, all day long, until I am groaning.

My stomach STILL doesn't feel right.

BUT! I had a GREAT email from Jillian Michael's in my inbox this morning about recovering from a setback. OK so the email wasn't that amazing, but it was perfect for today. Every day is a new day and what's in the past is HISTORY.

I have a great day coming up soon, my 3 year Sparkiversary on 1/15/2010. :) I'm not setting any weight goal or specific running or lifting plan YET, although I hope to be posting something like that on Monday for example, but I AM going to set a some STREAKING goals.

1. Track EVERY BITE of food excepting a maximum ONE SPLURGE MEAL per week following the parameters outlined above, and remember, that splurge meal is NOT MANDATORY. I can do without if a particular opportunity doesn't present itself.

2. Drink minimum of 8 cups of water per day and TRACK THAT WATER!

3. 10min of SOME kind of activity each day. Whether it's a set of ab exercises, or MORE, SOMETHING will happen everyday from now through the 15th.

I've never done that last one -- but 10min is so small, and so simple, I'm going to give it a go.

So I'm feeling pumped about having a fast break type goal set up for the near future, something to work toward.

I'm also setting aside the $$$ I got at Christmas, other than the amount for my new gym membership, to reward myself once I re-attain my goal weight. So I don't have a specific reward, I don't haven a goal date, but I have a dangling carrot of something to help keep me focused.

ALSO -- I'm currently decked in running gear + a layer at work. After work I am going for my FIRST OFFICIAL RUN since the marathon and FIRST RUN of 2010! :) I'm excited that I'll get to go home and log it in my new Runner's Log. I have set myself up for success by:

1. checking the weather to ensure I have the appropriate dress for right after work.
2. planning to run in my favorite running location - which also happens to be on the way home from work now!
3. the route is only about 2 miles long, I'll do a walking warmup for part of that distance as well, so I'm making sure to keep it short for this first run back.
4. although my stomach is feeling insane from yesterday, I brought some of my patented oatmeal blend (oats+vanilla whey protein powder+cinnamon) to work just in case I feel I need it by the time I get closer to running.

I'm prepared! And being dressed properly and having the location being between here and home are the most important factors I think. For me, it's COLD outside. 26 when I left my apartment -- but I am not complaining because I know how much colder it is in other areas where my SparkFriends are running in the snow and ice and worse! :) So I will try to remember that when I'm feeling wimpy.

QUESTION:

HOPERY wanted to know if I get my PT Cert who will I get it through? The answer is - I DON'T KNOW. I've looked at ISSA and ACE thus far, I haven't really looked at much else yet. I got lots of information from ISSA and was looking at that one most about a year or so ago when I was considering it a lot and haven't revisited the details since then because I realized this wasn't going to happen RIGHT NOW so I kinda just postponed that.... but yeah.

Any suggestions while I'm at it? :)

KENSINGTONNC asked if I listened to music during the marathon? AND have I tried books on tape?

The answer is YES I listened to music during the marathon!!! And definitely during almost all of my training runs as well. I actually didn't use my own personal headphones/mp3 player for the entire first half of the marathon, but then all the runners AND crowd support dropped off, and by that time I was physically not so awesome so I really needed the distraction. So far I have NOT tried books on tape, but I know there are people out there that do that. I've actually considered trying language lessons as well, but I still haven't tried that either. Something to try this year! :) My favorite running music is Ted Leo & The Pharmacists, HANDS DOWN. I listened to Shake the Sheets like... 4 times in the second half of the marathon. :) Also The White Stripes have some good running songs, The Strokes, The Dirtbombs, Apples in Stereo -- those were my main running music through all of 2009. A bit of Avett Brothers and Black Eyed Peas toward the end.

Also I like to listen to Kanye West when I lift weights. :) haha.

TURFGIRL asked were babies come from but I'm going to say, ask your mommy. :)





Thursday, December 31, 2009
So -- pictures.

A few from my family visit and then a link to some stuff.

:P

My sister and I in the theater prior to Avatar. Those 3D Shades look so awesome w/ the flash... hehe :) Also --- that movie was actually REALLY GOOD. :)



We tested a game my mom made w/ some modifications -- I think it still needs a bit of work maybe, but we were able to give some suggestions and I love the idea. Basically the players tell a story together with the aid of cards for Characters, Talents, Objects, Transportation, Scene, and PLOT - who enters (new character in story), Events (can be many different specific things), you found (new object card enters) ... like that!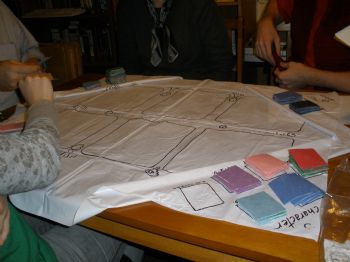 My dad and mom: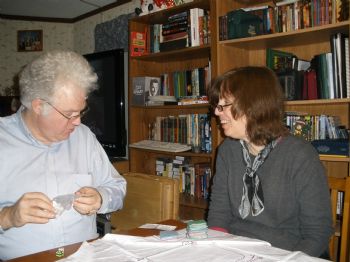 My character, vehicle, objects and talents: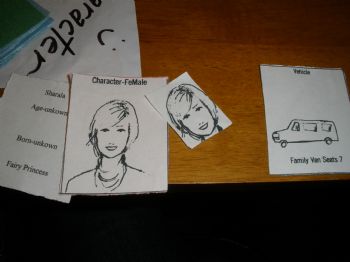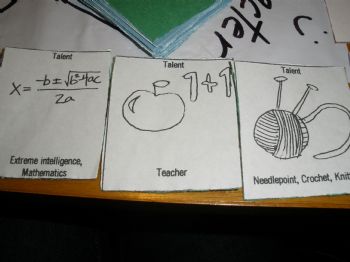 I think I actually drew the picture of my character... LONG ago. And my brother and mom drew the other cards. :) hehe

We also played Masterpiece - I LOVE THIS GAME. You bid on paintings and at the end you see who has the highest combination of value in paintings and money. You don't know how much a painting is worth until you posess it -- the value cards are attached to the paintings at random and there are also two forgery cards! :)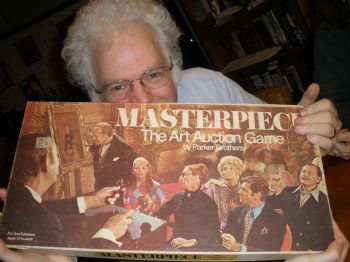 My brother wearing a gift from my sister on his head: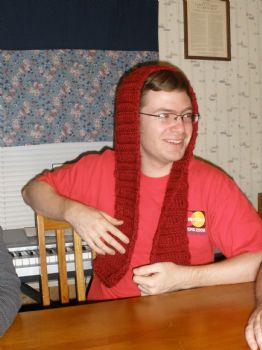 I'm not really sure what this face is for, but we're playing "Nucklehead News" which are homemade Mad Libs made by my mom and they are AWESOME. I think they're better than Mad Libs - they're written as though they are all news stories. :) And apparently they are stored in my sister's old physics notebook.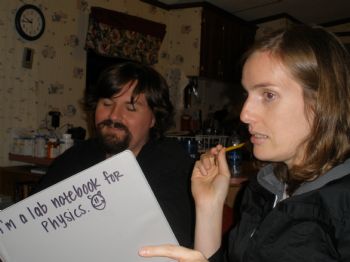 HOME Christmas tree. With all the ornaments I remember from my childhood -- also that's a picture of me on the wall - SENIOR PHOTO! :)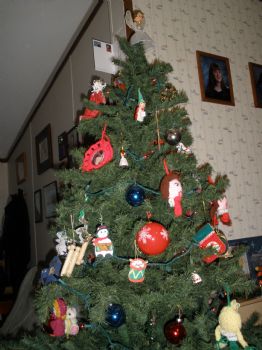 The stockings hung by the chimney w/ care -- my brother's stocking is HUGE because he was born on Christmas Eve and he was IN that as a baby! :) (the one w/ the bear in it!)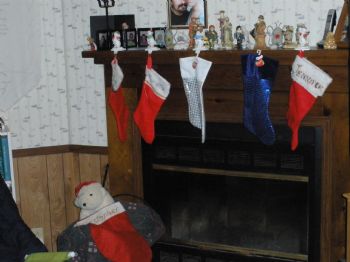 My DH opening a gift I gave him -- also my sister made the scarf he's wearing. :)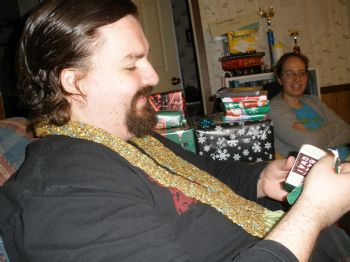 I got a scarf, too, and I LOVE IT!



We also went to the National Infantry Museum during our visit -- we used to go frequently when I was younger but they recently built a brand new gorgeous building with some new things in it and DH had never gone -- it was really cool. :)

Then we came back and it was MOVING TIME. I took pictures of some things I finally decided I needed to get rid of but never could before -- now they are memorialized in digital image! :)

Like my DOLLY! My mom made this for me: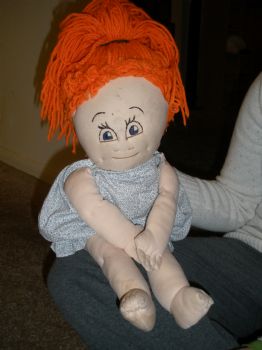 It was hard to get rid of it, but my sister suggested I could take a picture of it and it was like OH YEAH. I've actually suggested that to other people before but for some reason I didn't think about it until she said it to me. :) haha.




I did the same for some HAIR clippings from my first haircut at 2 and 1/2 years old... and a TON of drawings from some sketchbooks. :)

I also got rid of my old Kindergarten Year book -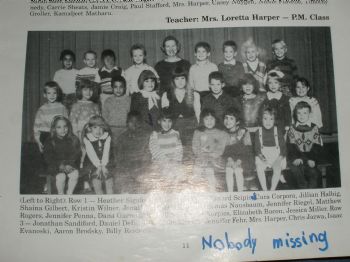 That's ME in the MIDDLE where it's written ME in pencil and then erased. HAHAHA

I had all these NAMETAGS that I was saving from various band events and Young Women's Camp... yeah I photographed those and ditched them. My sister took a box of photos with her to scan for me as well. :) I'm really excited about having all those photos digitally and I am SOOOO GRATEFUL to her for doing it.

This link is to the photos of my old sketchbooks. LOTS of drawings with questionable proportions -- a couple that were self portrats as well. :)
picasaweb.google.com/SPZircadia/OldA
rt#

and QUESTIONS - I'm not sure if these were all intended for BLOG answering, but here are some:

LIMELITESHINES asked where my running journal came from:

Well since it was a gift I don't really know where they purchased it, but I just pulled it out and it's titled: "The Complete Runner's Day-By-Day Log 2010 Calendar" by Marty Jerome - Andrews McMeel Publishing. It says it's $13.99 in the U.S. HAHA That's aLLL the info I have. It has a page with a month calendar, a picture and a quote and the opposite page has a little article about something about runners/running -- January is HISTORY. Then after that each 2page spread is a week, with a space for each day - Where&When, Distance, comments: and a bigger place for writing other stuff. There's also a photo and tip for each 2page spread, and at the end of each week a Distance and Weight totals line. Looks pretty good! :)

BRUIN2 asked what the highlight of the decade was for me -

DEFINITELY GETTING HEALTHY. There's nothing that compares to the life altering transformation. OH WAIT. I also got married this decade -- that was a pretty major deal as well... :D hehehehehhee oohhhh poor DH. I forgot about that. ;) OK Getting married number 1, getting healthy number 2.

RUN_LIFT_EAT asked about my new CD's:
I got Paolo Nutini, new Modest Mouse, new Sondre Lerche, Neutral Milk Hotel, Brandi Carlile, Julian Casasblancas's new solo album (lead singer of the strokes)

I haven't listened to ANY of them yet, so not sure which is good cardio music yet. I'm guessing some of the new Modest Mouse, Brandi Carlile, and Julian Casablancas would work. Sondre Lerche is pretty mellow, and I really do not know about Paolo Nutini or Neutral Milk Hotel yet. :) I know I've listened to both before but I do not remember them at all... haha. :D

Also - RUN_LIFT_EAT asked about DH applying for jobs: ALL SPRING. And sometime in this semester we expect to know.... so... also I DO plan to go back to school and/or get my PT Certification once we're settled somewhere so it is definitely very exciting. :)

OK! LONG BLOG. BYE! :)





Wednesday, December 30, 2009
OH SPARKPEOPLE.

I've been gone.

It's been fun.

But also sweets filled. And I'm soooo happy to be back. :)

We are pretty much done moving now -- my DH is making another run to the old place tonight to bring over the contents of the fridge and a few other things that are left and that's it. We slept in the new place last night, my closet is all unpacked and organized, as is the pantry, the office is set up, the electronics are all working (cable guy came today) so WOOHOO.

I took the TINIEST of a run today. HAHAHA :D I had to walk the rent over to the office and on the way back I jogged. I didn't have the right shoes on but it felt fantastic and safe and comfortable and lovely to be making that movement again. I NEED TO GO RUNNING. FOR REAL.

I got some wonderful tools to help me in the new year for Christmas:

The New Rules of Lifting for Women
a 2010 Runner's Log/ Calendar
$$$ specifically for getting a membership back at the gym
(so I can have a gym membership AND row is the idea)

WOOHOO!

I also got many fun things - Pride and Prejudice and Zombies, The Runner's Rule Book, a BUNCH of CD's, a scarf made by my sister, a pedometer (actually two pedometers to be used w/ my husband's gift from his family of a DSi! :D hehe. I'm actually really excited about using it...), all kinds of fun stuff.

I have yet to read any of the books, I hope to get a good look at the New Rules of Lifting for Women soon and get the new gym membership squared away and then make myself a more specific and concrete PLAN for moving forward in the new year with HEALTH and FITNESS. :) I do have some VAGUE ideas, but the only concrete right now is the Mercedes Marathon Relay on 2/14! Yes, on Valentine's Day. :D haha. So I gotta get running again to be in good shape for that, for sure. But other than that I want my primary focus to be on STRENGTH. And probably some erging to get ready for rowing to resume -- there will be a new Learn to Row course offered at the end of Jan/Beginning of Feb and then I'm assuming after that the regular rows will start again. I may be able to help with the Learn to Row to get back on the water again as well. :)

But also in 2010 I want to -

Participate in a Sprint Regatta in the Spring
Do at least one 5K
Complete my first HALF-marathon race
Complete my second marathon race

But, I intend for the marathon to be in the fall, and the half sometime before that but after the Spring probably, so... I can't really figure out which ones I'll be doing because I don't know where we'll be living. And without being sure of what our situation will be like (since it is all dependent on DH finding his job post PhD), I can't really just say I WANT TO DO X RACE, and commit to travelling on some unknown date to a location that I have no idea how far it will be from us. So..... yeah. Just gonna kinda wait on that and mentally prepare that I will be training for those distances later in the year and I can figure out the details later as well. :)

I hope everyone had a WONDERFUL Holiday -- my family visit was very nice, and then my sister came to help us move and DH's family came as well, it was awesome.

S318830 did something cool on her blog lately, she opened up to questions. So I'm going to copy her -- shoot. I may answer it... :D Here in my blog.





Tuesday, December 22, 2009
So --

I think my butt might have gotten bigger -- but also firmer and more muscular -- through all my marathon training. This might be dually contributing to some of the tight pants and higher scale scenarios. Not that I'm using that as a total excuse, getting rid of FAT is always a worthy goal -- but my hubby said he thought so the other day and I dunno if it's these pants (I'm also definitely posing to my gluteus advantage) but WOOHOO!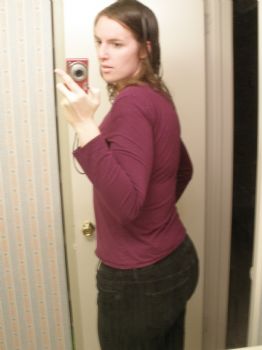 I've never really had a REAL BUTT before! HAHAHAHA :D But since I lost weight, and my boobies, and did lots of exercise type things, the butt got awesome.

I also took a couple pictures on Sunday before church and before the Christmas party: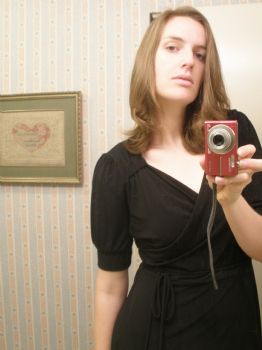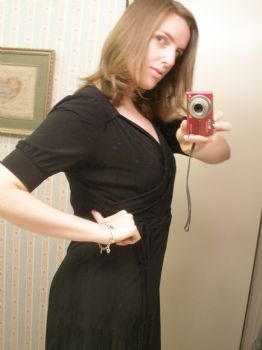 PARTY!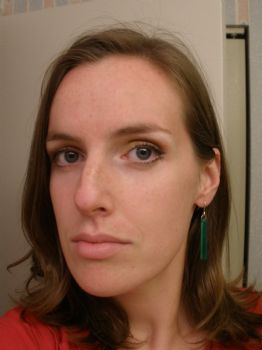 So to give you an idea of the AMAZING place we had our party -- the man in the utilikilt is our host, and yes, those are actual GASLIGHTS in the background...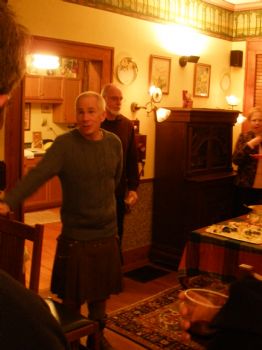 Also at once I entertained myself (and drew a crowd) with a self-playing banjo!!! (Which had one string which was VERY out of tune, as opposed to the others that were only somewhat, but still very awesome!)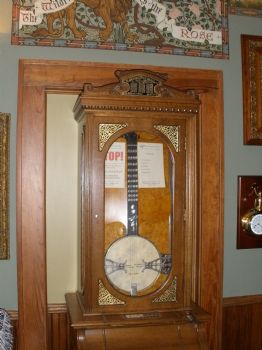 This man is literally one of the coolest people I know -- he at once went to watch repair school and has a watch tinkering station in his upstairs, he also collects and trades bricks, has some fire hydrants and manhole covers he collected, his coffee service was part of E.B. White's estate, and so on and so on -- he installed the gaslights HIMSELF. He is a total historic afficionado and I just LOVE IT! Plus he rows. GLOBALKEEWEE -if you're reading, he's done well over 200k in the Concept 2 Holiday Challenge. :D hehhehe.

Well now I'm off to finish Christmas shopping!

Just wanted to say I'm still working on treating myself well and appreciating my body and for me taking pictures so I don't get stuck in the dysmorphic image in my head definitely helps at this stage...





Monday, December 21, 2009
All in one day! In the interest of full disclosure for accountability -- I share the following:

So last night - Christmas party - I splurged mindfully. Surely I was over on calories, but it was my cheat meal so I wasn't counting -- but I DID plan to stop eating when I was full and I did. HURRAH!

But today someone gave me chocolates for Christmas! I took them with me when I left on a long lunch to do errands... and I ate all of them in the car!!!! One after the other! It was a full on chocolate binge. Luckily it was nothing as large as a bag of chocolates you would buy at the store, but it was still far more than a serving... probably at least 4-5 servings? maybe?

I then bought salad fixings for lunch, and some fruit, baby carrots, new cereal. To get some good healthy things that will last for the next couple of days before I leave to visit my family.

I had a nice salad for lunch. I resisted goodies in the break room -- came close. I even picked up a ham and cheese croissant after thinking about it for a good chunk of my lunch break, but when I touched it -- it was soggy and gross and it brought me back to reality.

I have a nice healthy dinner planned, I will drink TONS of water for the rest of the night as well. It WILL BE O KAY! I should have saved those chocolates until I could get home and put them in a container in the pantry, as to be slowly divvyed to myself in ordinary servings. Not eaten on the go. I know what was up!

Also it's nearly that TOM, so I suspect that had something to do with it as well -- not an excuse, but merely a way for me to understand myself even better.

I have felt a bit haywire today, but I have to remind myself that everything will be okay. The world is not spiraling out of control just because there are things to do that cannot be easily checked off. Maybe I need to put the BIG LOOMING TASKS into tiny things that CAN be checked off so I can feel more in control. ? I give myself vague tasks mentally, but maybe I need to actually write things down and check them off. OOOOh. Thoughts! Ideas! :D Blogging is so helpful!!!!!



First Page
1
2
3
4
5
6
7
8
9
10
11
12
13
14
15
16
17
18
19
20
21
22
23
24
25
26
27
28
29
30
31
32
33
34
35
36
37
38
39
40
41
42
43
44
45
46
47
48
49
50
51
52
53
54
55
56
57
58
59
60
61
62
63
64
65
66
67
68
69
70
71
72
73
74
75
76
77
78
79
80
81
82
83
84
85
86
87
88
89
90
91
92
93 94 95 96 97 98 99 100 101 102 103 104 105 106 107 108 109 110 111 112 113 114 115 116 117 118 119 120 121 122 123 124 125 126 127 128 129 130 131 132 133 134 135 136 137 138 139 140 141 142 143 144 145 146 147 148 149 150 151 152 153 154 155 156 157 158 159 160 161 162 163 164 165 166 167 168 169 170 171 172 173 174 175 176 177 178 179 180 181 182 183 184 185 186 187 188 189 190 191 192 193 194 195 196 197 198 199 200 201 202 203 204 205 206 207 208 209 210 211 212 213 214 215 216 217 218 219 220 221 222 223 224 225 226 227 228 229 230 231 232 233 234 Last Page

Get An Email Alert Each Time ZIRCADIA Posts