| | |
| --- | --- |
| | ZIRCADIA's Recent Blog Entries |


Monday, December 14, 2009
I'm looking forward with positivity, because looking back over the weekend is... eh.

I am choosing to call Saturday Night's party debacle my "cheat meal" of the week... even though I didn't really start eating very well until Wednesday this week. And then Sunday my DH wanted to get Chinese food after we spent all midday working on packing and moving stuff to our Storage Unit (which is next to this REALLY GOOD Chinese food place... :P) so I said... as long as I find something on the menu that is fairly healthy, otherwise I will eat at home.

Well I picked something with a ton of veggies and meat that isn't battered and fried, got steamed rice w/ it. I DID eat one of the crab rangoon appetizers and one of the other things my DH got. But I didn't eat anymore of them.

I also ASKED FOR A BOX AT THE START OF THE MEAL - which I have NEVER done before regardless of how many times I've read about doing it.

We didn't eat until like 3PM for the day... YEAH. It was crazy. I need to remember to eat regularly. But I put most of the food in the box until what was left looked like a smart serving size.

Then at home I had two other meals of my leftovers. :) I ate again at like 6PM and 10PM which is kinda close to how I normally eat, except my first meal is usually much earlier obviously, first snack at 3PM, then lunch at 5PM, snack at 8ish, dinner after 10PM when I get home.

I'm very proud of how I dealt with the food yesterday after the initial mistake of waiting too long to eat coupled with the curveball of Chinese food.

I weighed today and was only up .5lb from pre-weekend numbers and I'm guessing I may drop again by Thursday which was when I had a drop last week.

I'm still having some pain in my hip/knee on the left leg and in my ankle/foot on the right leg. Very very mild/minor -- but I definitely do not want to run again until I feel really great. I don't need to, so I might as well recover. BUT - I definitely WANT to. I'm feeling impatient about it somewhat, but definitely not impatient enough to be stupid and run. :)

So this week I intend to keep up my strength training, and get SOME kind of cardio in... maybe I can get to the aquatic center to erg.

ALSO - today is my DH's 30th birthday. He's sooooooooo not thrilled about being 30. He took himself to lunch at this "Bama Wings and Fish" place that just opened up near our soon to be OLD place. (This way he could have a meal out without tempting me!) I don't think we'll be doing any food related celebrating, and as far as gifts we're waiting till next year. Although I did donate some remaining "Fandango Bucks" to him so he can go out to a movie sometime on his own while I'm at work free of charge (and free of seeing a movie w/out me guilt). :) That's my present to him! hehe.





Friday, December 11, 2009
So... the only bad thing is -- there was another mouse in a trap this morning! EEK!

PLEASE NO MORE!!! :(

But we didn't find any bad evidence of filth or destruction anywhere... just how are they getting in?? I dunno but it's irritating. We're just gonna keep keeping things clean (I disinfected our floors again this morning) and I know our food is LOCKED DOWN now, so there's no way they're getting AT it or INTO it... it's just so creepy. :P I'm guessing it might be why we caught this one, it was forced to a trap cause it couldn't get any food elsewhere. (THANK GOD!) I wonder if the pest control will even come today. I'm so glad we're moving -- there have been times they were supposed to put our apartment on the list (you have to call and REQUEST pest control, they don't just come on a regular basis - LAME), and then no one came. BOO.

BUT! In other things, stuff is still going good.

I got my core exercise in last night -- it wasn't anything big compared to what I used to do, but it was SOMETHING and I'm being careful now to let myself take baby steps to build consistency and not worry about doing anything elaborate. Going from nothing to something consistently is a great step right now. (OK, so it's not like I did NOTHING before, but no strength training for a good while now!)

My calories were good yesterday, within all macronutrient ranges -- but I've been a little high on sodium and a little low on calcium so I do have some tweaking I can still do to make sure I'm getting everthing I need. Fiber just BARELY below 25 (past two days and today so far: 28, 24, 23 but I still have dinner yet to track). Woot.

This weekend is going to be interesting... first weekend at home without a major run planned! I do have things I need to do, but unlike the past 4 months I don't have to fit a long run between them. :) Hopefully that means I can get some more things done around the house.





Thursday, December 10, 2009
So, yesterday went GREAT.

I tracked all my food -- ended up at one of my LOWEST calorie days in AGES. WOW that takes me back. HAHA :D But I need to be eating that low right now due to my lack of activity.

And I also got in my upper body strength training at my desk at work. WOOT.

I have 2 12lb dumbbells and 1 10lb kettlebell at work.

Here's what I did (all seated):

2 sets of tricep extensions w/ 1 12lb dumbbell
1 set of single arm shoulder presses w/ the 10lb KB
1 set of regular shoulder presses w/ the 12lb dumbbells
2 sets of bicep curls w/ the 10lb KB
2 sets of .... an incline chest press type thingie? w/ 1 12lb dumbbell.

I set my chair to the farthest back tilt it could go, and sat at the edge of my chair to exaggerate that, then held one 12lb dumbbell sideways across my chest and pressed up! Not sure I love that one... but eh. I did it.

I know at least my triceps are feeling it today!

Sooooooo last night I found out that my DH had to give a final today and needed to be at his office by 11AM. With one car and him teaching class at noon I have to get dropped off at work at 11AM - which is TWO HOURS ahead of when I'm supposed to be here. This would require me being dropped off at 10AM - 3 full hours prior to my shift.

NO. So I realized hey -- I work this Saturday, I could take my half day off on Thursday. (Our work week runs Thu-Wed, and on the week's I work Saturday ( a half shift) they make us take off during the week so we don't get overtime. LAME but hey I have a job!) So YAY I didn't have to sit around at work all day! And it also meant I could get stuff done at home.

So I finished cleaning out and sanitizing our pantry, I got our CD's and remaining video games packed... and then it was time to go get DH and go shopping. FINALLY!! GROCERIES!!! I haven't been shopping in like 3 weeks because of all the out of town stuff. We also bought like... a MILLION food storage containers so we don't have ANYTHING being stored in cardboard or plastic bags anymore. Yeah -- we're officially paranoid after the mouse situation. But the good news is that my pantry looks gorgeous now. :) I love our new containers.

I actually LOVE containers... and diaries... things that are pretty and are meant to hold things, ideas, pictures... (so yes, frames and photo albums are also on my list...) I get so excited in the journal section of places. Or stores that sell containers. hahaha.

ANYWAY MOVING ON. I had BARELY enough time to slap together a sandwich and eat an orange and get dressed and get to work after all that.

But the other good news is that my calories are on track so far today. And I plan to get on the floor and do some core work here soon. So woot!

Also we got a microwave popcorn popping bowl thingie. It was on sale at Target and I threw away all our paper lunch bags and I figured this would be more "green" anyway... I will review it as soon as I use it!

You know what? I'm soooooo grateful that I have a good enough understanding now of how our bodies work from reading on SparkPeople and the books I've gotten from the library, and Jillian's Making the Cut -- so many great resources out there... I know that now that I'm barely working out, my calorie intake needs to be reduced. And to lose weight it needs an additional reduction. I know that eating clean and drinking lots of water helps my body work it's best.

I didn't know ANY of this before -- it makes me feel so empowered that no matter what life throws at me I can adjust and make my reaction be a healthy one. WOOHOO!





Wednesday, December 09, 2009
OK, not that I ever really left -- but honestly the marathon was such an amazing dream come true it feels like it a little. :)

Not only that but the massive calorie burn I was rocking is OVER now, so time to do a reality check of where I AM not where I've BEEN recently. :)

I very begrudgingly clicked to look at the official race pictures from the marathon that showed up in my inbox today and it was NOT A PRETTY SIGHT. MAN running photos can be soooooo unflattering... it just really hit home some things I've been feeling for a while now re: my body and whatnot unfortunately...

Reality: I'm not doing any exercise probably this whole week - meaning NO calories burned (well ya know, other than my BMR/RMR)

Reality: I'm still up from my goal weight from my gain in August. It went somewhat down and then back up again most recently in my marathon foodfest.

Reslity: Calories must go on LOCKDOWN!!!!!

So anyway, yesterday I worked on lowering it -- I did good except for one MAJOR exception. A coworker made the most amazing cupcakes for a birthday yesterday and I definitely had one. This is not a frequent work treat type scenario and they are worth it. Still -- didn't really meet my goal of lowering the calories majorly yesterday. But I also didn't track in Sparks...

So today -- I'm tracking everything again. I've changed my input and my goals are adjusted. So far today I'm doing really well with my new goals.

THANK YOU to those of you who complimented my appearance in my last blog!!! :) I know I'm not a giant whale, I'm still well within the healthy range for my height, I am not THAT far from my goal and hopefully less once I really get rid of some of this water retention I'm still dealing with...

but it's still tough not being where I LIKE being in my body and noticing the differences is not fun. :P

My plan right now is to do some Upper Body and Core strength Training for the rest of this week, and if I feel like I have time/ feel well enough - rowing on Sunday. My body is getting back to normal -- meaning I'm walking ALMOST normally today -- but I still don't think running will be a good idea so soon, but rowing is full body cardio without putting any weight on my feet and whatnot. So we'll see. Trust me -- I'm not having any problems telling myself NOT to do stuff right now, but I know it's gonna start driving me nuts.

Today when we went outside the weather was SOOOOOOO gorgeous -- of course I thought -- what a great day for a run!!! :) :P

Anyway -- I'm feeling super motivated to eat healthy in reasonably reduced amounts this month. I won't be so anal as to completely eliminate any splurges from the holiday season, but I'm thinking kind of in the mindset of my first Christmas on Sparks when I was just breaking the 200 barrier and I did SO well on my holiday break with my family. Well this year it's my family's turn at Christmas again, and not only that but we're MOVING at the end of this month so there will be some additional physical demands to help keep me active. Of course with moving comes some challenges with cooking and food, but we're only moving across town so we should be able to shift kitchens quite easily and I will really have no excuse.

OH. The beginning of this week was also a bit hard foodwise because... THERE WAS A MOUSE!!!!!!!!!!! in the pantry!!!!!!! We had to clean out the pantry, throwing away lots of stuff we didn't use that was contaminated, and other stuff we just felt paranoid about, and disinfecting other things because we're just like that. All morning was spent cleaning and disinfecting and trap setting, but I HOPE we've got the culprits now and we don't have to worry about that anymore... but on the plus side it helped us prepare our kitchen somewhat for moving already. HAHA. ugh. Tomorrow morning I will be able to finally go grocery shopping to get some healthy foods. My hubby is like -- lets not get a lot of things that go in the pantry... (all our currently used items are now out on the counter haha) and I'm like -- all the better!!! This will force us to eat more fresh anyway.

It's so much easier to eat in a way that's filling and low calorie when you COOK. Processed food just adds so many unneccessary calories and sodium that it's just not smart to go that route when your calories are limited. (Honestly it's not so smart even when you have a bigger allowance... haha)

Anyway -- Although I've been feeling a bit down about this weight situation for a while, I'm happy that now post marathon I feel safe doing a big enough calorie reduction to really work on it -- especially this week with me sitting on my butt. :P haha. I feel the energy and hope of a new start!






Monday, December 07, 2009
So -- I'm feeling pretty awesome now about my achievement. :)

When I set out to run this marathon I tried REALLY HARD to make my goal just to finish -- but I couldn't help but set a time goal... so I did and it was to finish under 6 hours. And I even expected maybe to finish around 5:45 and only was 10 min slower than that and there's no way I can allow myself to feel in any way negative about reaching all those goals on my first marathon.

I looked at the results and saw that there were less than 100 finishers behind me -- like 93? So close to 100? But then I realized that the last finisher was number 2448.

There were 3500 individuals registered to run! That is over ONE THOUSAND people that either didn't even make it to the starting line or didn't finish!

Not to mention the tons of people out there who wouldn't even think of starting a marathon. haha. I dunno what little stupid mini pity party was living in a corner of my heart that was stealing something away from my achievement but I've squashed it. I would never dare to look down upon any marathon finisher, or even those who had to stop for whatever reason but for some reason I wasn't treating myself as well. NO MORE! :P So just wanted to share that little mini breakthrough with ya'll.

My husband also told me about all the cheers received by an obviously overweight/obese runner who finished the half-marathon not TOO long before I finished my marathon. I think he said maybe 30-40 min before me? They had already shut down the half marathon finish line so she had to come through the marathoner side of the gate. I'm not 100% sure her time was even recorded on the finishing places because the last half time I saw on the preliminary lists was about 5hrs. Maybe that was her! I dunno. But either way, he said the crowd was totally behind her and so proud of her.

All I can say is -- can my body please heal up and recover so I can start thinking about future events? :D HAHAHA. I know the BIG two things I can improve upon in my future long distance races: 1) DON'T GO OUT TOO FAST! 2) Take the walk breaks you practiced... yeah I didn't do either of those things. I let the adrenaline and momentum of the race sweep me along -- trust me, I REALLY ENJOYED those first 6-7 miles!!! It was the TIME OF MY LIFE! :D hahahaha But I paid for it later. And the fact that I still achieved my goals in spite of making the two biggest racing mistakes - I'm really really grateful for.

OK. So you all know that, I just had to write it for myself and for anyone else who ever felt like I did. :) I love what Jackie wrote in her comment (MISSJCISRUNNING): "I had dinner with a man who has run 66 marathons and I'm sure he's not thinking about his first marathon time!!!"

I finished my first attempt at a marathon.

I did this only a little over 2 years after learning to run -- a little over 2 years after finishing my first 5K. I did this only 1.5ish years after beginning to maintain a healthy weight. I did this only just under 3 years after starting to exercise for the FIRST TIME EVER IN LIFE. It truly is mind boggling.

And all of those who commented about how they were inspired to run a marathon after reading my last blog - WOW! :D hahaha Go read someone's race report who had a good race. You'll be even doubly anxious to take a whack at it yourself!!! But then again if knowing how rewarding a really tough race can be is a motivation in itself, and I will definitely be carrying this race close to my heart for the rest of my life, and thinking of it when I rock my next marathon (whenever that may be).

And yes I AM wearing my medal to work today. I think this will be the last day I wear it around... maybe... (maybe to some Christmas parties??? HAHAHAHA ok maybe not...) I have to say, I love the HEFT of this medal -- it has a nice weight to it.

Oh another thing I failed to mention about the marathon were all the people who yelled," Thank you for running for us!" And stuff like that. There is a group called "Team Jake" running for the Jake Owen Raborn Foundation (see jakesfoundation.org) raising money in memory of a child who died at age 4 from a rare liver cancer. Alllll along the course there were signs like "SMILE - Jake always did" GOSH those got me. I had to smile. I was just running. Ya know? There are bigger things in life. Anyway it was a great race to be a part of.

ALSO! The course was really great -- a couple of steeper inclines toward the beginning, but they were not very long (quite short) and the rest of the course was soft inclines and declines with some flat areas -- it was varied enough to not get bored, but not tough. Ya know? There was a nice part through a pretty park (maybe near the zoo?), and of course the downtown areas and the hospital campus to run through.

ANYWAY, I promised pictures.

So we arrived in Memphis probably around 4PM? Something like that? Checked in to our hotel and then headed to the Expo.

I was soooooo stoked to be heading in and getting my bib number, going to the MARATHONER'S table to get my nice awesome long sleeve tech shirt (which was a soft off whiteish color and obviously different than the red normal long sleeve T the half-marathoners got and I dunno what the 5K runner's got...) I also got a free 26.2 sticker w/ St. Jude Marathon on it. SWEET.

OH also -- apparently my memory card was at home and not in my camera, but luckily my camera has internal memory. We didn't even know we were out until after the race! HAHAHA :D

Here's the shirt: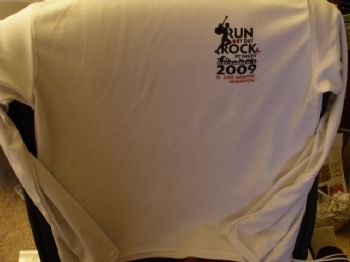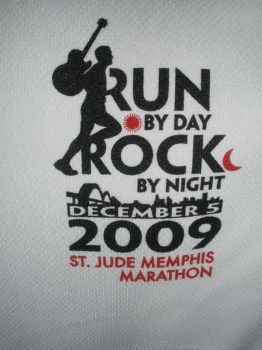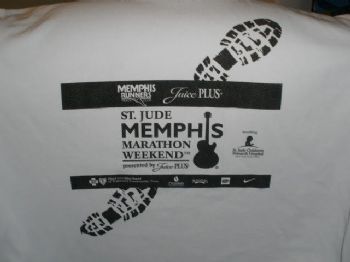 Then it was over to the Goody Bag area! There was a coupon for a free cookie at McAllister's -- no purchase necessary... two little trial thingies of biofreeze (WHICH I SO USED), um... and some other coupons... for other stuff. OH! I DID really like a little running log though! :D I should have taken pictures of that because I will use it! It's got a space at the top for the month and year, and then it gives you a little section for Mon-Sun with distance, time, course, and notes -- then at the bottom Week #, Previous YTD, Year to date, Goal Time Total mileage I guess.. I dunno I just looked at all the details. It's cute! At the bottom of each page it says "Finding Cures. Saving Children." A notepad w/ a map of downotwn Memphis w/ the start anf dinish and it says "I ran the St. Jude Memphis Marathon, December 5, 2009" down the side. AND a St. Jude's Children Hospital Calendar w/ a featured patient for each month -- talk about a tear-jerker. So those are actually cool things I kinda forgot about. And of course the BAG itself is cute!




SOooooooooo guess who was there?? HAL HIGDON! :D I kind of combined his training program w/ the Runner's World First-Timer plan. Anyway -- he totally wrote a NOVEL about a MARATHON - it's a little... weird... so far. haha I'm reserving judgement until I get farther into it and we're not still introducing characters but it's FUN so far to read a fictional story about a marathon. Anyway! He signed my book wishing me good luck on the race. A picture with the man himself: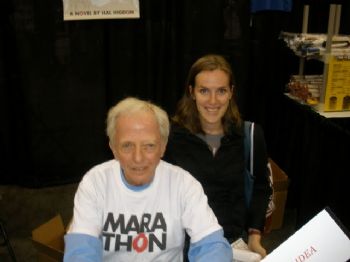 We then headed back to the hotel and on the way back I TURNED MY FREAKING ANKLE -- the same one I turned during my 5K. It was very very slight and didn't hurt but it definitely mentally freaked me out a bit -- my husband was more freaked out than I was! We headed out after a while to get dinner -- we went to this Italian place called Pa Pa Pia's which was AMAZING. We spit an Antipasto for Two appetizer and I got one of the pasta dishes that was discounted for runners - Rigatoni de Papa (Rigatoni w/ sweet sausage and a cream tomato sauce - YEAH.) Then we split a Tiramisu for dessert. I had never had one before -- and man was it AMAZING. My DH was mind boggled at how good it was.

Then it was home to the hotel to SLEEP.

I think I was able to get to sleep alright, but I woke up around 3-4AM and had to take some medicine cause I just started coughing and couldn't stop. Then it was up at 6AM to get ready and check the weather. HOLY CRAP TWENTY FOUR DEGREES?!?!? It was supposed to be between 30-40! haha.

I ate my oatmeal and an apple and rested and drank water and went to the bathroom until I started getting dressed around 7 and my hubby woke up at some point therein to say he was up most of the night and had to take medicine and was feeling ill so he didn't see me to the starting line, but he did get up to take a picture of me in my getup! I put my hair in a ponytail before we got going, but it felt good to have it around my neck at first when walking to the start. I also had an OLLLLD Hoodie that had holes in it that I discarded at the start.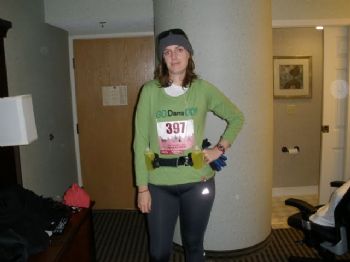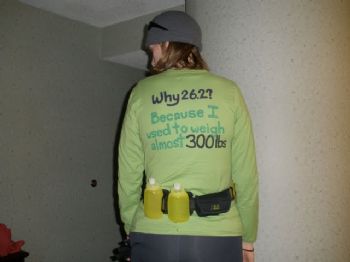 Yes I hand-lettered the shirt with sharpie markers. :) And that's my cell phone in my back pocket if you can even see that. I didn't use it.

The start was exciting!!!!!! I felt strange in a way being all by myself, but the comraderie of runners was all around me. A lady told me my bottle was leaking and I was able to fix that before it did much but dribble on my butt. ;) Others were talking weather and bouncing and hugging and all that good stuff. FINALLY they started letting people GO and we were able to gradually move up - WOOHOO!!!

And then I told you all about the race -- OH but I didn't mention the cool moment when we saw the first place runners coming up the other side of the parkway!!! The marathon was... KIND of a double loop ish course, but the second loop was different than the first but it crossed over in places... if that makes sense. We ran one way down the parkway during the first half and the other way on the second so we were able to see those amazing looking super lean Kenyan looking men coming at us. :) I just looked up their finish and Gun time for the 1st place man was 2:16:21 - first place female 2:43:42 (overall finish of 16th place). The 3rd place female came in 44th overall -- I wonder what it's like to be an elite male runner who comes in before all the women but is still so much slower than the top men??? I can only imagine. ;) haha.

So .. the finish!!! Here's a shot my hubby took of the scene in the stadium while waiting for me -- note all the finishers with their SHINY CAPES!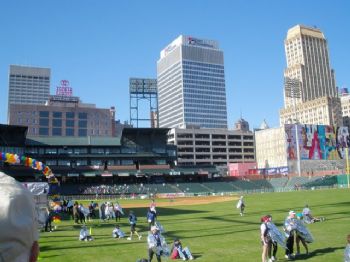 Then I come in the stadium and all my pain vanishes as you can see here:



And DH took a cute picture of my wedgie and me crossing the finish line: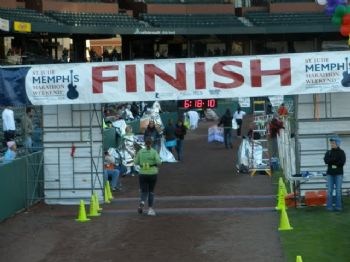 Keep in mind that time is gun time, and my corral started a good 23ish minutes after the gun! :P haha. :D

Of course then the meandering limp around the stadium, the gobbling of all recognizable food items and taking of a box of Krispy Kremes....

Here just outside the stadium mugging it up: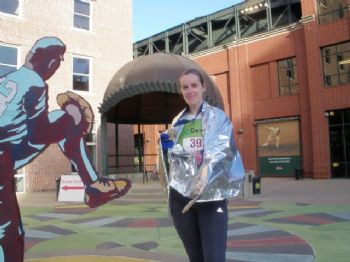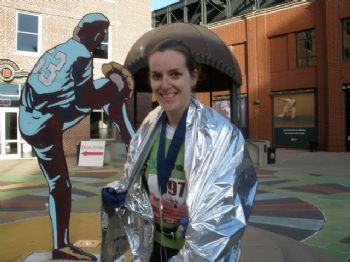 So then I hobbled back to the Hotel - winced into the shower, DH slathered me in ICY Hot and biofreeze and set me up with some food and water (PB stuffed Pretzels, Kashi bar, apple the stuff I brought!) and left me to rest and relax (I watched most of My Fair Lady - such a comforting movie for me as I used to watch it ALL THE TIME growing up -- love musicals...) while he went and took pretty pictures of Memphis! For example:




That trolley was my best friend on Saturday after the race -- it was free for runners and only $1 for non-runners that day. I definitely took it to and from dinner...

All cleaned up and ready to go!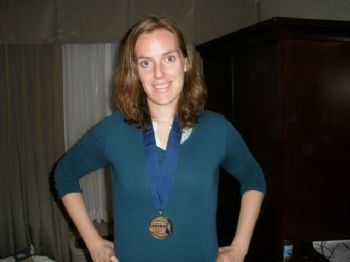 Dinner was at

THE KOOKY CANUCK!
www.kookycanuck.com/

I really have no idea what 7.5lb burgers have to do with Canada, but with all my Canadian SparkFriends I couldn't resist when my DH wanted to go here as a second choice when our first choice turned out to be full of cigarette smoke. Oops. :P We ordered some Poutine as an appetizer - which I DID take a picture of: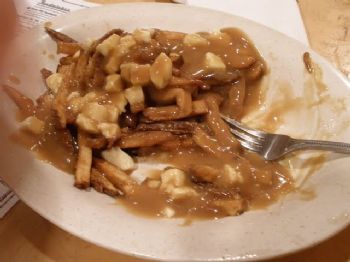 Does that look at all right, Canadians???

I got a deep friend Cornish Game Hen w/ Sweet potato fries and a cucumber salad... and we split a Nanaimo Bar for dessert.

Then it was back to the trolley and to limp back into the hotel.

OH look how pretty the medal is up close: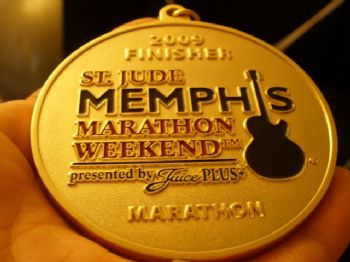 I LOVE the back: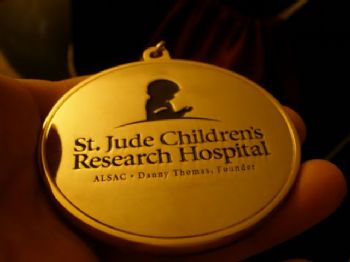 Which reminds me of a dude's shirt I saw early on - I was told my my DH that the front said something about this being his First Marathon, the back said:
"Go ahead and pass me - we all get the same medal anyway". HAHAHA :D

The next morning I saw some half finishers eating breakfast in their red shirts...and I was like - haha, I did the full (in my head) and hoped they noticed my snazzy shirt. ;) HAHAHAHA. That breakfast sucked. Then that night we went to this new yogurt place in town (by the oz, toppings bar) and Five Guys burgers and fries. And that's IT for me and the crazy marathon related eating. HAHA.

Now I'm looking forward to first: recovery, rest, recuperation. Next: Strength training - I'm thinking some Jillian Michael's videos at home and possibly some erging and rowing. I don't know when I'll run again, will listen to the body on THAT. With running I just need to make sure I'm ready to hold down a 10 or 12K leg of the Mercedes Marathon Relay on 2/14/2010 but honestly - after the marathon I'm like... PIECE OF CAKE. ;)



First Page
1
2
3
4
5
6
7
8
9
10
11
12
13
14
15
16
17
18
19
20
21
22
23
24
25
26
27
28
29
30
31
32
33
34
35
36
37
38
39
40
41
42
43
44
45
46
47
48
49
50
51
52
53
54
55
56
57
58
59
60
61
62
63
64
65
66
67
68
69
70
71
72
73
74
75
76
77
78
79
80
81
82
83
84
85
86
87
88
89
90
91
92
93
94
95 96 97 98 99 100 101 102 103 104 105 106 107 108 109 110 111 112 113 114 115 116 117 118 119 120 121 122 123 124 125 126 127 128 129 130 131 132 133 134 135 136 137 138 139 140 141 142 143 144 145 146 147 148 149 150 151 152 153 154 155 156 157 158 159 160 161 162 163 164 165 166 167 168 169 170 171 172 173 174 175 176 177 178 179 180 181 182 183 184 185 186 187 188 189 190 191 192 193 194 195 196 197 198 199 200 201 202 203 204 205 206 207 208 209 210 211 212 213 214 215 216 217 218 219 220 221 222 223 224 225 226 227 228 229 230 231 232 233 234 Last Page

Get An Email Alert Each Time ZIRCADIA Posts