| | |
| --- | --- |
| | ZIRCADIA's Recent Blog Entries |


Thursday, July 23, 2009
So... unbeknownst to me they flashed my picture up on Nationwide Television during the Sparks Segment on ET!!!!!!!!!

Apparently it was this Before and After picture: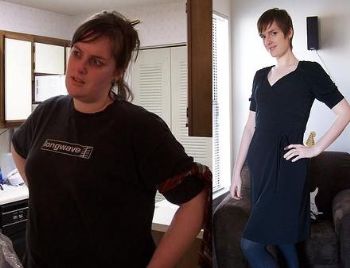 I wish I had known!!!!!!!!!! :D hahahaha

OH MY GOSH -- Thanks to SPNANCY, I have the link!

I'm right at the beginning with my BEFORE shirt and later they show a before and after -- it's THIS before picture, but a different after picture (my favorite one actually!)

www.etonline.com/news/2009/07/76746/
index.html





Thursday, July 23, 2009
So I went to bed afer 1AM last night...

and woke up just before 5AM. Phwew. Sooooooo hard but sooooooo worth it.

Rowing was GREAT this morning -- much more actual rowing w/ drills in between. Got a better calorie burn for sure.

I'm starting to feel like my feedback that I'm getting is really fine-tuning my stroke, as well. But then again I'm sure that as I learn more and become better, there will only be more details to finesse. :) That's the great thing about being coached!!! I can only do so much for myself and my running. I THINK about form sometimes, but I can't see myself... I can monitor my heart rate, plan distances and different types of runs... but it's not the same as being watched by someone who is an objective observer AND has a wealth of knowledge and experience to help you along the way. It definitely takes me back to when I was studying music at FSU -- the more you learn, the more you realize you need to improve. The knowledge and skill you develop gives you the capability to grow even more, and correct even more and more details. It's really neat when you think about it!

So after that I ate my apple and nuts (pre row I did a bowl of cereal) and I was ready to go run... but felt soooooo tired. I figured I would do a slow jog at my favorite park. If I go out and back on the park it's around 2miles, but I know where I can go to and turn around to make it a little over 3 miles. So I figured I'd set out, keep it easy, and if I wasn't feeling wiped at the end I'd go the extra mile (oh how cute!). ANYWAY... when I was nearing about the halfway point of my OUT (of outandback), these two dudes passed me who I had passed in the opposited direction a minute before -- GRR. I hate that. hahaha but I'm sure they didn't turn around at the end of the park, that'd be impossible, but still. :P

So I'm like, WAH they passed me, they're going faster... and then one of the guys stops and starts walking and the other guy is like,"Don't give up now!!! We're almost there, just keep going!" and right at this point you can either turn off to the right to go to the windy trail that goes inbetween the trees and overlooks the water (the best part of the run in my opinion) or go straight. Well -- they went straight and I turned and I made it my mission to come out on the other side with them. MWAHAHA.

I guess I always knew I had a little competitive streak in me in other things -- I loved getting the best test scores, being the best trombone player, stuff like that -- but because I NEVER considered myself an ATHLETE I never thought of myself as being competitive in that area -- but now! It's definitely there. I don't expect myself to be the fastest (I know there are so many more talented and skilled runners out there it's RIDICULOUS), but I definitely find ways to challenge myself and compete with others and myself in little ways. So anyway, I just start booking it!!! I was right with them winding around up and down hills while they were going straight, up until my trail meets with theirs only I have stairs to go up to reach it -- so they got a bit ahead of me while I was going up the stairs and then we were VERY nearly at the end of the path (my turnaround) and they stopped there while I kept going.

Well -- at this point I was so pumped and my music was rocking and the windy trail had it's hills begging to be sprinted up and coasted down and I just kept running hard. I think Ted Leo makes me want to run fast! :) haha. Anyway -- I kept it up until I came back out to the straight part, at which point I was still KINDA pushing but keeping a steady pace, and gradually kinda slowed it on down until the end. I mapped it at about 2.2 miles, since I took a slightly different start today, and about 10.5min mile average I think???? hahaha.

So what was going to be a leisurely shortish run turned into a speedy run! I PROMISE to take my long run niiice and slowwww and not overeat before it this weekend. I really need to take a nice slow run after getting all pumped on my 4 miler, doing the run with Speedy yesterday, and then wanting to outrun the pair in the park today... hahaha.

Also -- I confessed to KEAKMAN, but I wanted to tell you all.

Sometimes I sing when I'm running. Not LONG PHRASES obviously, cause I'm breathing pretty heavy most of the time, but when my favorite part of the song comes up I take a breath and sing it out loud. As long as I'm on a trail that's in nature and there aren't people around. HAHAHA :D

Food is looking good so far today as well. I haven't been tracking my dinners in Sparks this week, just mental tracking. I'm not tracking a deficit this week either but I am staying within range. I'm actually pretty excited about my wrap in my lunch today cause it's a bit different than how I've done it recently and I think the flavors will be great. :)

OH AND P.S. -- I definitely went home, showered, and napped for 3 hours. So I did get around 7 total hours of sleep and I'm not running on fumes right now. :)





Wednesday, July 22, 2009
So this morning I was feeling totally dead when I woke up to go run. WAH.

BUT!!! Running buddy was waiting for me so ... I went. (See how good this running buddy thing is???) :D hahaha I shall from here on out refer to her as Speedy because yeah -- I was really having to work this morning to keep up with her and she was doing most of the talking AND pushing a stroller w/ a baby in it!!! SO UNFAIR! hahahaha :D we did about 2.4 miles in 25 min which is definitely a tempo run for me -- I'm over 11min on my faster runs these days, usually between 12-13 min on longer runs, so yeah. It's really good to have that drive, though! Her daughter is soooooo cute, too! Sadly it was lightly raining occasionally, so we got a little damp, but it wasn't too bad. All I have to say is RUNNING = DONE.

Then I came home, made our lunches, and did a LITTLE strength training. My lower back is feeling a little strained -- I think it might be because of all the drills from rowing on Tuesday even though they weren't tough, because of the types of drills we were doing it was a lot of emphasis on the swing - where you swing your upper body back to finish the stroke and then back forward... I dunno for sure, but either way... I started to do a little ST but didn't get too much done. I did some lunges w/ hammer curls, some alternating bicep curls, then I laid on the floor and some slow bridges and other pilates stuff -- but not a full on pilates routine, just some. And I also did some standing rolldowns (pilates where you slowly roll down your spine and back up) just trying to get that stretch in my back that I felt I needed. I also spent some time curled in a ball and rolling back and forth to massage that area.

And I just wasn't feeling doing any more ST. I did like two lying tricep extensions and was like.. mreh.

I took a shower and went to bed.

Slept for like an hour and a half at least!

Woke up to my alarm so I had some time to eat and I watched some more Biggest Loser Australia on YouTube. I'm currently in the middle of Season 3 -- well not really the middle -- they just eliminated the week 3 person I think -- but anyway. LOVE LOVE LOVE that show -- I prefer the Australian version for sure. No cheesy product placement, lots of time spent with the training and everything. woot. They DO have some kind of dumb/weird gameplay aspects that the US version doesn't have though....

and one they added this season which I kind of like is THE WAREHOUSE. Each week there is a FOOD twist added to the game -- the biggest loser from the winning team the previous week gets to choose between two options -- the other team gets the option they don't choose.

Like one week they had to choose CABBAGE or canned foods with no labels. Well the winning team picked cabbage. They still had some other foods in the kitchen to work with, so this wasn't a big deal to have a ton of cabbage to eat, but the team stuck with the cans... a lot of it they couldn't even eat and they had to really make do with the rest of it.

This week it was CASH (to grocery shop for yourself -- $60 per person for the week, but everyone was saying how that wasn't really enough - don't know what it's like in Aus $ or what their grocery prices are like anyway), and the other alternative was Japanese food prepared for your team by a chef for lunch and dinner.

The winning team picked the cash -- I prefer the team that lost and I was soooooo happy for them. :) OH MAN - their chef is so cute and she's cookinge verything low sodium and low fat w/ brown rice when there IS rice, they had a gorgeous spread of sashimi and a raw veggie salad and some brown rice sushi when they went back to the house. :) If you eat it right, Japanese food can be SOOOOOO healthy and when considering the fact that they had a chef preparing their food according to their trainers instructions -- they totally have it made.

OH - Regarding the Apartment situation -- thank you all so much for your comments!!! The only reason we're still at this place is that my DH expects that we will be moving either in Dec or May, depending on when he is able to find a job. He expects his Dissertation will be defended in Dec, but he will most likely not meet the deadline to turn things in to walk in Dec - so he'll have to "enroll" in Spring and walk in May. If he finds a job before then we can move, if not then he'll stay on and teach for that last semester until he walks. In any case, we're not even going to be here for another year so moving is not really an option (there are only a couple of places around here that do short term leasing -- plus they don't allow pets, plus their ridiculously more expensive, plus MOVING ITSELF is expensive...) so we're just DEALING for now. They gave us a lease through December only (like a ...5 month? so not even a 6 month lease?) and only raised our rent like $5 somehow so..... THAT we appreciate.

Also their breed restriction list is ridiculous -- they're vicious and OTHER breeds - like bull mastiff, st. bernard, I don't remember what other ridiculous breeds that are apparently banned due to their size alone. (Granted I'm not saying I RECOMMEND those dogs for apartment dwelling, I just think BANNING them is insane...)

Also -- a good point we were made to realize is that if we are caught they'll likely ask us to find him a new home and not be like -- OOOH EVICTED. We may be able to find a temporary home for him since we intend to be gone soon anyway.

Still no decision, but this is where we're at so far.





Tuesday, July 21, 2009
So my stomach appears to be back with me now instead of in misery. :) hahahaha!

This morning's row was... soooo dull. It was all beginning basic drills, not much actual rowing, stationary drills.. .yeah. I burned the lowest amount of calories EVERRRRRRR. We had a couple of rowers subbing that are less experienced and it was a bummer because I think that's the reason our session was so *BORING*. I'm eager to see if I will get to row competitively and maybe get assigned in a boat with dedicated people who rock. :) That would be EXCELLENT.

Anyway... I burned more calories carrying the boat around and oars up and down the hill thank goodness, and it also meant I was not wiped out for my run -- which was AMAZING.

The humidity has been SO LOW recently it's been stellar! And the weather was a bit cooler and the sky was gorgeous! :) I hope it stays like this for a while because it was truly perfect weather. It really affected my Heart Rate as well -- at one point I was running and had a HR of 135!!!!!!!!!!! Granted, it was a slight downslope, but good grief usually I'll be at LEAST in the 140s if not the 150s even down hill. On the way back I started feeling really kicking for some reason and ran harder, but it was a good run overall. Light and easy on the way out -- super relaxed and awesome -- and pumped and rockin on the way back. 4.14 miles, including my 5 min walking warmup I averaged a little over 12 min miles I think?

So apparently Tuesday is my GET STUFF DONE day. I again went grocery shopping, came home, hard boiled some eggs, cooked some chicken breasts, prepped them in single serving size bags... all that good stuff. I'm feeling really happy having the place stocked again. :)

We're having a bit of a dilemma again at the moment regarding doggie situation -- that dog that I mentioned before a WHILE ago -- my hubby's friend was going to school and he came over and we met him and he seemed perfect for us yaddayadda, but we decided not to ... a couple reasons, one being that our apt complex bans against ONE of the breeds he is MIXED with (which is ludicrous). ANYWAY.

We are so dissatisfied w/ our complex -- yesterday my hubby filled a garbage bag with trash from within a 100yd radius of our apartment... it had been sitting there from the weekend allll day on Monday... I can understand them not picking up on the weekend, but come on -- when you know there's that big of an issue in the complex with things getting trashed on the weekend, you can at least be out there first thing on Monday making it nice. As my DH put it -- he felt ashamed to be living there with it looking like a dump. He's kinda OCD when it comes to germs and whatnot so you KNOW it's bad if he actually picked it up himself.

Anyway -- knowing that they really don't care about the appearance of the place, that they don't enforce their breed restrictions to other tenants (based on our own observations and a comment made by one of the maintenance workers) I seriously do not really care. AND another apartment in a complex near ours was broken into for the SECOND TIME. BLAHBLAHBLAH - AKA = we hate it and can't wait to leave but until then... maybe we might get this dog?

We're still thinking it over...





Monday, July 20, 2009
So I dunno if everyone saw my status message, but yesterday we went to a Chinese Buffet for the first time IN AGES.

It is a great place to go because they have a fresh Mongolian BBQ and sushi... but I got those PLUS some other of the "naughty" things I like, PLUS a bunch of dessert... I was totally overstuffed.

I waited too long to eat before we went there -- that ended up being all I ate for the entire day and I'm sure calorically it was at least my daily tally. HAHA.

THEN I waited for a few hours and went running but my stomach was WAYYYYYYY not ready still -- I got about 2.5 miles before I started feeling really bad, but I kept going and at my turnaround point (about 2.6 something miles) I was like... no way.

And made a loop instead of an out and back and the part of the loop after the turnaround point was much shorter than going back.

I ran up to the door of our apartment and banged on it for my hubby to let me in and was like I GOTTA GO TO THE BATHROOM!

HJAHAHAHA.

So yeah -- will not be doing that again.

Get to row twice this week -- got in all 4 runs last week even if the long run ended up being only 4 miles instead of 5.25-6 but that's ok. I have some time before marathon training and my first long run of that is like 6-7 miles.



First Page
1
2
3
4
5
6
7
8
9
10
11
12
13
14
15
16
17
18
19
20
21
22
23
24
25
26
27
28
29
30
31
32
33
34
35
36
37
38
39
40
41
42
43
44
45
46
47
48
49
50
51
52
53
54
55
56
57
58
59
60
61
62
63
64
65
66
67
68
69
70
71
72
73
74
75
76
77
78
79
80
81
82
83
84
85
86
87
88
89
90
91
92
93
94
95
96
97
98
99
100
101
102
103
104
105
106
107
108
109
110
111
112
113
114 115 116 117 118 119 120 121 122 123 124 125 126 127 128 129 130 131 132 133 134 135 136 137 138 139 140 141 142 143 144 145 146 147 148 149 150 151 152 153 154 155 156 157 158 159 160 161 162 163 164 165 166 167 168 169 170 171 172 173 174 175 176 177 178 179 180 181 182 183 184 185 186 187 188 189 190 191 192 193 194 195 196 197 198 199 200 201 202 203 204 205 206 207 208 209 210 211 212 213 214 215 216 217 218 219 220 221 222 223 224 225 226 227 228 229 230 231 232 233 234 Last Page

Get An Email Alert Each Time ZIRCADIA Posts