| | |
| --- | --- |
| | ZIRCADIA's Recent Blog Entries |


Monday, July 27, 2009
So... I was on point with my workouts this weekend. I actually burned over 1000 extra calories.

I got a GREAT long run in on Sunday morning, went to church, then later went rowing. I cooked a healthy dinner for us, too.

But.....

I ate like crazy all weekend. It was like I couldn't stand to not be eating... I kept going back for more, something different... It definitely felt like an emotional eating thing but I can't really identify any emotions to confront so it's really difficult. Maybe I'm just feeling anxious about all the STUFF that's about to be going on. I don't think I feel all grieving about my recent losses, I think about it and I don't feel really sad... (which sounds awful but I'm being honest), I feel the way I wrote about the other day. Things were expected. My grandma actually died on the 12th so why now?

So I really do think it must be some anxiety over the whole trip that's about to happen and helping my mom and stuff like that. Something that's kinda hard to pinpoint, just an overall feeling of nervous energy and anxiety. LAME.

I really also have no idea what the trip will be like re: food and exercise. I will bring my resistance bands, my running shoes... but I really don't know what the day to day is going to be like. My parents are paying for everything because otherwise I wouldn't be able to afford to go -- we're staying in my grandma's house, so I dunno if we'll be grocery shopping and then eating in, or possibly doing a lot of eating out. Also I'm not sure how the day to day will go -- will I be able to sneak off and go run or will that be ... callous and insensitive? Do I need to stick around to everyone and be supportive and assisting at all times???

I wonder if my brother would go run with me... he made a noise before about possibly training up to go to Memphis with me. They have a half and a 5K also... so it's definitely possible considering he has been running regularly before now. Also my sister has said she'd be interested in training for the 5K when she gets back... anyway.

I think I'm going to look up my grandma's house and see what a running route would be like around her neighborhood... Even if it's just 2 miles at least I can get out and still run regularly so I am not way off track.

Bah. I feel good. I look skinnier than I think I am and I feel. I have to remind myself that just because I'm feeling "off" and had a weird weekend does not mean I've blown up overnight. It was weird, I went to a birthday party on Friday night and I saw myself in their full length windows and was like -- I look so skinny!!!! It was different than how I was FEELING. Still such a disconnect.

I had fun on Saturday though -- hubby and I slept in, went to see Transformers, stopped at the Academy Sports so I could eyeball some things and look at prices so that when we visit the running store where my in-laws live I won't just be like -- THIS IS CERTAINLY CHEAPER AND MORE AWESOME than anything IN TOWN cause this store RULES! :) hahaha. I discovered they have Gu and Clif Shots and Shotblocks and all that good stuff there, so I don't need to worry about that.

I want to try using nuun for my electrolyte drink and gain carbs from whatever I'm eating en route -- I just think that sounds like a good idea... so I want to try that and they DON'T have that here so I'll be looking for that at the running store. I can always order that online, but who wants to pay shipping if I don't have to -- we're already driving there and back so no additional costs for me if I get something there. My main hope is to find a good fuel belt and be able to try on a few to see how I like them. But that's next weekend.

Tomorrow I work 12-4 and then drive to GA.

I'll be gone until Sunday evening, so I don't expect to be logged into Sparks, although I'm sure I'll check in again tomorrow so no need to see me off just yet, just kinda FYI...

I plan to go to the Learn to Row camp tomorrow morning -- they'll be at the Aquatic Center and so hopefully I can erg a bit and then do some REAL STRENGTH TRAINING before I leave on my trip. That is definitely something I've been neglecting lately.

P.S. - OAR PAINTING PICTURES!!!!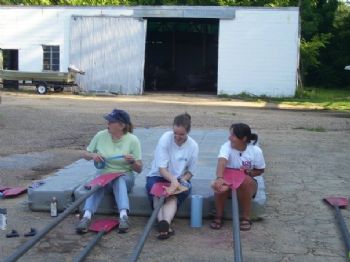 First we had to clean and sand the blades (after scraping off the "A" decals), and tape them up.

After that we primed, sanded, and painted them. Then later in the day I came back to help apply the stripe decal.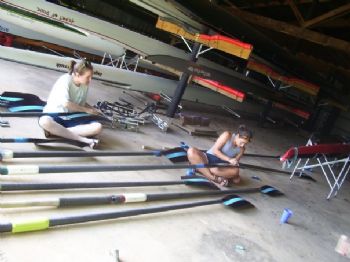 LOOK how GORGEOUS! :)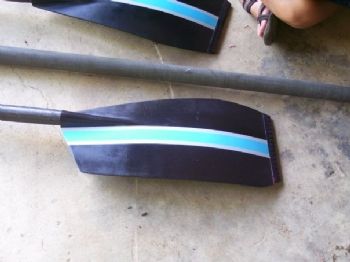 The true color is closer to the one on top, or to the right of the one in the middle of the photo.

This is my coaches and the oars on the rack: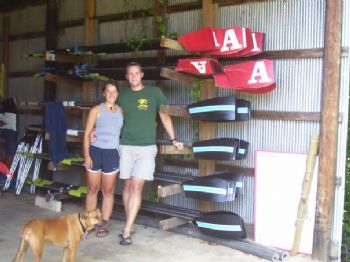 See the ones up top with the A? That is BASICALLY what they used to look like.

Also the clothes I'm wearing used to kind of fit me. That top is kind of a touchy subject with me -- it's like a 3X or something. I got it for free when I worked at Radio Shack and pretty much our store received ONE shirt... and the other people were "normal" sized so ... they gave it to me. :P It was a little big at the time but came closer to fitting me than anyone else, and closer than I wanted to admit at the time. The bottoms are old workout pants from midway through my weight loss journey.

We used the oars on our Sunday row and they looked SO GREAT out on the water. :)





Friday, July 24, 2009
Thank you to everyone who watched my clip and for the AWESOME amazingly wonderful comments you left me. :) You definitely warmed my heart and I am honored to be featured and to have such wonderful SparkFriends! *HUGS*

This morning I got up early to go PAINT OARS!! WOOT.

It was kind of fun, really.... and it went A LOT FASTER than we anticipated. We thought it would be a 3 day job, 7AM-12PM each day... well.... we were nearing completion when I left this morning at almost 11AM. I'm going back in an hour as the decals will be ready and we can apply those and they will be DONE. :D

The best part is that this means I don't have to wake up early tomorrow AFTERALL. :) *phwew*

So life is going to be really nutso for me in the next few weeks...

My grandmother on my mom's side passed away on the 12th -- it was not unexpected as she has been struggling with a very debilitating disease which caused her to have blisters all over her body -- it was awful. The medication caused side effects and she was having a tough time getting the condition under control and more recently she began to show signs of organ failure so my mom went down there and she passed soon after my mom arrived. I personally am so glad that she is no longer suffering, but even so, my mom is obviously having an extremely difficult time because ... it's HER MOMMY. It doesn't matter what an enlightened perspective you have on life and how much faith you have in the hereafter when you lose someone you love and is near and dear to you, you miss them in the here and now.

So anyway -- I will be flying down to South Florida with her next week to help sort through some more of my grandma's belongings (she was a COLLECTOR of many things) and to attend the services on 8/1.

And also my Uncle just died on Wednesday -- he also has been long struggling with disease, when we visited him the Christmas before last they had told him he had like 6 months to live a few months prior, so he REALLY hung in there as long as he could. Unfortunately due to the timing there's really no way to make it to his services... So that's two deaths in the family.

Then on the same day we fly to South Florida, we will also be seeing off my youngest brother on his Mission. He will be reporting to the Missionary Training Center in Provo, UT, and after that serving in the "Denver North" Mission and will be gone for 2 years. I'm REALLY glad I'll be with my mom for all of this.

Then the week after the trip to FL, we will be going to visit my inlaws! This is a happy thing because it's been quite a while since we've seen them and we'll be able to meet my SIL's boyfriend for the first time, so that is exciting.

THEN the week after THAT my sister returns from Mongolia!!!!! That is BEYOND exciting, I can't WAIT to see her! The only downside is I have to return her car to her and we really will need two cars this Fall so that means we're going to be car shopping. (Which is on the one hand exciting and on the other hand... $$$$$$$$$)

So lots of ups and downs for my family all in a very short period of time.

I have only cried once for someone dying that I knew... my baby brother Benjiman died when he was 15months old after a heart surgery. He had Down Syndrome and had heart defects. Anyway -- I'm sure it all depends on the circumstances. No one close to me has died suddenly in their youth *THANK HEAVENS, knock on wood, etc.* nothing unexpected... In the case of my Grandma and my Uncle I am just so relieved for them to be done with their bodies that were causing them such trial and discomfort. I do believe that we will be reunited in the life beyond this one, which is also a comfort. I'm mostly sad for my Mom and my Aunt and my cousins... My Aunt was married more than once before she met my Uncle, and to loser jerks from what I hear... (Or maybe she was just married once but had long term boyfriends that were jerks I don't remember...) in any case -- my Uncle was an amazing man and pure perfection for her.

He will definitely be missed.

My Grandma was a character -- she was soooo funny. :) Always the teaser and joker, and yet at the same time she was such the epitome of GRANDMA when it came to being the perfect hostess, always making sure everyone was taken care of before herself and providing an ABUNDANCE of food. She never wanted anyone to worry about her or be concerned with her needs. Even when she was in the hospital, she would always tell my mom not to worry about her. She sent my mom out on a mission to buy a birthday gift for one of her nurses! She was also, as I mentioned before, a COLLECTOR. She had an incredible MUG collection -- rows of hooks on the ceiling and around the wall opening from the dining room to her kitchen held MUGS of all varieties. My favorites were the Star Wars Character Mugs (like one of C3PO and Darth Vader and Yoda) and the Kermit the Frog mug. :) She LOVED Disney -- loved loved loved Disney. They made frequent trips to Disney World, she had EVERY Disney Movie, and collected many Disney stuffed animals, a notebook FULL of Disney Pins, and my mom even tells me that she found a collection of Disney Hotel Soap. :) She collected the KMart Christmas Bear each year, Beanie Babies, Betty-Boop memorabilia, Garfield items, and a state quarter from every state for EACH of us grandkids! The Christmas we visited her last was a very special and wonderful visit. It was before she became ill, and my husband was finally able to meet her. They really enjoyed each other's company! I think it's because of her great sense of humor. I will never forget when he was getting ready to open his present from her and she was like,"OH NO.... this is the stupid one...." HAHAHAHA Talking about her gift! She was like, I didn't know what to get so... He opens it and it's an HERB GARDEN KIT!!!!!! :D hahahahah I was super excited, but yeah, not really a DH type of item. She noticed that we loved penguins (PENGUINOS!) and about a month or two after our visit we received a large package from her that contained: a GIANT stuffed penguin, two carved wooden penguin knick knacks, and a spherical penguin head candle. :)

Anyway -- she was the ultimate giver and a wonderful lady and we loved her and will miss her until we meet again.





Thursday, July 23, 2009
So... unbeknownst to me they flashed my picture up on Nationwide Television during the Sparks Segment on ET!!!!!!!!!

Apparently it was this Before and After picture: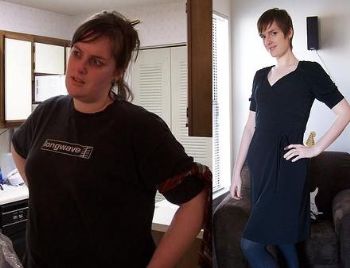 I wish I had known!!!!!!!!!! :D hahahaha

OH MY GOSH -- Thanks to SPNANCY, I have the link!

I'm right at the beginning with my BEFORE shirt and later they show a before and after -- it's THIS before picture, but a different after picture (my favorite one actually!)

www.etonline.com/news/2009/07/76746/
index.html





Thursday, July 23, 2009
So I went to bed afer 1AM last night...

and woke up just before 5AM. Phwew. Sooooooo hard but sooooooo worth it.

Rowing was GREAT this morning -- much more actual rowing w/ drills in between. Got a better calorie burn for sure.

I'm starting to feel like my feedback that I'm getting is really fine-tuning my stroke, as well. But then again I'm sure that as I learn more and become better, there will only be more details to finesse. :) That's the great thing about being coached!!! I can only do so much for myself and my running. I THINK about form sometimes, but I can't see myself... I can monitor my heart rate, plan distances and different types of runs... but it's not the same as being watched by someone who is an objective observer AND has a wealth of knowledge and experience to help you along the way. It definitely takes me back to when I was studying music at FSU -- the more you learn, the more you realize you need to improve. The knowledge and skill you develop gives you the capability to grow even more, and correct even more and more details. It's really neat when you think about it!

So after that I ate my apple and nuts (pre row I did a bowl of cereal) and I was ready to go run... but felt soooooo tired. I figured I would do a slow jog at my favorite park. If I go out and back on the park it's around 2miles, but I know where I can go to and turn around to make it a little over 3 miles. So I figured I'd set out, keep it easy, and if I wasn't feeling wiped at the end I'd go the extra mile (oh how cute!). ANYWAY... when I was nearing about the halfway point of my OUT (of outandback), these two dudes passed me who I had passed in the opposited direction a minute before -- GRR. I hate that. hahaha but I'm sure they didn't turn around at the end of the park, that'd be impossible, but still. :P

So I'm like, WAH they passed me, they're going faster... and then one of the guys stops and starts walking and the other guy is like,"Don't give up now!!! We're almost there, just keep going!" and right at this point you can either turn off to the right to go to the windy trail that goes inbetween the trees and overlooks the water (the best part of the run in my opinion) or go straight. Well -- they went straight and I turned and I made it my mission to come out on the other side with them. MWAHAHA.

I guess I always knew I had a little competitive streak in me in other things -- I loved getting the best test scores, being the best trombone player, stuff like that -- but because I NEVER considered myself an ATHLETE I never thought of myself as being competitive in that area -- but now! It's definitely there. I don't expect myself to be the fastest (I know there are so many more talented and skilled runners out there it's RIDICULOUS), but I definitely find ways to challenge myself and compete with others and myself in little ways. So anyway, I just start booking it!!! I was right with them winding around up and down hills while they were going straight, up until my trail meets with theirs only I have stairs to go up to reach it -- so they got a bit ahead of me while I was going up the stairs and then we were VERY nearly at the end of the path (my turnaround) and they stopped there while I kept going.

Well -- at this point I was so pumped and my music was rocking and the windy trail had it's hills begging to be sprinted up and coasted down and I just kept running hard. I think Ted Leo makes me want to run fast! :) haha. Anyway -- I kept it up until I came back out to the straight part, at which point I was still KINDA pushing but keeping a steady pace, and gradually kinda slowed it on down until the end. I mapped it at about 2.2 miles, since I took a slightly different start today, and about 10.5min mile average I think???? hahaha.

So what was going to be a leisurely shortish run turned into a speedy run! I PROMISE to take my long run niiice and slowwww and not overeat before it this weekend. I really need to take a nice slow run after getting all pumped on my 4 miler, doing the run with Speedy yesterday, and then wanting to outrun the pair in the park today... hahaha.

Also -- I confessed to KEAKMAN, but I wanted to tell you all.

Sometimes I sing when I'm running. Not LONG PHRASES obviously, cause I'm breathing pretty heavy most of the time, but when my favorite part of the song comes up I take a breath and sing it out loud. As long as I'm on a trail that's in nature and there aren't people around. HAHAHA :D

Food is looking good so far today as well. I haven't been tracking my dinners in Sparks this week, just mental tracking. I'm not tracking a deficit this week either but I am staying within range. I'm actually pretty excited about my wrap in my lunch today cause it's a bit different than how I've done it recently and I think the flavors will be great. :)

OH AND P.S. -- I definitely went home, showered, and napped for 3 hours. So I did get around 7 total hours of sleep and I'm not running on fumes right now. :)





Wednesday, July 22, 2009
So this morning I was feeling totally dead when I woke up to go run. WAH.

BUT!!! Running buddy was waiting for me so ... I went. (See how good this running buddy thing is???) :D hahaha I shall from here on out refer to her as Speedy because yeah -- I was really having to work this morning to keep up with her and she was doing most of the talking AND pushing a stroller w/ a baby in it!!! SO UNFAIR! hahahaha :D we did about 2.4 miles in 25 min which is definitely a tempo run for me -- I'm over 11min on my faster runs these days, usually between 12-13 min on longer runs, so yeah. It's really good to have that drive, though! Her daughter is soooooo cute, too! Sadly it was lightly raining occasionally, so we got a little damp, but it wasn't too bad. All I have to say is RUNNING = DONE.

Then I came home, made our lunches, and did a LITTLE strength training. My lower back is feeling a little strained -- I think it might be because of all the drills from rowing on Tuesday even though they weren't tough, because of the types of drills we were doing it was a lot of emphasis on the swing - where you swing your upper body back to finish the stroke and then back forward... I dunno for sure, but either way... I started to do a little ST but didn't get too much done. I did some lunges w/ hammer curls, some alternating bicep curls, then I laid on the floor and some slow bridges and other pilates stuff -- but not a full on pilates routine, just some. And I also did some standing rolldowns (pilates where you slowly roll down your spine and back up) just trying to get that stretch in my back that I felt I needed. I also spent some time curled in a ball and rolling back and forth to massage that area.

And I just wasn't feeling doing any more ST. I did like two lying tricep extensions and was like.. mreh.

I took a shower and went to bed.

Slept for like an hour and a half at least!

Woke up to my alarm so I had some time to eat and I watched some more Biggest Loser Australia on YouTube. I'm currently in the middle of Season 3 -- well not really the middle -- they just eliminated the week 3 person I think -- but anyway. LOVE LOVE LOVE that show -- I prefer the Australian version for sure. No cheesy product placement, lots of time spent with the training and everything. woot. They DO have some kind of dumb/weird gameplay aspects that the US version doesn't have though....

and one they added this season which I kind of like is THE WAREHOUSE. Each week there is a FOOD twist added to the game -- the biggest loser from the winning team the previous week gets to choose between two options -- the other team gets the option they don't choose.

Like one week they had to choose CABBAGE or canned foods with no labels. Well the winning team picked cabbage. They still had some other foods in the kitchen to work with, so this wasn't a big deal to have a ton of cabbage to eat, but the team stuck with the cans... a lot of it they couldn't even eat and they had to really make do with the rest of it.

This week it was CASH (to grocery shop for yourself -- $60 per person for the week, but everyone was saying how that wasn't really enough - don't know what it's like in Aus $ or what their grocery prices are like anyway), and the other alternative was Japanese food prepared for your team by a chef for lunch and dinner.

The winning team picked the cash -- I prefer the team that lost and I was soooooo happy for them. :) OH MAN - their chef is so cute and she's cookinge verything low sodium and low fat w/ brown rice when there IS rice, they had a gorgeous spread of sashimi and a raw veggie salad and some brown rice sushi when they went back to the house. :) If you eat it right, Japanese food can be SOOOOOO healthy and when considering the fact that they had a chef preparing their food according to their trainers instructions -- they totally have it made.

OH - Regarding the Apartment situation -- thank you all so much for your comments!!! The only reason we're still at this place is that my DH expects that we will be moving either in Dec or May, depending on when he is able to find a job. He expects his Dissertation will be defended in Dec, but he will most likely not meet the deadline to turn things in to walk in Dec - so he'll have to "enroll" in Spring and walk in May. If he finds a job before then we can move, if not then he'll stay on and teach for that last semester until he walks. In any case, we're not even going to be here for another year so moving is not really an option (there are only a couple of places around here that do short term leasing -- plus they don't allow pets, plus their ridiculously more expensive, plus MOVING ITSELF is expensive...) so we're just DEALING for now. They gave us a lease through December only (like a ...5 month? so not even a 6 month lease?) and only raised our rent like $5 somehow so..... THAT we appreciate.

Also their breed restriction list is ridiculous -- they're vicious and OTHER breeds - like bull mastiff, st. bernard, I don't remember what other ridiculous breeds that are apparently banned due to their size alone. (Granted I'm not saying I RECOMMEND those dogs for apartment dwelling, I just think BANNING them is insane...)

Also -- a good point we were made to realize is that if we are caught they'll likely ask us to find him a new home and not be like -- OOOH EVICTED. We may be able to find a temporary home for him since we intend to be gone soon anyway.

Still no decision, but this is where we're at so far.



First Page
1
2
3
4
5
6
7
8
9
10
11
12
13
14
15
16
17
18
19
20
21
22
23
24
25
26
27
28
29
30
31
32
33
34
35
36
37
38
39
40
41
42
43
44
45
46
47
48
49
50
51
52
53
54
55
56
57
58
59
60
61
62
63
64
65
66
67
68
69
70
71
72
73
74
75
76
77
78
79
80
81
82
83
84
85
86
87
88
89
90
91
92
93
94
95
96
97
98
99
100
101
102
103
104
105
106
107
108
109
110
111
112
113
114 115 116 117 118 119 120 121 122 123 124 125 126 127 128 129 130 131 132 133 134 135 136 137 138 139 140 141 142 143 144 145 146 147 148 149 150 151 152 153 154 155 156 157 158 159 160 161 162 163 164 165 166 167 168 169 170 171 172 173 174 175 176 177 178 179 180 181 182 183 184 185 186 187 188 189 190 191 192 193 194 195 196 197 198 199 200 201 202 203 204 205 206 207 208 209 210 211 212 213 214 215 216 217 218 219 220 221 222 223 224 225 226 227 228 229 230 231 232 233 234 Last Page

Get An Email Alert Each Time ZIRCADIA Posts