| | |
| --- | --- |
| | ZELLAZM's Recent Blog Entries |


Thursday, October 01, 2009
Progress, not perfection!

And I was far from perfect in September. I think I had jet lag for the first three weeks of the month!

Personal:
Daily MORNING prayer- still working on this
Daily journaling - didn't do this at all! :/
Support parents during Momís rehab stay, and concerning future decisions - ongoing
Isaiah Bible study - no progress here either
Daily visit to sparkpeople.com - probably missed 3 or 4 days

Home and Org:
Continue Work on TMMO baby step #1 - DONE! Woohoo
Bring US and German taxes up-to-date - have made good progress, not quite finished
Repaper and paint entry hall - not done
Put in order for junk pick-up - not done
Post some stuff on Ebay - not done
Change out summer - winter clothes - in progress (bedroom is chaos today!)

Study: Has been on ice since August, no progress in any of these areas

Plot out next year's course plan
Contact adviser - get info on OT course credit
Contact German adviser
Practice project present ideas to my adviser and appropriate persons
Make appt. with German admin

Ministry:

Rehearsals for Flea Market project - have had one, two more this week
Schedule orientation workshop for new worship team members - on schedule for Monday night
Send team guidelines to team leaders - sent
Christmas Choir project? - still deciding if this is feasible
Senior visitation - none, but have two visits planned

Language school:

Prepare workshop for video/magazine lesson plans - has been postponed, so no prep needed

Health and Fitness Goals:

No races this month (I don't like to miss Sunday church!) but 3 possibilities in October
1200 Cardio minutes - GOAL MET
More consistency in ST at least twice a week Ė go for 90 minutes - progress here, but it's been more like 60 and 90 per week
Continue daily 30 minutes exercise - yes! reached 365 days on Sept. 28!
Make OB/GYN appointment
Lose 3-5 pounds - lost only 1, but that's somethin!

Other:

Book flight for January/February 2010 - not done yet, waiting on conference dates to finalize trip plans





Monday, September 28, 2009


Today I'm celebrating 365 days of daily 30-minute exercise. I expected to be pretty excited about reaching this landmark. But somehow, it seems a little anti-climactic. Daily exercise has become such a habit that I seldom have to MAKE myself do it anymore. Granted, there are days when I'm too tired for a 30-minute run or cardio workout. On those days, I allow myself to skip the cardio and do 30 minutes of ST, or take a couple of 15-minute walks, or even spend part of the 30 minutes doing some good ol' stretches. The idea was that it was to be 30 minutes of CONSCIOUS exercise. The point is to keep moving!

Has this made a difference in my life? If you check my cholesterol levels, you can see that it certainly has. If you check out the size tags in my clothes, it certainly has. If you look back at everything that has happened in my family this past year, you'll understand that it may be the reason why I've been able to maintain my sanity!

To celebrate, I thought about taking a day off. Naaaaaaaaaaaaa, bad idea!! I'd come up short on my cardio minutes for the month! (Can you tell I've been Sparking for awhile?) Instead, I'll just post this blog. And then I'm going to set up a new streak on SP - onward to Year 2!





Friday, September 18, 2009
1. Zwetschgen. It's time to change my Spark page background now that strawberry season is long gone. This is a local sort of luscious little plums that are ripe right now. I don't know what they're called in English. A friend of mine's mother-in-law had more on her trees than she could use herself, so we went up to the garden plot and picked two buckets full. I just turned 9 pounds of them into jam over the weekend and still have a pound or two in the fridge. I also gave my neighbor some. She just came to the door a little while ago and brought me a piece of the cake she made with them. Yum. I have the Zwetschgen blessing!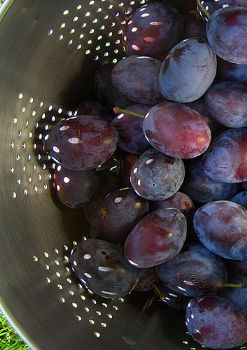 2. The trim on my new running shoes. Pretty cool, eh? And they are size 9 AND A HALF! Either I've been wearing the wrong size for a long time, my feet have grown, or New Balance has changed their lasts in the past year or two. Or all of the above. At any rate, now that I'm not wearing too-short nines, my toes are much happier.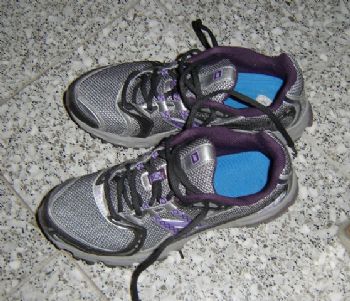 3. My knees. Thanks to everyone who offered their sympathy after my fall the other evening. I was walking in the dark and missed a curb where there shouldn't have been a curb, in my opinion ;) No I didn't have the purple-trimmed shoes on. That would not have been random. The bruises are healing up nicely, turning all the nice colors that bruises do.

Remember when we were kids and we liked to show our friends our bruises? You're my friends. Wanna see my bruises? :-)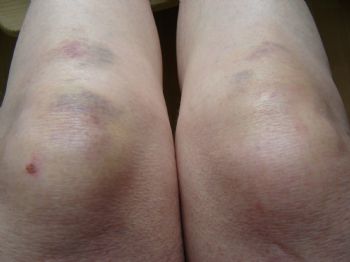 Saturday, September 12, 2009
A lot of these are ongoing...progress, not perfection!

Personal:
Daily MORNING prayer
Daily journaling
Support parents during Momís rehab stay, and concerning future decisions
Isaiah Bible study
Daily visit to sparkpeople.com

Home and Org:
Continue Work on TMMO baby step #1 - Moving up goal to November
Bring US and German taxes up-to-date
Repaper and paint entry hall
Put in order for junk pick-up
Post some stuff on Ebay
Change out summer - winter clothes

Study:

Plot out next year's course plan
Contact adviser - get info on OT course credit
Contact German adviser
Practice project present ideas to my adviser and appropriate persons
Make appt. with German admin

Ministry:

Rehearsals for Flea Market project
Schedule orientation workshop for new worship team members
Send team guidelines to team leaders
Christmas Choir project?
Senior visitation

Language school:

Prepare workshop for video/magazine lesson plans

Health and Fitness Goals:

No races this month (I don't like to miss Sunday church!) but 3 possibilities in October
1200 Cardio minutes
More consistency in ST at least twice a week Ė go for 90 minutes
Continue daily 30 minutes exercise
Make OB/GYN appointment
Lose 3-5 pounds

Other:

Book flight for January/February 2010






Saturday, September 12, 2009
Personal:
Daily MORNING prayer - still need to be more consistent
Daily journaling, esp. during trip - made a good start, but slacked off about week 2
Support parents during Momís rehab stay, and concerning future decisions - ongoing

Home and Org:
Continue Work on TMMO baby step #1 - goal is year-end - almost have my emergency fund in place! woohoo!
US Taxes - got the German ones up-to-date, US is next up
Before US trip: Declutter desk, clean out fridge, WHBH, clean stairwell, vacuum out car - did all that before the trip, yes!

Study:

Plot out next year's course plan - more in my head than on paper, next course is in January
Contact adviser - get info on OT course credit - NOT done
Contact German adviser - NOT done
Practice project present ideas to my adviser and appropriate persons - NOT done :-P

Ministry:

Complete and send Summer newsletter - DONE, yay, with help from a dear friend who did the mailing
Schedule orientation workshop for new worship team members - NOT done
Send team guidelines to team leaders - NOT done
Visit as many of my US churches as possible during trip - had to cancel trip due to Mom's condition, but visited the local 3
Steel drum - made the contact, but he's not sure about selling, so will postpone till January

Language school:

Send paperwork before trip departure - DONE
Email update my sub - DONE
Contact at month-end about Sept schedule - DONE

Health and Fitness Goals:

5K on the 22nd? - DONE and it was HOT
1200 Cardio minutes - didn't quite make it on paper, but I wasn't consistent in adding up the figures so I may have made it?
NW walking group meet-up - went with the group 4 times and it was great
ST at least twice a week Ė go for 90 minutes - still need to work on consistency, it's still dribs and drabs
Continue daily 30 minutes exercise (will beat my own 310-day streak on Tuesday, Aug 4th!)
Make OB/GYN appointment - NOT done
Get pulmo check-up - DONE
Lose 3-5 pounds - actually gained a couple :(

Postponed till September:

Isaiah study
Posting on Ebay
Wallpaper/paint entry hall




First Page
1
2
3
4
5
6
7
8
9
10
11
12
13
14
15
16
17
18
19
20
21
22
23
24
25
26
27
28
29
30
31
32
33
34
35
36
37
38
39
40
41
42 43 44 45 46 47 48 49 50 51 52 53 54 55 56 57 58 59 60 61 62 63 64 65 66 67 68 69 70 71 72 73 74 75 76 77 Last Page

Get An Email Alert Each Time ZELLAZM Posts