| | |
| --- | --- |
| | ZELDA79's Recent Blog Entries |


Tuesday, December 31, 2013
Last day of 2013!

Man, 2013 was a trip. I feel like half of it didn't happen because I was so busy with my rotations and then suddenly, in a whirlwind, I turned 34, I got my Master's degree, I went to Japan, and I climbed Mt. Fuji.

2014, however...I feel like this is going to be a good year. The year I get my certification. The year I settle into a career. The year we pursue home ownership. The year I reconnect with the people I care about. The year I start paying off all those loans.

...sigh.

On the flip side, this is the Year of the Horse, which hubs is, so this is shaping up to be an epic year for him. I'm year of the Ram/Sheep/whatever you prefer, so the next year is my year, but my Chinese horoscope says that this is going to be an awesome year for me as well, after last year which was kind of an up and down year.

I've made promises in 2014, promises to myself (I don't like the word resolution but it's the same idea) and we've made couples goals, something that we've done since we were dating. A lot of them are fun things because we feel like it keeps our relationship "young". Things like expanding date nights to go out of our immediate area once a month, do more hiking together, etc. Last year we didn't get as much couple time as we'd have liked because things were so busy for me. The two months that I was living out of town were probably two of our best years for ourselves because he'd come out on weekends and we'd spend all of this time together. Glorious, beautiful TIME.

So here we go: 2014 "couples resolutions":
-continue Meatless Mondays (we've done this every year since we've been married)

-go see more live music than we used to (2013 = one live performance. Bar = very low.)

-expand date nights so that once a month we go outside of our area and do something different (you already knew that one).

-get better at documenting our recipes (we both have a lot of good recipes in our heads...if something happened to one of us, we'd never eat that recipe again)

-start running again (as a couple - we're planning a few 5ks for 2014)

-ideally: one big trip in 2014 (likely not international).

-move forward in buying a house

As for me? In 2014, I vow to work towards...
-get down 2 jean sizes. (Okay, it's 1.5 sizes.)

-pass boards

-get a job

-donate money to my alma mater. Specifically the marching band. They rule and they need scholarship monies.

-also donate money to Gilda's Club. They rule and they don't get nearly the support that they deserve.

-frame diploma. Let's see if I can get this one done in 2014. (For those who don't know me, I'm notoriously slow at framing things, especially important things. Note I didn't say "frame and hang" - I have to leave something for 2015.)

-return to my hobbies. I used to have so many. WHAT HAPPENED? (School happened.) In particular: try to return to quilting.

-keep up the house better. Figure out the art of rotating...art.

-complete Japan trip scrapbook (err...start Japan trip scrapbook.)

-complete PA school scrapbook. Yeah, I'm one of those types. (Consider doing a Shutterfly book in this case if I'm truly lazy. Which is likely.)

-complete and produce a hard copy of "Drinking from a Fire Hydrant" (my current NaNoWriMo project).

-develop a taste for zucchini and avocado. I'm determined to make this happen.

-write more. I need to get back into it.

-breathe more.

-continue being awesome (!!!)

What are you going to do in 2014? Besides be awesome, of course. I know you'll be awesome. Also, any recs on getting someone to like zucchini and avocado? I'll eat both in small amounts but I'm really frustrated with myself for not liking them. Avocado, for me, is a textural thing, but I really want to like the texture. I don't know why I don't like zucchini. Bad experience as a kid? Who knows.




Wednesday, November 27, 2013
Tomorrow is Thanksgiving and I have so much to be thankful:

-Thankful for my parents, who raised me to be as hardworking as I am.
-Thankful for my siblings (both blood and in-law) for not only being amazing people who I am proud of but for also providing me with two nieces and three nephews to dote on.
-Thankful for my friends for standing by me through thick and thin.
-Thankful for the fact that I have a roof over my head, money in the bank, and am heading towards a rewarding, exciting career in medicine.
-Thankful for my health.
-Thankful for my husband, who has worked hard to support us while I prepare for boards, who has stood by my side through everything, and who has been the most incredible partner in crime I could ask for.

9 years ago today, he and I ran into each other at a bookstore and struck up a conversation. We went out for a cup of coffee and emails and phone numbers were exchanged. A year later, we were dating and six years after that, we were engaged. The best thing I've ever done in my life was agreed to have a cup of coffee with him...because it led us to now.

I'm going to get a fantastic workout in today. Possibly two workouts, we'll see. I'm going to do housework and study and I'm going to prepare a good dinner for tonight and I'm going to be thankful, after having worked this holiday before (in healthcare, not in retail though I've done retail during the holiday season and can honestly say that those people do not get paid enough to deal with the BS that happens) that I am thankful to have the opportunity to be with people I love on that day.

Blessed. Absolutely blessed.

Wherever you are, whoever you are...I know I don't know you and you don't know me but if you're reading this, I hope, from the bottom of my heart, that you have a peaceful Thanksgiving however you plan to celebrate it.




Monday, November 11, 2013
Last time I was here I posted about Mt. Fuji. Here's a run-down of what's happened since:

-Started studying for boards
-Continued studying for boards
-Took practice test a few days before boards and found out that I wasn't ready.
-Pushed boards out a couple of months.

This has been a rough thing for me to do - a rough thing to deal with. I feel like pushing them out was a show of weakness in a way, but the fact is, I wasn't ready. That's not about me. My weakness was general surgery and the fact is, I didn't have a general surgery rotation - I was placed in a specialty surgical rotation so I'm having to learn a lot.

Also, I got off track on how I was studying - I went from a normal pace to a panicked pace and when I hit the panicked pace, I burnt out.

I'm slowing down. The holidays help - I'm a big fan of the holidays - and my hubby has been fantastic. He pointed out that the fact is, I'd be waiting til after the holidays anyways to find a job (true) so why worry? In the meantime I'm taking the time to get organized, to get back into exercising, and to put effort into my friendships and my relationships with my family and my husband.

This has led to a more balanced approach to studying and I feel a good deal better about things. This isn't a race, it's a marathon - you have to pace yourself right.

And then I got hit with whatever bug is going around, which isn't a big deal usually but this has a lingering raspy cough that my asthma just LOVES. So the workouts have been slow but they're coming.

I DID get my flu shot, though. Thank heavens!




Monday, September 09, 2013
A lot has happened since my last post. A brief re-cap:

-Received my Masters degree on 8/22.
-Had a family celebration on 8/24.
-Left for my 2.5 year delayed honeymoon to Japan on 8/26.
-CLIMBED MT. FUJI 8/28-8/29.

Yup. I climbed a mountain.

Let's talk about that because I'm not a mountain climber. Never have been and, realized halfway up...never will be. I don't like it. It's not enjoyable at all. But I wanted like crazy to knock this off the bucket list and so I dug deep into my head and convinced myself I COULD. And I did.

I didn't go in blindly. We trained for a few months prior. I was still carrying more weight than I'd like to have but whatever. I was going to do this if it killed me.

We started at the 5th station, where the bus dropped us off. We bought our walking sticks, which you use one part to walk with and one part to have stamps burned into by the huts you stop at, marking your journey along the way.

We climbed to the top of the 7th station where we stopped for the night and stayed in a hut. They fed us dinner and gave us a little wrapped package of tofu pillows (those yummy, sushi-rice filled, sweet tofu skin things you sometimes see at sushi places) for breakfast the next day and gave us a pad and a sleeping bag. We went to bed at 8pm and woke up again at 1am to begin climbing again.

It was hard, guys. It was the hardest thing I've done in my life. And I just finished a condensed version of medical school. It was terrifying. It was freezing cold and dark out. We used head lamps. We followed the other nutcases who'd decided to do this. We made it between station 8 and station 8.5 for sunrise, well above the clouds.

The sunrise was spectacular.



After sunrise, we continued our ascent but the air was getting thinner and I was running out of energy. We started bribing ourselves. ("We'll go to the corner of that switchback and then take a breather.") The bribed distances got shorter. ("We'll take 20 steps and then take a breather.") I went deep inside my head and then out of nowhere, there it was.

The summit.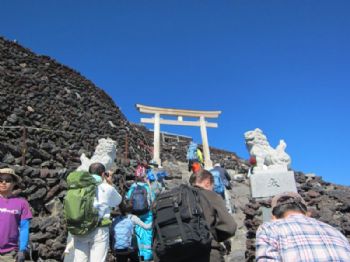 I remember touching the torii gate and feeling tears burn behind my eyes, thinking "I did it". Me. A regular girl. Nothing special, just someone who told herself once upon a time that she wanted to climb Mt. Fuji and then happened to find a partner who wanted the same thing...and then we did it. WE DID IT.

At the top is a shrine and we went to have the final stamp, the "I made it!" stamp placed. Unlike the previous stamps, which were burned into the wood, this was a thick metal stamp that they dipped in ink before placing it against our sticks and smacking it with a hammer, embedding the ink into the wood.

We also got flags that mark the elevation of Mt. Fuji (3776m) and they stamped it with the date for us so we could tie them to our flags.

We took a pause, refueled a bit, and then headed down. They say that you haven't truly climbed Fuji-san until you've made it back down as well and the down was terrible. Steep hills, dust everywhere, nonstop switchbacks. You lose your will to continue after awhile. My husband later confided in me that he wanted to stop so many times. But we pressed on and made it down in good time, good enough to catch our bus back to the hotel.




And what's funny is these were our first two days in Japan! We still had 10 more days in this country and we walked for upwards of 6-8 hours PER DAY EVERY SINGLE DAY WHILE WE WERE THERE. Combined with the heat and humidity and both of us having a slight aversion to eating much when there's heat and humidity (though the food's good in Japan, don't get me wrong), we both came home thinner. I dropped 17 lbs on this trip.

I came home with one hell of a bug and have been battling that now since. It's slowly easing up which means I can focus, starting tomorrow, on workouts, house cleaning, and studying for my boards which I take at the end of next month. And then it's time to find a job. :)

But I'm ready. The trip was exactly what I needed. I'm thrilled to have had that time and I'm ready to get back on the workout bit - back to circuit training and perhaps back to running as well. I'm ready to take on prep for the boards. I'm ready to get things done and more importantly, we're ready to face our next two bucket list items...

-Become home owners
-Kayak in Ireland

Yup. Next international trip (aside from Canada - when you live where I live, that's a daytrip) is the British Isles.





Saturday, August 17, 2013
This week has been ridiculously busy. I had a day 'o' medical appointments (just check ups, nothing special), I've had to prep for next week's class time (I have a presentation, a poster presentation, and a test), and I've been prepping for our two-years-belated honeymoon.

BUT I got a lot done this week and last night culminated in a blow out party with my classmates to celebrate the end of this crazy journey we all went on together.

Nonetheless, I still got up this AM and had a workout. Sweating like crazy.

GOOD NEWS:
-I'm down 15 POUNDS since my last weight check in May
-My jeans are falling off. I have to wear a belt because I hate jean shopping and belt shopping is easier.
-I tried on a dress for graduation the other day and it's a size smaller than my wedding dress was...and it fits. (It's a little form fitting and I'm notoriously into clothes that don't cling to the curves, but I heard a rumor that I CAN wear clothes made for my size, not my size plus 50lbs. Plus, hubs very much approved.)

Circuit training continues to go well and I do continue to notice changes. I've lost 3 inches at my waist! 3 INCHES! Even now, I just looked because I'm super bloated (see also: last night's party, which I don't regret because these past two years have been a beast) and yup, 3 inches. Unreal. I'd love love LOVE to drop 1 more inch (and perhaps...just perhaps...a half inch from my hips, for the love of God, because those aren't budging!) in the very near future but we shall see. I feel good, though.

More than that, we're back on the jogging path towards more half marathons (we're returning to races), I feel strong and sassy, I get my Masters degree from the school of medicine on Thursday, and I'm going to JAPAN in 9 days. I may not be down the three sizes I wanted to be in the beginning but I'm on a path to continuing to get stronger and slimmer.

When we get back from Japan, I'm buckling down to study for my boards and start job hunting. I'll continue my daily workouts while this happens and hubs and I will return to our weekend walks/jogs/hikes. We have a hike planned at the beginning of October. I'll get to that three-sizes-smaller thing, I've no doubt.

But right now, I'm stronger than I've ever been and THAT makes up for everything else.


1 2 3 4 5 6 7 8 Last Page

Get An Email Alert Each Time ZELDA79 Posts