| | |
| --- | --- |
| | YSLETA's Recent Blog Entries |




Wednesday, August 25, 2010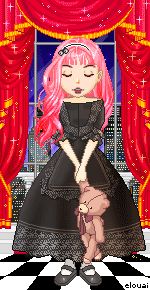 What does it FEEL like to renew after a 2 month slack with no gym?
Sore
Achey
restless
disturbed sleep
charley horses
general fatigue and
drag a** feeling

After 2 month truancy, we returned to the gym Monday...Sweetie was working so much overtime, it was hot and sticky out, a zillion reasons we slacked... (175.8-165.6) so I still lost through diet and my Finis Jhung barre and Tracy Anderson workouts @ home, (so yes, smart diet is crucial!!) but not nearly 1/2 as easily as when we go to the gym 3x a week for a full body blitz/sauna/swimming like we were-and not weighing for 2 months made me nervous, I like to track closer and do it 3x a week, I still have not bought a scale!

Some stats:
4/24-186
(gym 3x week plus FJ and TA at home)
6/25-175.8
(no gym and maybe 2x week FJ and bursts of TA 'when I felt like it')
8/23-165.6

so yeah, the numbers are still happening well and consistantly for me, the more I lose, the easier it is TO lose, but I missed the gym schedule and the super feel-good benefits a lot.


Also, my mood, my motivation, my whole outlook just kind of gently flagged with no gym...I love to swim and be in the pool/jacuzzi, and do a sauna, it feels as good and beneficial as a massage for me to do gym! My shoulder pain is returning as well...
Last but not least, I SHOPPED more, unplanned and impulse purchases, was more likely to 'binge' on cosmetics, cute notepads, stuff like that, but more on that in another blog (worth mentioning tho, cause when I quit 'food rewards' these kinds crept up un-noticed and uncontrolled--not good!)

On the UP side, I learned how important the diet is and how well I have crafted it to suit us, I lose even w/o the heavier workouts, just not as easily, when I was working heavier, I was eating more 'goodies' which for me = treats of berries and cream, more sauteed mushrooms, we had not triaged out most all the processed meats yet, so I was still eating my 1200 but with a lot more fat and carbs. In this sticky heat, my appetite plummeted, so my go-to meal is 3-4 oz ahi tuna with soy and wasabi OR 3 oz white meat chicken salad OR 1 slice fritatta, then add a chopped salad, day in and day out...so yesh, that will lean anyone out regardless of working out :P

4 oz ahi tuna=1.5g fat
4 oz Wild caught Salmon 2.5g fat
4 oz roasted spiced boneless skinless chicken or turkey breast ~2g fat

4 oz 80/20 minced beef (lower fat, right, HA!)- 22g fat,
2 measly ounces pork sausage 19g fat
TABLESPOON oil-14g fat

.......so see what I mean?


But take heed of my achey boneZ today, peeps, do NOT slack in your workouts, it is harder and yukkyyyyyyyyyyy getting back in the swing, feels like re-climbing a mountain I have lost ground on!! muchmuchmuch better to STAY with it, ganbatte ne!

I love-love comments, and am going to re-join the ((((sending skinny vibes))) daily read/comment on 5, so please leave me a wave if anything I say here inspires you :):)
Thank you very much for reading my blog!






Wednesday, June 23, 2010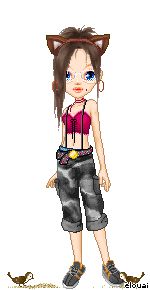 One 'treat' I have been missing was the weekly venti Starbuck's Matcha Frappuccino, so I decided to see if I can re-create the taste and satisfaction of it at home in a more healthy drink.

Matcha Frappa Breakfast Drink or Snack
2g powdered matcha green tea powder (culinary grade)
1/4 cup unsweetened, organic soy milk (Silk Green container)
2T DaVinci SF French Vanilla syrup
1 Scoop vanilla whey protein powder (currently using Body Fortress)
1 serving pasteurized egg white
7-10 ice cubes for a frozen one, less for a more creamy liquid one
Whisk the tea powder with 1/4 c of very hot but not boiling water, cool with ice cube, then blend everything up in the blender. It is not as sweet or creamy as the Frappa, and I did not put whipped cream on it, I am using it as breakfast. But had the distinctive, odd, astringent/sweet/cream taste I was craving and is a win as far as satisfaction and a boost to nutrition! It was easily the size of a Venti and very filling. Mission accomplished!

my recipe:
137 cal
4 net carbs
3g fat
33g protein

Starbucks Venti Matcha Frappa (whole milk+whipped cream)
550 cal
88g net carbs
18g fat
8g protein

Tea Note: I ordered a sample 4 oz of Matcha from Malden Tea and it is fragrant, fresh and good for this and other mixing recipes, it is NOT Tea Ceremony/plain tea drinking grade and I have not tried drinking it in the traditional way. Ceremonial grade tea is about $1/g or more, and is not needed for this, ice cream or cupcakes unless you simply want to be extravagant : D

Meal Replacement NOTE: I don't advocate doing the shake/protein drink MEAL substitution thing unless you are spacing your meals and have at least 3 small, balanced whole food meals in your diet as well, I find it interferes with my ability to feel full or portion my food correctly. BUT as part of a 5 meal plan, as a snack, it works for me, especially on gym days when I need something in my tum before I work out but whole food bloats me and gives me cramps when I exercise first thing in the morning.

kkkk this morning I FINALLY tracked out the meal plan I have been trying hard to follow, 3 good meals, 1 blender protein drink for morning ( I can't face food till lunch, never have been able to much!), then one hunger satisfaction Crystal light to tide me over after gym, and assorted no cal drinks with and without caffeine and then my water ( average is about 6 cups plain).

Eating the unprocessed meat, poultry and fish is REALLY paying off, I kept pepperoni and am keeping at least 1 oz cheese per day as well and my full fat dressings....but I am finding that the extra veggies, the dressings and the pickles and olives are really satisfying my cravings. I can keep near normal fat and protein levels, stay low carb and around 1200 cal per day and I am almost bang on losing 2 pounds a week for over 3 months steady now, and I am 1 pound off my 1/2 way mark--yay!!


Next Mission: even though they do not seem to stall me, I have too many servings of Splenda and Aspertame in my diet, so off to the co-op for Stevia and to explore other natural sweeteners!!





Wednesday, June 16, 2010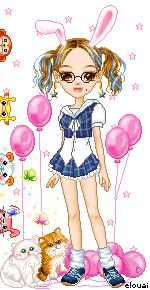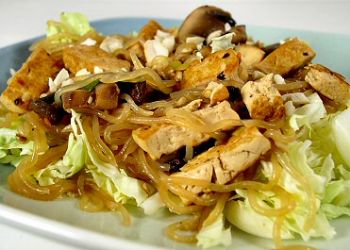 pix of Hot and Sour Shirataki with Tofu from here:
blog.fatfreevegan.com/2006/05/hot-an
d-sour-shirataki-noodles-with.html
also with more info. I am going to get some this Saturday, make the Hot and Sour recipe with chicken instead of tofu and see how they are! Sometimes I miss pasta dishes (pesto, peanut noodles, etc.) There is a plain version, then a tofu version that is NOT vegan but comes in more shapes.

Product Description from Amazon:
Shirataki Noodles are healthy low carb noodles that taste great when combined with your favorite sauce. Fiber-rich and low carb, Shirataki noodles are a favorite food of dieters everywhere. These healthy low-calorie noodles allow you to get your pasta fix without packing on the pounds. Shirataki noodles absorb whatever you add to them, so don't be shy with the sauce. 1.5g Carb, 6 Calories, Zero Fat

more description from The Food Network site:
Thin, translucent, gelatinous noodles made from the starch of a yamlike tuber known as Devil's Tongue. Shirataki, which are the shredded form of konnyaku, have no discernable taste but absorb the dominant flavors of the soup or dish to which they're added. They can be found both in dry and soft forms in Asian markets and some supermarkets. The word shirataki means "white waterfall," alluding to the appearance of these noodles.

veeeery innnterestingggggg!




1 2 3 4 5 6 Last Page

Get An Email Alert Each Time YSLETA Posts