| | |
| --- | --- |
| | YA_YAYA's Recent Blog Entries |


Sunday, January 13, 2013
Dear Self,

Take a look at the 672 calories burned in one day and the 2400 calories consumed in that day. What a great day of skiing you had. You got in as many runs as you could, you challenged yourself with some speed and bumps. Wow, that is how you get to your goals. It is great that you find ways to have fun while exercising however, I have a bone to pick with you. After putting in all that effort, why would you abandon your eating plan? Start the day off with over 600 calories filled with saturated fat, then no skimping on the calories for lunch dinner or any snacks. This is not how you turn into the "Inspirational Me" that fills the Spark blog boards with pictures of the 10lb, 20lb and 30+lb weight losses with the journey of how they got there.

I know you can do this. I know you can inspire by looking back someday and sharing the journey. You can get to that point where you look and feel great, where your strength is something to admire, where everyone wants to know how you did it and the answer is, what it always is, "I ate right and exercised". There is no magic recipe here, just roll up those sleeves, turn on that will power, get ready to put some exercise miles/minutes behind you and "JUST DO IT" already.

Sincerely someone who KNOWS you can do it, I see it, I feel it...Now I will do it,

Self




Wednesday, January 09, 2013
That is the sound of me falling backwards today. Time to get back on the saddle, it is all about choice. I made bad choices today, I am done with today's bad choices. Time to make better choices.




Tuesday, January 08, 2013
Taking it one stair at a time. I haven't been perfect, I am finding that I have a hard time with keeping my diet in the 1200 calorie range but I am able to keep it within the 1500 calorie range.

This week is already posing challenges with long work days and difficulty sleeping due to some temporary pain. My low energy from the lack of sleep and long stressful work days always put me into the comfort food mode. This means I want the pizza, cookies, and ice cream rather then the organic split pea soup, fruit and low fat tuna on 1 piece of organic whole wheat bread that waits for me at lunch.

Today, I have had relative success with not tossing aside my healthy lunch for the comfort food I crave. Did I give in at all? Yes, I had chocolate covered pretzels as a snack that were not part of the plan. However, I didn't use the slip up as excuse to throw in the towel for the day as I often I would have in the past. You know that moment when you decide the day is ruined so you eat what you want then start fresh the next day. On my "Just Do It" plan there is no tomorrow; just today and making it happen moment by moment. I am relying on this mantra to keep me going and it worked for today.

I also headed to the gym for my lunch time workout despite the exhaustion I feel and the neck pain I have. - Just doing it!

One other success, I found a breakfast that is healthy and satisfies my cravings for the typical "muffin" I have gotten used too. Kashi 7 Grain waffles (2) with 1.5 tbsp of almond butter and 1 piece of fruit sliced on top (apple, berries, or a banana). The waffles are the best frozen waffles that I have had, they have the sweetness that I crave and they are nice and warm; they stay somewhat soft, which I like; and the fresh fruit and almond butter add the extra flavor and texture that really leaves you satisfied.

I am making the climb and look forward to reaching the top.







Sunday, January 06, 2013
I am a healthy eater and I exercise. I am healthy by all but one medical measure - I am slightly overweight- I have a BMI of 26.2. It is frustrating to:

(1) feel like given my exercise routine and healthy diet that I am still gaining and not losing weight;
(2) the reason for that is because my caloric needs are so low; and
(3) I have never been simply thin, I have always worked to stay relatively in shape.

So what does this all mean? If losing the excess weight and feeling comfortable in my own skin is important to me then I have to suck it up and "Just Do It"

The solution, cutting out the extras and exercising.

The formula:
MY Basal Metabolic Rate (BMR) 1,474*
Additional calories burned for a lightly active lifestyle: 20.27**
Total calories to maintain weight: 1494 calories

*BMR is the number of calories I burn at rest per day. To calculate your BMR Google "BMR Calculator". There are plenty of free calculators that you can use.

**I found the multiplier on the following website: http://www.livestrong.com/article/316080-h
ow-many-calories-does-a-woman-burn-per
-day/

The minimum caloric intake recommendations by most reputable diet plans is 1,200. To lose weight you have to burn an extra 3000 calories a week. I want to lose weight so I have to create a calorie deficit.

The Plan:
Eat the minimum diet plan recommendation of 1,200 calories per day for at least 5 days. Two days a week I will allow myself up to 1,500 calories. This will equal a deficit of 1,500 calories per week.

30 minutes of cardio x 5 days per week. This adds another deficit of approximately 1,500 calories per week.

Weight train 3x's per week for 1 hour. This adds another approximately 900 calories burned per week.

Total calorie deficit per week:
Diet: 1,500
Exercise: 2.400
Total: 3,900








Wednesday, January 02, 2013
It is so great to feel good. Each year that goes by I try hard to improve. This year, I decided to live more by learning something new (the guitar), by doing more for my family and friends, and by tapping into those creative juices and making sure that my day is spent doing rather then watching from the comfort of my couch. This journey has just begun. From snow shoeing this past weekend, to celebrating the New Year with loved ones, spending time practicing my new guitar and trying out new healthy recipes I feel excited to start 2013. Here is some of my fun:

Recipe for Paleo Breakfast Cookies - Made these tonight. Pretty good, I will make them again:

http://thegirlwhowentpaleo.blogspot.com/
2012/08/pumpkin-breakfast-cookies.html

Here is a Picture of My New Year Crew- Some of my Fav's: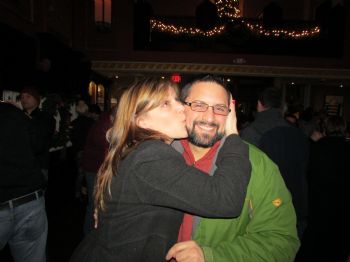 This is me and Mi Amore


These are the fabulous "Ambrose's"

Here is my pup love on our fun snow shoeing adventure:



These are my reasons for smiling...I am a lucky woman. Thank God for all he has blessed me with. May you all love, live and celebrate life in 2013. Happy New Year to All!


First Page
1
2
3
4
5
6
7
8
9
10
11
12
13
14
15
16 17 18 19 20 21 Last Page

Get An Email Alert Each Time YA_YAYA Posts