| | |
| --- | --- |
| | XME501's Recent Blog Entries |


Tuesday, July 06, 2010
I had such a relaxing and refreshing weekend. Just stayed home and enjoyed the days. Did some knitting, baked a coconut pie for my son, and watched all 3 of "The Lord of the Rings". I had not realized how spent I was. So a couple of "down" days was just what I needed.

So, now am ready to go back to work. Love my "job" in the Church office. Don't feel like I am really "working". But, I guess I put more into it than I had realized.

Had a long talk with another son yesterday. He is a very troubled young man - was glad that he shared his heart with me. Reading the blogs on this site is a real encouragement to me. People here share their goals, setbacks, and accomplishments!! And, I was able to share more of my heart with Greg. Somehow, it has always been hard to share my deepest feelings with my children. And, tho he and I have such different beliefs, he did listen and accept what I had to share. He has not in the past - he has mostly just left - usually very upset.

But, on a lighter note - I am looking forward to work today. We will be having a lunch meeting - planning Round-Up Sunday. The Sunday of Round-Up Week some of the church gather in a park for worship, fellowship and a bbq. Last year the attendance was about 200 - and a "good time was had by all"!!!





Thursday, June 24, 2010
Boy, did I fall off the Wagon. I have skinned both knees and have a black eye. But, as long as God gives me breath, it is not tooooo late to get back on track.
Have been thinking about what happened - since I was doing good. Was tracking me eating and exercising. Was losing a few inches - and a couple of pounds. And, was feeling so much better physically, emotionally, and spiritually.

What happened??

First, my daughter finished her nursing program and I did feel a real letdown. I had not realized how much I "carried" while she was in the nursing program. Now, she is finished - and planning to take her state boards soon.

Second, I have been "so tired" recently. Am I really tired or is it something else?? I retired from a 30 year job which I really did like. Planned to just be able to sew, knit, spend time with my grandchildren and "take life easy"!! But, am working 30 hours a week in the church office. I do love my job there and feel like God provided it for me. But, sometimes I think I am resenting working again.

I started the 30 day quick challenge - or whatever it is called. Really simple daily things to do - but I have not even done that this month. I did my collage - but have not printed it out. The simple items I have listed on my Spark Page to do Daily i have not been doing.

So, it is time to pick myself up, dust myself off and start all over again. That sounds like a song. But, I can't sing so won't go there. My Mom sang in a monotone - and I can't even do that. But, I have said just watch out in Heaven - because I am going to sing with the best: Rich Mullins and Third Day!!!!

So today I turn over a new leaf - and am on my way!!!






Tuesday, June 15, 2010
Kathi has finished her nurses training and has graduated from college. Here she is with Jordon, her Navy son. He is a diver stationed in San Diego. Just loves what he does and plans a Navy career.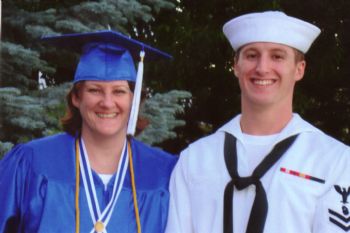 He came up to celebrate with his Mother.






Sunday, June 06, 2010
Yesterday I posted my goals for June. I made a chart to daily check off each goal as I finish it. This is similar to tracking on SpacePeople, except that somehow it feels more personal. When I track on SpacePeople, am I really making progress or am I just posting just for the points? I do know tho that as I gain more points I feel motivated to do more. Right now am working on menus for each week -

Yesterday I cut the last of my irises - have the last 3 here on my desk. They smell so wonderful!! My favorite flower. Then finished cleaning out one of my flower beds. Now to decide what to plant. I am slower than the others here in my apartment building, but have a granddaughter coming over this afternoon - she loves to "play in the dirt". Just hope it does not rain. We have had our rainfall for the year here in Pendleton, but looks like we may get more this afternoon. If it rains, Jill and I may just bake cookies. Her Dad is our Cookie Monster.

Hope everyone has a great day.
"This is the day the Lord has made; let us rejoice and be glad in it."
Psalm 118:24."
Barb

Change of plans - Jill went with her Dad to Echo to visit her other Grandmother. And, it has been raining - again!! Just coming out of the grocery store and the sprinkles started. It rained until I got home and got the groceries brought in. Now it is overcast and much cooler. So, guess I will just knit on my socks and watch another movie. Not sure what it will be this afternoon -





Saturday, June 05, 2010
Have just played with setting goals. Mostly have just been trying to be consistent, but that has not worked very well. I know that I do feel so much better when I exercise every day. Tracking my food intake is easy for me - I really do not eat that much - actually according to this site, I do not eat enough.

So.......have written out some goals for June.
Got the inspiration from Sparklerfriend (Suzanne). Thanks, Suzanne. I love your list!!

So, here is are mine for JUNE:
1. Track daily intake.
2. 30 Spark Points daily.
3. Do cardio - 6 times a week.
4. Strength exercise - 3 times a week.
5. Set up sewing space in bedroom.
6. Lose 3 lbs.
7. Continue reading and journaling "The Spark."

So, there it is in black and white.
Now to get it posted at home and at work.
Am also working on a collage as suggest in the book. That is a little harder for me.
Have found an old picture - now to get it scanned and added.





First Page
1
2
3
4
5
6
7
8
9
10
11
12
13
14
15
16
17
18
19
20
21
22
23
24
25
26
27
28
29
30
31
32
33
34
35
36
37
38
39
40
41
42
43
44
45
46
47 48 49 50 51 52 53 54 55 Last Page

Get An Email Alert Each Time XME501 Posts