| | |
| --- | --- |
| | XME501's Recent Blog Entries |


Saturday, December 10, 2011
2011 has been a challenging year! Had 7 goals for the year and have accomplished only 3 of them - the other 4 are still in progress!!

I have always welcomed change - like an new adventure with so many possibilities - but the changes this year have not been ones I would have anticipated.
First, my older daughter is now in a long-term health care facility - no diagnosis - but, she is beginning to remember family members and some of her life.
Second, I was "dismissed" from a position at the church that I have had for the past 3+ years. Not planned, so has meant a major "overhall" of my budget. Am now finally retired and do not plan to go back to work. But, the good news is that Social Security will see an increase this year - there has not been any the past 2 years.

So, now am looking to the next year - I do find that I am so much more committed to my goals when I check in here every day - what I eat, how much I exercise - and all the encouragement I get from just learning about the struggles and accomplishments of others sharing here!!




Wednesday, November 30, 2011
When this year began I had 7 things I wanted to accomplish - have just looked at the list and discovered that I had actually only finished 3 of them - have reestablished a couple of lost relationships, have downsized "stuff" to half - again, and my knitting and quilting projects "under control".

Have not lost the 25 pounds, have not done very much planning weekly menus (but we have been eating better), have not done the study of Jesus' life with Jill, and am not drinking that water every day!

Keep thinking about the quote that today is the first day of the rest of my life!! What a thought to take hold of!! Today I can begin (again) to accomplish my goals - will not finish by the end of year, but that is just a date on the calendar - it is not my life.

The restored relationships have been the best blessings of the year - one with one of my children and one with my sister! My daughter is in a long-term care facility in Salem - and is slowly improving each day. My sister has returned to Medford where we grew up. We talk or email every day - I miss her very much.

So, gotta get started on those other four!! Will begin today!








Friday, September 16, 2011
I was not able to log onto SparkPeople while I was gone so was not able to do any blogging - really missed being here!!

I met Gordon in Hood River Friday evening and we had such a good visit - of course, Friday evening we went to Pietro's for pizza. I think you are right, Martha. That pizza has kept Gordon looking so young. We had breakfast both mornings at Bett's - so very good!!!! Did some shopping in some of the little shops and lots of walking - had my pedometer and sure racked up the steps.

Then, Sunday we drove into Portland. We shopped at IKIA and Best Buy while I was there - and I went to my favorite store - Freddies - but was disappointed - guess it was just too big!!! But, I did spend about $60 there. Gordon worked the 2 days I was there but picked me up in the evenings and we went out for dinner. We had some good visits - I really miss him!!

My visits to the hospital to see Vicki were really hard. She just is not any better - they still do not know what is happening in her body. She was having severe abdominal pains and they did another ct scan. They had not gotten the results back when I left. She has aged some - has dark circles around her eyes - mostly she is in her own little world. She did answer a few of my questions with correct responses. She knows she is in the hospital, she did say that Gordon is her brother. But, I could not get her to talk about her 2 sons - she just went off into her own world.

I just want to thank everyone for your word of encouragement and for your prayers. Seems like that is all we can do at this point. I know that she is getting the best care there!!





Friday, September 09, 2011
Today am going to Hood River to meet my youngest - am so looking forward to being with him. We will go to Pietro's for pizza - his favorite - and I love the salad bar!!!
We will spend time walking thru town and visiting all the little shops along the way.

For you Martha - here is a recent picture, except he told me he has shaved off his mustache. I like it - makes him look more his age - he is now 42.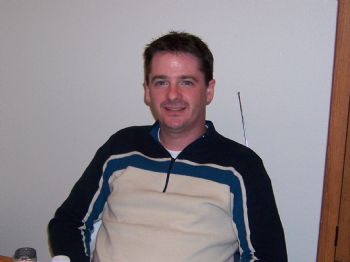 Wednesday, September 07, 2011
I have gotten so far off track - have been so distracted by my daughter's illness. She is now in a long-term health care facility in Portland. She is not recovering. The doctors know what is happening in her brain, but not what is causing it. At this point, they want to be able for a neurologist to see her; however, she is responding very little. She does not know anyone, not even her husband, she talks only in numbers, and is not walking. They have her on tube feedings and are beginning to feed her some. But, mostly she refuses to eat.

One bright spot - when my other daughter and I were over there last weekend, Vicki did respond when Kathi mentioned Barbie dolls. Their room when they were growing up was a Barbie Doll fantasy. Kathi had Vicki talking about some of the things they did. It was a very special moment.

But, I have gotten away from my exercising and my diet - my excuse??? I am just too tired. However, this morning I did exercise for only about 10 minutes. Did the Kickboxing with Nichole. And, am amazed at how much better I feel now. Just gotta get back in gear!!! Even 10 minutes each morning I am sure will make a big difference in how I feel and how I see my life right now.

I do eat right when I am home, but when I go to Portland it is a different story - and am going again this weekend. So, need to plan my strategy before I go. Will be spending time with my son who lives in Vancouver - and he is a pizza-freak!! He could eat pizza 3 times a day, 7 days a week I am sure!! Last time we went to Izzy's - my first time there. I really was good tho - had one piece of pizza and lots of salad. Love salad - my boys tease me - they say lettuce tastes like dirt!!

Well, gotta get back to work - since I am being paid to be here. Enough of my rambling for this morning.

barb



First Page
1
2
3
4
5
6
7
8
9
10
11
12
13
14
15
16
17
18
19
20
21
22
23
24
25
26
27 28 29 30 31 32 33 34 35 36 37 38 39 40 41 42 43 44 45 46 47 48 49 50 51 52 53 54 55 Last Page

Get An Email Alert Each Time XME501 Posts