| | |
| --- | --- |
| | XME501's Recent Blog Entries |


Thursday, December 16, 2010
I keep wanting to blog some, but am really busy now. My computer here at work is back up and running - but am in the process of catching up. And, it is year end and the Church Boards are asking for their budget reports to see just where we are financially.

Our holidays are slowly being planned. My daughter works Christmas night - so she is having Christmas Eve at her house. And, my son-in-law lost his Father this past year, so he is taking the girls and spending Christmas and a couple of days with his Mother. She lives in Echo, about half hour from here.

So, my Christmas Day will probably be a quiet one at home with my son - and his Father, if he wants to come over, and my other son, if he will come.

Just want to wish every one a Happy and Safe Christmas!!
Love to all of you!!







Saturday, December 11, 2010
Feels so good to have #1 goal for 2011!! Now for the other Six!!

#1. Lose 25 pounds.

My son has high-blood pressure and we have been seriously looking at our diet. We have done too much take-out. One of his favorites is Burger King's French Fries - we have not done take-out for a couple of months. Don't remember the last time I drove thru to the take-out window.

We have been ordering from Schwan's - it is so good to come home to a freezer full of veggies and fruit (we recently bought a small freezer from Sears!) - and have plenty to pick from. A favorite that we always have on hand is the Beef Sirloin - one is just the right amount for us - with the veggies and a fresh salad. (I do love my salad!). We have been collecting menus that work for us - makes it so much easier.

We have been researching on line and found a Cook Book at mayoclinic.com that I am ordering. Looks like a good one! I do not enjoy cooking - we have decided that it is because our kitchen is so small. But, with all the right ingredients on hand - and a new cookbook, perhaps I can be inspired. I do like to cook, when I have a special occasion or even a plan in place. So having planned menus would be a great inspiration. And, some new recipes will add to the adventure.

So, #2 goal will be to plan weekly menus and keep diet within recommended guidelines.

Gotta think about this one a little more - later.
Now is time to get in gear for the day!!

My computer at work is still not functioning at "full". Just does not want to print some items - like checks from Quicken - prints reports, but not checks. And,do not have the program I use for the Sunday bulletin. - I use Publisher - and the one I had on the computer before the "crash" was transfered from the old computer - and that is no longer available - so have ordered a new copy. Will get next week - but in the meantime will do like I did last week - do here at home, print out, and make copies in the office. And, gotta do that today!!

So, it is off to work for me!!

See you all later,
barb






Thursday, December 09, 2010
Have never done "New Year's Resolutions". But there are some things that I want to accomplish in 2011. So I started a list and ended up with over 20 things. Now, that is just way too many, if I am going to be successful and actually finish all of them.
Got to thinking about the year 2011 and decided that seven rhymes with it - so am going to have a list of 7 things to accomplish next year.

My Seven in 2011 - Now to decide which 7 ????
Do have #1 to start the list. I have been playing around with SparkPeople and have seen others lose weight. Now it is my turn. I have lost about 6 pounds recently so have actually started. My goal is 175 by Christmas next year. There - it is now in black and well, green.

So my #1 item is to lose 25 pounds in 2011.

Now to decide the other 6 things.








Saturday, December 04, 2010
Am just taking the day "off"!! This has been a stressful week - the hard drive in my comupter at work "crashed" on Tues. I work in the Church office so putting together the bulletin for Sunday was a bit of a challenge. I did one on my computer at home, printed it out, and made copies at church yesterday.

And, our Pastor is in the hospital with cellulitis - has been since Tuesday. (He may come home today.) I miss him so when he is not in his office.

And, am not sure what we will do for Christmas. I had a wonderful Thanksgiving in my very small apartment - but do not really want to do Christmas because my daughter will be working. Here are pictures of my family taken that day!!

This is me with my daughter and granddaughters.




In back: Jonathan, my granddaughter's boyfriend and Geoff, my son that lives with me. Sitting: Eric, my son-in-law and Dick, the father of my children.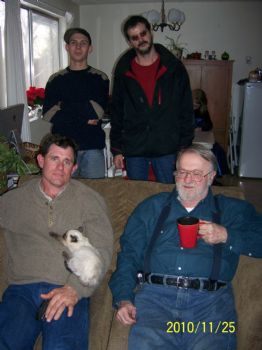 BUT: I know who I am and who I belong to!! And that makes all the difference. I can mop and feel sorry for myself - or I can play house today and begin decorating for Christmas. I already have the decoration boxes in the corner of the living room. Wonder what they hold. Was in BiMart this past week looking at all the decorations. Oh, my! I just wanted to buy everything. So today might be a good day to sort thru what I have and go buy more!! Might even get in a few extra steps today. Now, wouldn't that be an added treat!!!

Well, I just perked myself up - inspite of the gloomy day outside. It is overcast - but perhaps the sun will come out later -like it did yesterday.










Tuesday, November 23, 2010
Got up to a little more snow this morning. Here is the view from my office at the church: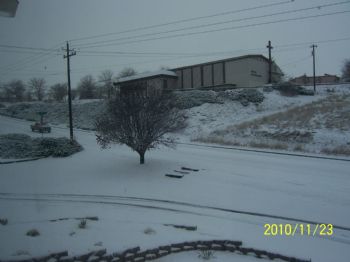 And across the street from Safeway. Stopped there on my way home to pick up a few more things for Thanksgiving dinner: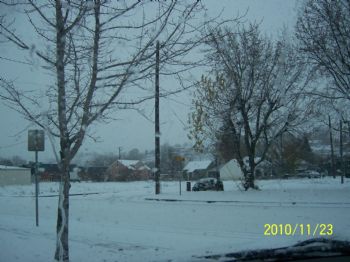 Am so glad I finally got studded tires. Pendleton is quite hilly and, even tho there is not a lot of snow - yet - it is really slick. The temperature right now is about 8 - 10 degrees,





First Page
1
2
3
4
5
6
7
8
9
10
11
12
13
14
15
16
17
18
19
20
21
22
23
24
25
26
27
28
29
30
31
32 33 34 35 36 37 38 39 40 41 42 43 44 45 46 47 48 49 50 51 Last Page

Get An Email Alert Each Time XME501 Posts