| | |
| --- | --- |
| | XENA1956's Recent Blog Entries |


Tuesday, August 17, 2010
Well so far so good on making it to the gym 5 days this week. 2 days in a row, I haven't done that in a while. Today was cardio only and I did 9.99 miles on two different eliptical machines and with Phreds short evening walk. For a total of 116 min.

Talk to Samra today. She has been getting more hours at her job in Ok, so things have been a bit better for her and James. Even James has been getting a few more hours a week, which really helps out. She also told me she has applied to get some grants so she can return to college. I hope things work out because she really need to finish getting her degree, so she can get a better job, save some money up and move out of OK.

Still watching HGTV all day and night for ideas about the redo. Looks like we will be able to get about $32,000, if we are lucky and that we can do the redo for less.

Have a evening all.




Monday, August 16, 2010
Made it to the gym today and did a great workout. Circuit trained for about 45 mins. and then did stationary bike and elliptical. It felt pretty good. Will be able to get back into the gym again now that at least one of the local colleges has started classes today.

Within a 10 mile radius of my house we have a CA State University, in fact it is within 4 miles of the house, several independent colleges, 3 CA Jr. Colleges, a law school, UCI medical school, at least 2 cooking schools, and 6 ROP campuses. So come summer the gyms around here get real busy.

Came home, ate lunch, watched a little tv and colored my hair. Made dinner pork chops w/white hominy because I can't seem to find the yellow at some of markets lately

, I had watermelon and the guys had cantaloupe and we had mini kaiser rolls. Took Phred for a nice walk and settled in to do my Sparks stuff. Going to try to get to the gym at least 5 days this week.






Sunday, August 15, 2010
At first wasn't sure it would be sunny near the beach but the sun came out by the start of today trip. Was so glad. Had a wonderful time with a group of very friendly people. Most had kayak b/4 so I wasn't so much stuck in the back with the newbies today. Made for much less stress for me today. Here are some random shots from today>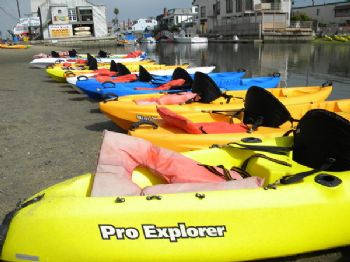 Getting ready to start, the kayaks are pointing towards PCH.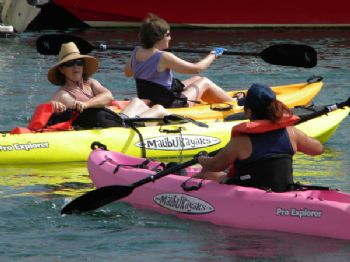 Me in the hat and El in the blue. I forgot to get my water bottle out of my bag.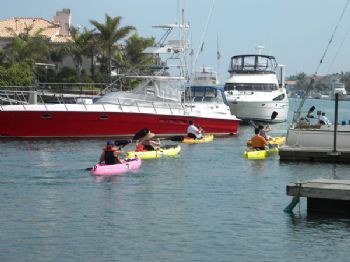 Heading out into Huntington Harbor, look there is sun out!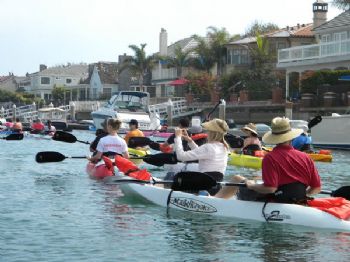 Large group today, Frank and I are both in yellow kayaks, me in my hat and he is in the orange t-shirt

Frank in the yellow kayak, the couple in front was so funny because the man rarely paddle and left his wife to do all the work! Outrageous!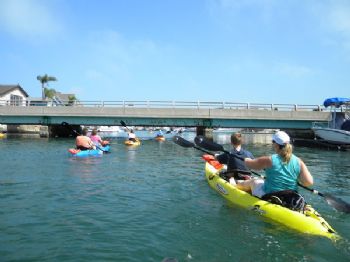 Low bridge, everybody down. Tide started to rise while we were out by the time we got back to base there was hardly any beach left at all.

What can you say but a beautiful sunny day in S.CA. That's me in the yellow kayak with the large straw hat on. Was so nice today!

One of the many sea birds, no idea what type. Pretty cute, I think.

One woman saved a pigeon that somehow feel in the water. She grabbed him/her with the paddle and the bird sat in the back of her boat until we got to our break point. Also at the break point there was a dead sting ray on the beach right under the sand where I put in my kayak at. I picked it up with my paddle and threw in the trash. Even dead they can cause problems if you step on one. Everyone was surprised to see it inside the harbor. They have had a big problem with them this year at all the local beaches. Warnings have been put out to remind people to shuffle their feet in the sand so they don't step on one and get stung.

We didn't go out with the gang to lunch today but came home, ate lunch, showered. I went over to the market and then made meatloaf for dinner. Jeff had to .work over at the Anaheim Convention Ctr. at 7:30pm tonight for a pull out. He will get home after midnight. Poor dear, thought he was suppose to be there this morning and even went over to the convention ctr. only to realize it was tonight. LOL

Took Phred for a short walk of 1.44 miles. Only going to be on Sparks for a short while because I want to watch "Scoundrels" & "The Gates" starting at 9pm.
Sorry 2 pics didn't come out again, I'll try again.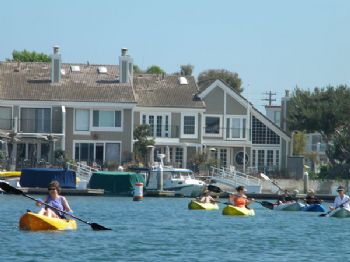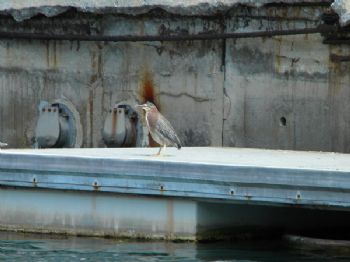 Saturday, August 14, 2010
Did my early morning walk with Irene and Debbie. Afterwards we went to breakfast at Polly's, which was very good as usual. Came home and relaxed and watch some tv. Did about 35 mins. of housework and then an exercise dvd. Did some Sparks input and then Phred for a walk. Came home and had leftover lasagne. Going to do some other stuff this evening so I talk with all my Sparks friends tomorrow night. Sleep well all.





Saturday, August 14, 2010
Got up this morning and it was already warm so decided to eat breakfast and start the house cleaning. Got the vacuuming done, the mopping, 2 loads of laundry, the kingsize waterbed stripped and new sheets put on, and one bathroom. Will do the other bathroom tomorrow after my walk in the morning with Irene. I am going to bed by 10pm because she is picking me up at 7:15am.

I was done with the housework a few mins. after noon, so ate some lunch and watch some soaps. I really have to get out of this habit again. After that I did TBL Bootcamp w/Bob for 30 mins. of circuit training and then 63 mins 5 mile walk dvd with LS. We had mexican tonight I went over my cal count by 30 points or something like that. No biggy.

I took Phred on a short evening walk, poor thing 1 little dog tried to attack him, even grabbing him by the neck. Then another little back dog tried to cause problems too. Why people can't keep their dogs in the house, backyard or at least on a leash when in the front yard without them is beyond me. The little black almost got ran over by a car, this after I even ask the person in the yard, if the dog was theirs. Just ignored me and I knew it was his.

Otherwise it was a great Friday the 13th.




First Page
1
2
3
4
5
6
7
8
9
10
11
12
13
14
15
16
17
18
19
20
21
22
23
24
25
26
27
28
29
30
31
32
33
34
35
36
37
38
39
40
41
42
43
44
45
46
47
48
49
50
51
52
53
54
55
56
57
58
59 60 61 62 63 64 65 66 67 68 69 70 71 72 73 74 75 76 77 78 79 80 81 82 83 84 85 86 87 88 89 90 91 92 93 94 95 96 97 98 99 100 101 102 103 104 105 Last Page

Get An Email Alert Each Time XENA1956 Posts